We had our first taming session today. She ran over my hand twice (and partially did on accident, before realizing and bolting in the other direction) with minimal signs of aggression. She rattled her tail once or twice, but spent the majority of the time exploring my legs.
Per usual, here are the four out of hundreds that turned out somewhat focused. Her little brindle spot looks so odd in comparison to the rest of her.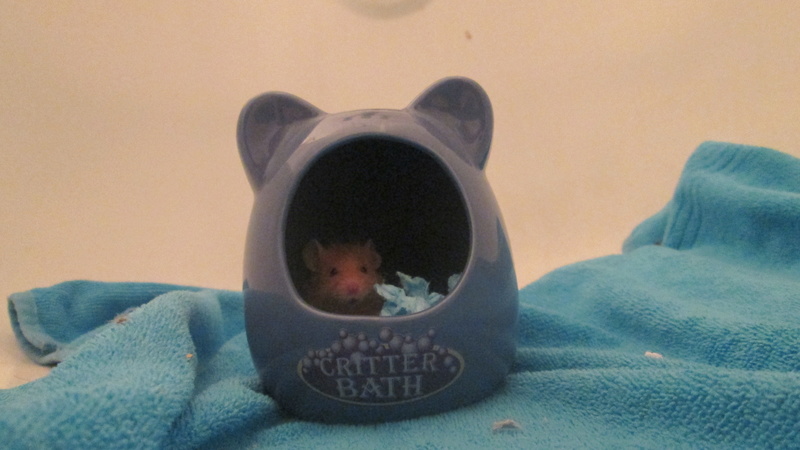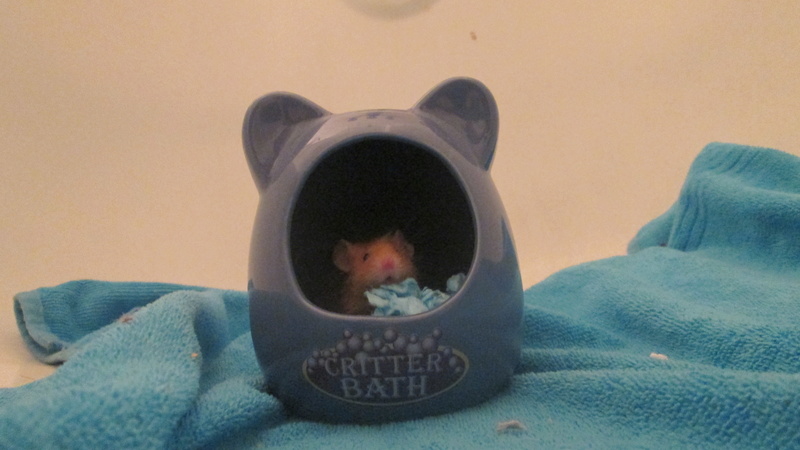 Also, I've inquired this before in another thread but there wasn't a response; I live in my parents house, and since the store said the mice had been quarantined for a week already, they don't want to have a separate cage taking up space for the full twenty-one days. They're pushing 13-14 days (two weeks), with the insistence that they should be introduced before her warranty goes out anyways.
Will this be fine, or should I throw some more work into convincing them? I'm not entirely against it, taking Graham's depression into consideration, but I'm not sure if the risk is worth it.  
_________________
Remembering Maier, Graham & Garcia
Sounds like taming is going well. She's a cutie for sure. I'm not sure about shortening quarantine. I would say it depends on her behavior and taming sessions, because you're not only watching for illness and pregnancy during quarantine but also time put in to taming which can make intros go better.
_________________
currently without meece but always remembering:
Cheeseburger, Bacon, Twix, Hashbrown, Daryl,
Celyn, Rina, Seren, Hazel, Arsinoe, Tilda, & Eulyn
Gerbils: Oghren & Merin / Jeffrey, Geoffrey, & Jeffri /
Hamlet & Horatio / Emrys, Cream, & Hershey / 
Bill & Frances  
 Hamster: Daydream
Hero Member





Join date

: 2016-04-03


Posts

: 3694


Likes

: 1035







_________________
Remembering Maier, Graham & Garcia
Oh my gosh, she's adorable
_________________
Lady mice
: Maggie, Claire, and Penny (aka Sweet P)
Gentleman mice
: Alexander
Other pets
: Little Buddy, Kevin (cats) Sherberta, Dustin, Lidiya, Chip, Squiggy, Nina, Harold, Spike, Mia, Mim, Henrietta(hamsters), Chloe and Zoey (chinchillas), Herman/Figaro Whooopers/Burlington (guinea pigs)
 Penny, Honeybun, Lucy, Annie, Gilly, Furgie, Tedward Wigglesworth, Olivia, Goose, Sweet Katie, Binky, Delilah, Bitsy, Boopers, Sprout, Splotchy, Eva, Slappy, Shuggie, Fancy Pants, Jellybean, Charlie, Murray, Sally, Maya, Gunther, Lil Smokey, Magnus, Norman, Winnie, Sally, George, Harriet, Spec, Erzulie, Lucille, Agatha and Clementine.
Moderator





Join date

: 2016-04-03


Posts

: 2457


Likes

: 743










She looks just like my Pheobe! Sweet! Keep at it.
_________________
...Owner of Alice and Jam -
- Remembering Sam and Phoebe
 ...
Full Member





Join date

: 2017-11-15


Posts

: 61


Likes

: 26







Aww, she's so adorable!
That's funny that the guy at the shop was afraid of her. I've been warned several times at the pet store that mice "aren't the friendliest creatures" and "are much more likely to bite than the rats"
They are always telling me to be very careful when handling mice because they're bitey and jumpy. Yet, I've never had them jump out of my hands or bite me in the store, while they've jumped out of the employees hands several times. Lol.
Hero Member





Join date

: 2016-06-13


Posts

: 1833


Likes

: 505










It's even more hilarious now that I know her well. She can be pretty skittish, but she's not bitey at all. For the most part, she just ignores you or gets out of the way. I wonder what such a little thing did to him to earn that level of fear.

I need to get updated photos. Her colors are changing already.

---
Permissions in this forum:
You
can
reply to topics in this forum