2017 was a golden year of zero health problems.
Eight days into 2018, and this happens.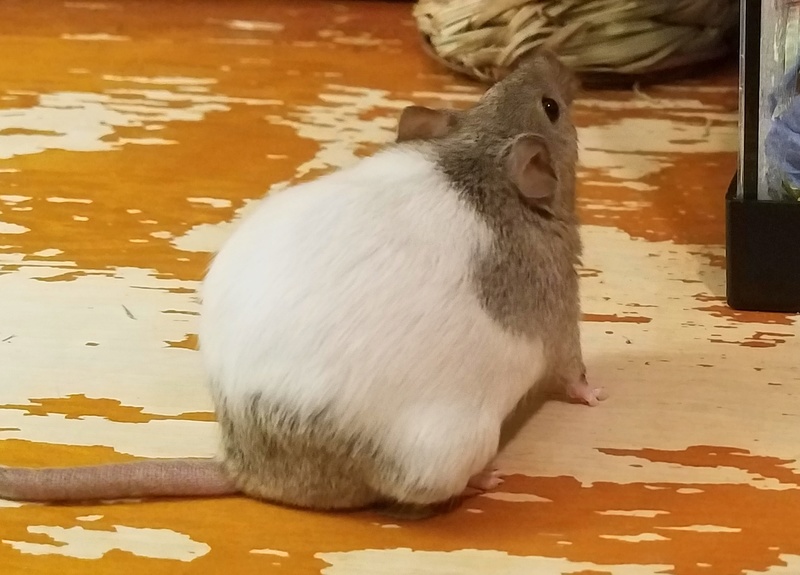 Guess it's time to put my new vet to the test. I'm gonna try to get an appointment for her tomorrow, and see if they'll let me bring her in when I go with Clover for his vaccines. The lump is super movable, but she won't hold still enough for me to tell if it's hard or soft, without me restraining her. What do you guys think? She got one foot in the grave, or no?

CinnamonPearl

Hero Member





Join date

: 2016-04-06


Posts

: 1725




I dont know much about lumps, but hopefully she still has a long time. Keep us updated.
_________________
Goose & Otter* ♂ 

Remembering Mr. Bald ♂, Tipsy, Topsy, Maier, Graham & Garcia ♀
*Neutered male group. Do not house intact males together.*

River

Hero Member





Join date

: 2016-06-19


Posts

: 1486






I know it's common for female mice/rats to get tumors, though I never experienced it myself. (Though it's possible that it was hidden from me, as I haven't had mice since middle school and my grandma tended to coddle me.) My friends who have had female rats have had some tumors that were completely fine, and some that were cancerous- my best guess is that this one shouldn't be a huge problem since it's not located by any vital organs, but I'm not a vet and I don't have any personal experience, so I could be wrong.
I hope it all turns out well for her, and I'm sending you both my love!
_________________
tabby | she/her | 25 | tx, usa
★Mouse Dossier★
my mouse gallery
mouse mom to: Pronto
remembering: My dearest Trouble and all her siblings who've joined her across the rainbow bridge.  
I've has mice live many months with tumors, with apparently no pain. Impossible to say. However, the location doesn't scream cancer.
_________________
Lady mice
: stormy, Dahlia, lily, Ella billie, coco, maggie
Gentleman mice
: milo, jimmy
Other pets
: Little Buddy, Kevin (cats) robert, lulu, Englebert, harold, Gerald, Zumi, nico, charlie, (hamsters), stella (gerbil), Gilly (hedgehog)
 Penny, Honeybun, Lucy, Annie, Gilly, Furgie, Tedward Wigglesworth, Olivia, Goose, Sweet Katie, Binky, Delilah, Bitsy, Boopers, Sprout, Splotchy, Eva, Slappy, Shuggie, Fancy Pants, Jellybean, Charlie, Murray, Sally, Maya, Gunther, Lil Smokey, Magnus, Norman, Winnie, Sally, George, Harriet, Spec, Erzulie, Lucille, Agatha and Clementine.

scaredymouse

Hero Member





Join date

: 2016-04-03


Posts

: 2458









Oh, phew! Thats really good to hear. I guess well have to see what happens when she can see a vet.

CinnamonPearl

Hero Member





Join date

: 2016-04-06


Posts

: 1725




Just wrapped up her checkup at the new vet! The doctor poked her lump with a needle, but she couldnt tell exactly what the liquid that came out was. Theyre testing it now, and Im getting antibiotics to take home for her. Recheck is in about a week. Lets hope for the best!

CinnamonPearl

Hero Member





Join date

: 2016-04-06


Posts

: 1725




Praying, crossing my fingers, and doing everything else that could summon a good result. :3
_________________
...Owner of Alice and Jam -
- Remembering Sam and Phoebe
 ...

jubilee

Full Member





Join date

: 2017-11-15


Posts

: 61






---
Permissions in this forum:
You
cannot
reply to topics in this forum