A few days before Maier died, she got a cut directly below her ear. I could never find out how she got it...

But now, Graham has it too. Granted it's far smaller, but the fact that its there at all worries me quite a lot. I got neosporin on it as soon as I noticed it and she's acting perfectly fine, but I'm just very, very concerned. I dont want her to scratch it open like Maier did, but she has been grooming the neosporin off. Should I just leave it alone?

I don't know how this could be happening. The only thing I can think of as a culprit are the paperclips I use to hang things, but even then, I dont know how Maier would've gotten close enough to one to injure herself, and Grahams all point out of the cage. The only toys that are the same as before is the ceramic litter box, which she doesn't use often, and the wheel. Neither of which are sharp.

I dont even know what I'm looking for. I'll put a picture of it up when I get to a computer but for right now..help! Will she be okay? What should I do?
Could it be self inflicted, from scratching? Does she have long nails?
_________________
currently without meece but always remembering:
Cheeseburger, Bacon, Twix, Hashbrown, Daryl,
Celyn, Rina, Seren, Hazel, Arsinoe, Tilda, & Eulyn
Gerbils: Oghren & Merin / Jeffrey, Geoffrey, & Jeffri /
Hamlet & Horatio / Emrys, Cream, & Hershey / 
Bill & Frances  
 Hamster: Daydream
Hero Member





Join date

: 2016-04-03


Posts

: 3690


Likes

: 1034







I'm not sure if they're excessively long, I'll have to compare them to Garcias. I can put rocks back in the cage to narrow them down, though. Should I retreat for mites?
_________________
Remembering Maier, Graham & Garcia
if it's been a while, you can treat for mites again. if the cut looks healthy and scabbed over, leave it alone. oftentimes Neosporin just makes them mess with it more.
_________________
Lady mice
: Maggie, Claire, and Penny (aka Sweet P)
Gentleman mice
: Alexander
Other pets
: Little Buddy, Kevin (cats) Sherberta, Dustin, Lidiya, Chip, Squiggy, Nina, Harold, Spike, Mia, Mim, Henrietta(hamsters), Chloe and Zoey (chinchillas), Herman/Figaro Whooopers/Burlington (guinea pigs)
 Penny, Honeybun, Lucy, Annie, Gilly, Furgie, Tedward Wigglesworth, Olivia, Goose, Sweet Katie, Binky, Delilah, Bitsy, Boopers, Sprout, Splotchy, Eva, Slappy, Shuggie, Fancy Pants, Jellybean, Charlie, Murray, Sally, Maya, Gunther, Lil Smokey, Magnus, Norman, Winnie, Sally, George, Harriet, Spec, Erzulie, Lucille, Agatha and Clementine.
Moderator





Join date

: 2016-04-03


Posts

: 2457


Likes

: 743










It looks like its scabbing over now. I did wipe off the excess but as she's a PEW, the neosporin just made her look super greasy, and she really wanted it off. I'll treat for mites again and keep an eye on it.

Thanks for the help.
_________________
Remembering Maier, Graham & Garcia
Here she is eating her snack as usual.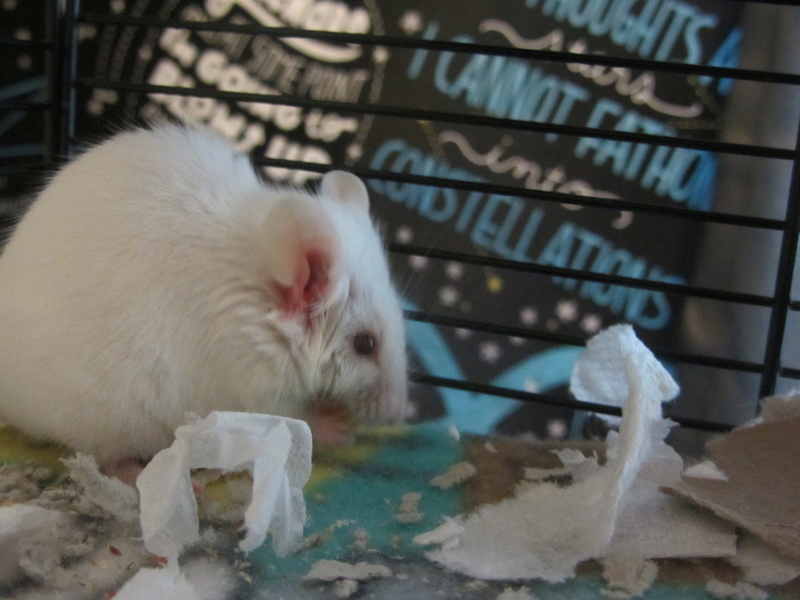 It's more visible now that it's scabbed and she hasn't pushed her fur all over it, but this was right when I applied neosporin upon noticing it.  Thankfully not too bad at all! It had looked worse when I first saw it, as her white fur had blood in it, but after cleaning it up I calmed down a little. I think I tend to overreact, lol.
_________________
Remembering Maier, Graham & Garcia

---
Permissions in this forum:
You
cannot
reply to topics in this forum