So far we met on neutral territory! This lasted about 20 minutes with no arguments at all. They played together on a new seagrass toy and sniffed eachother a bit -- some squinting on Garcia's side was involved, but no fights.
I put Garcia into the deeply cleaned tank and I'm letting her explore for 10 minutes before I'll add Graham.
Graham really loves her! Garcia seems kind of neutral, but Graham is chattering and happy as can be. Here's a poor picture of their interactions.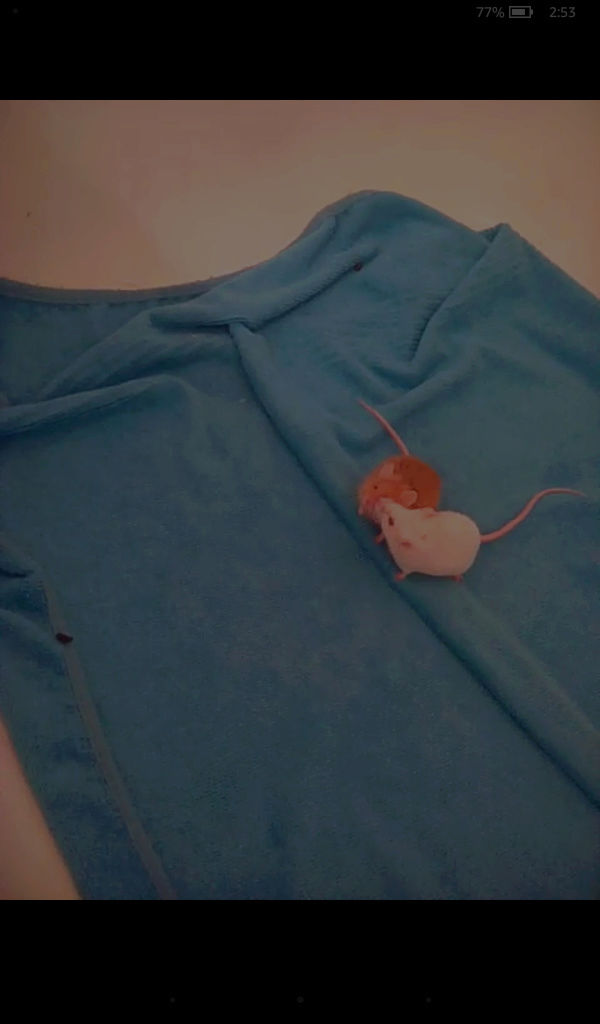 I had to screenshot from a video, so excuse the blur!
EDIT: Now they're in the topperless tank together and doing...amazing. They're cuddled up together grooming already! I'm keeping a close eye on it but there's been no chasing and minimal squinting. How long should I keep watch of these interactions?

River

Hero Member





Join date

: 2016-06-19


Posts

: 1486






Aww. I'm so happy Graham loves her new friend!
When intros go off like this I don't even worry anymore. Snuggling and grooming are two behaviors I look for to make sure an introduction is going in the right direction... If they were going to fight badly it would have already started.
We usually say it can take a couple weeks for them to work everything out, though, so don't be too concerned about any squeaking or squinting that happens unless it's accompanied by chasing and the like. That's just them getting to know each other, establishing boundaries and such.

Peachy

Moderator





Join date

: 2016-04-06


Posts

: 3164






I added more toys which did elicit some minimal chasing/humping but for the most part they're grooming, playing, and eating together! I'll put the topper back on tonight. For now I'm leaving it off or easy access to separate a fight if needed, though. I'm so glad this went as well as it did.
_________________
Goose & Otter* ♂ 

Remembering Mr. Bald ♂, Tipsy, Topsy, Maier, Graham & Garcia ♀
*Neutered male group. Do not house intact males together.*

River

Hero Member





Join date

: 2016-06-19


Posts

: 1486







River

Hero Member





Join date

: 2016-06-19


Posts

: 1486






Awww I'm glad the intro went well!

CallaLily

Hero Member





Join date

: 2016-04-03


Posts

: 3937






Hurray!
So happy it went well!

CinnamonPearl

Hero Member





Join date

: 2016-04-06


Posts

: 1725




Thanks!

More good news...I believe I've found the culprit of the allergy!

I had been using this antibacterial wipe to clean the cage. It has a scent to it but I thought hey, just a bit won't hurt, right?

I hadn't used it in the quarantine cage since she got back from the vet. Two weeks of healthy eyes and I forgetfully wiped down the topper quite heavily with this wipe and low and behold, the eye problem returned.

Guess that's a firm reminder not to use any strongly scented products in your mouses cage, no matter how little it might be. I'll clean the cage back up and keep you updated but I am fairly certain this is the problem! Vet has been emailed for second opinions, and a few other forums have told me of similar problems with their own mice.

River

Hero Member





Join date

: 2016-06-19


Posts

: 1486






I only ever use mild antibacterial soap. Not only is it clean and unscented, it's THE most economical cleaning agent you can have for a mouse tank. I've been using the same bar of soap for three years on MULTIPLE ten and twenty gallon tanks every week, and it's not even done yet. That stupid soap bar has outlived all my mice! Highly recommend.

CinnamonPearl

Hero Member





Join date

: 2016-04-06


Posts

: 1725





CallaLily

Hero Member





Join date

: 2016-04-03


Posts

: 3937






Similar topics
---
Permissions in this forum:
You
cannot
reply to topics in this forum