Let me know if you can see these pictures!  I set up the host an image thingy  
this is my blood-thirsty mouse who like to beat up little kids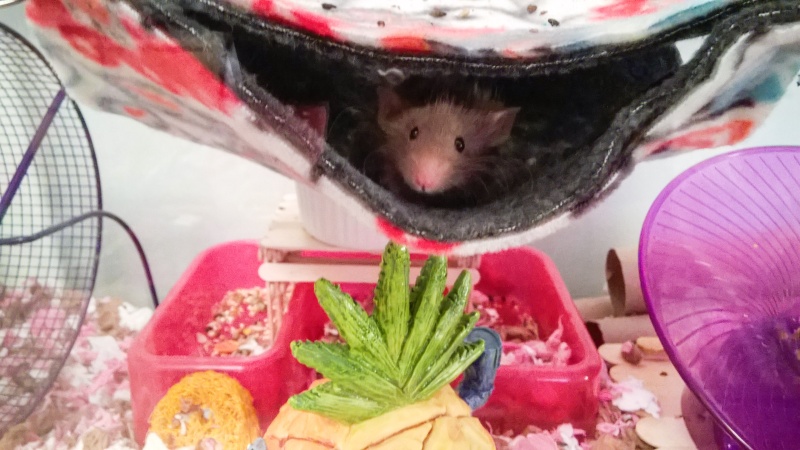 this is my Annie, giving me one good last picture to remember her by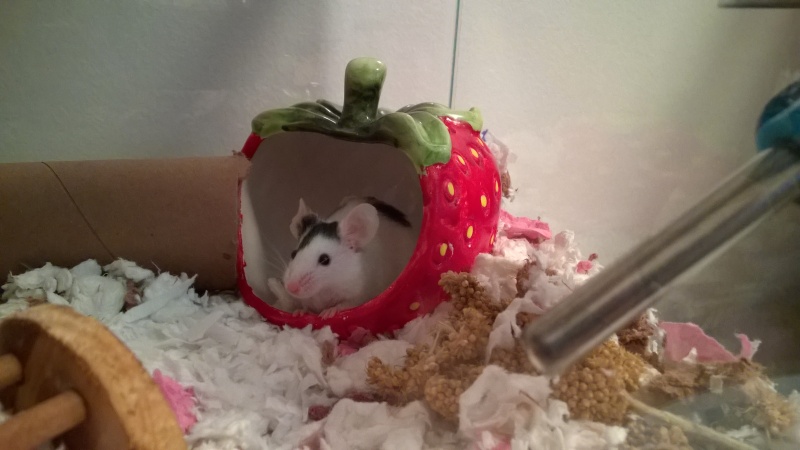 The first day I put separated them, Bitsy was mad at me as evidenced by the nest she built under the coconut.  It was cute and all, but I needed to be able to check on Annie without tearing everything apart so I had to rearrange the tank.  
All they do is cuddle, usually out in the open, so I can check on them.  Isn't that polite?  The little one, Bitsy, is providing such good comfort care to Annie.  She even gives her the food out of her mouth.
Moderator





Join date

: 2016-04-03


Posts

: 2455


Likes

: 743










I can totally see the cute, little itsy bitsy little fluffballs! So squeeable!
_________________
Why get thinner when you can eat more dinner?
New Member





Join date

: 2016-04-10


Posts

: 18


Likes

: 3







!!!!Aww, THANK YOU!!!!!  

Yes, the photos appear right here in the thread,  most of them life size!   TYour mice are gorgeous. (Almost thought that was a statue of a mari juana leaf in the first pic, until I saw that it was a pineapple top.)

I don't know if something about this site changed in the past couple of weeks, or if my computer 'upgraded.'  I used to be able to see most Imgur photos if I clicked on the reply button, copied the photo link and pasted it in a tab.  Now I don't even see the link of text, so there is nothing to copy and paste.
_________________
Lady Mice: Sarah Jane, Eliza, Sabine, Tegan
My "Crazy Mouse Lady" channel on youtube-
bit.ly CrazyMouseLady
Sr Member





Join date

: 2016-04-08


Posts

: 283


Likes

: 23




Haha, that does look like a leaf! But it's just an innocent sponge bob pineapple. I'm glad you can see the pictures. It turns out the image host thing is easier for me. I'm just old and it takes me a while to try new things
_________________
Lady mice
: Winnifred & Sally/Georgie & Harriet Potter, Spec, Erzulie, Lucille, Clementine
Gentleman mice
:  Lil Smokey, Magnus, Norman, Alexander
Natal multimammate mouse (ASF):
Agatha
Other pets
: Little Buddy, Kevin (cats) Sherberta, Dustin, Lidiya, Chip, Squiggy, Nina, Harold, Spike, Mia, Mim, Henrietta(hamsters), Chloe and Zoey (chinchillas), Herman/Figaro Whooopers/Burlington (guinea pigs)
 Penny, Honeybun, Lucy, Annie, Gilly, Furgie, Tedward Wigglesworth, Olivia, Goose, Sweet Katie, Binky, Delilah, Bitsy, Boopers, Sprout, Splotchy, Eva, Slappy, Shuggie, Fancy Pants, Jellybean, Charlie, Murray, Sally, Maya, Gunther.
Moderator





Join date

: 2016-04-03


Posts

: 2455


Likes

: 743










_________________
Lady Mice: Sarah Jane, Eliza, Sabine, Tegan
My "Crazy Mouse Lady" channel on youtube-
bit.ly CrazyMouseLady
Sr Member





Join date

: 2016-04-08


Posts

: 283


Likes

: 23





---
Permissions in this forum:
You
cannot
reply to topics in this forum