Alex was a pregnant doe from Petco that I picked up in December. On January 4th, four weeks ago tomorrow, she had five babies. Two boys, Finnegan and Atticus, and three girls.
Today I took the girls out for some pictures!
Alex (aka Momma)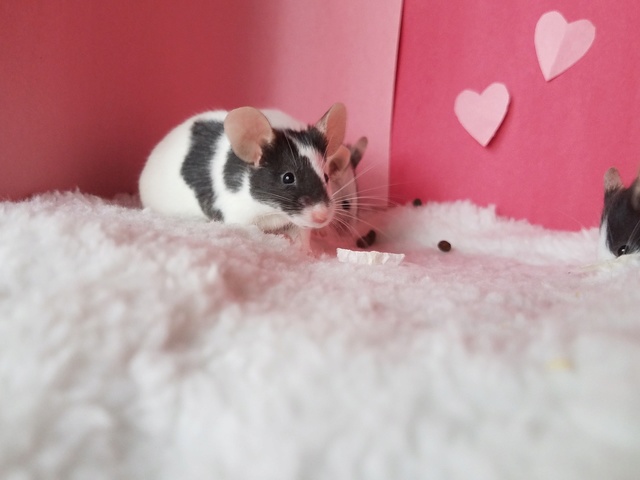 Little Vera is so teeny, and so sweet. She was outgoing and on the move from 5 days old. No fur, no eyes, but she got up and zoomed away from the baby pile. She reminds me of my late HoneyBee. I expect great things.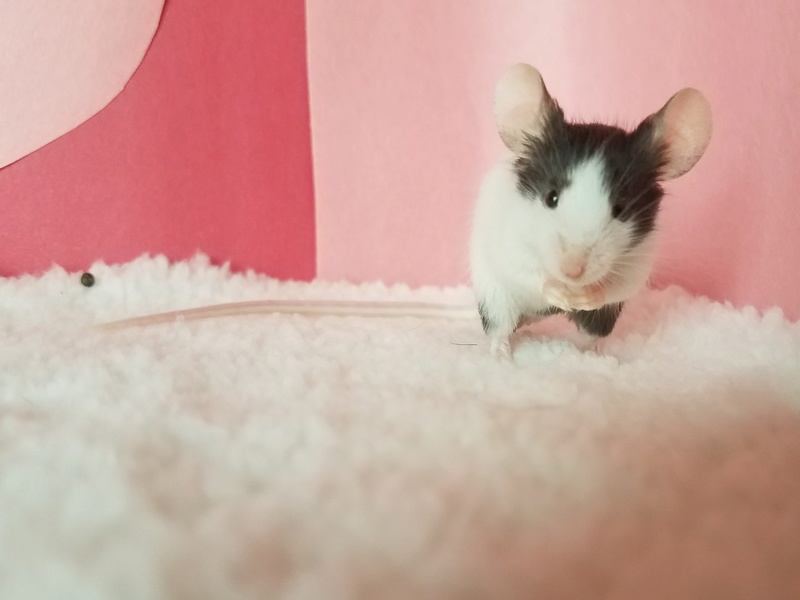 Darcy is like the mirror image of her mom. So cute!
And Verity. Look at the fur near her tail. She's got gray patches all over her.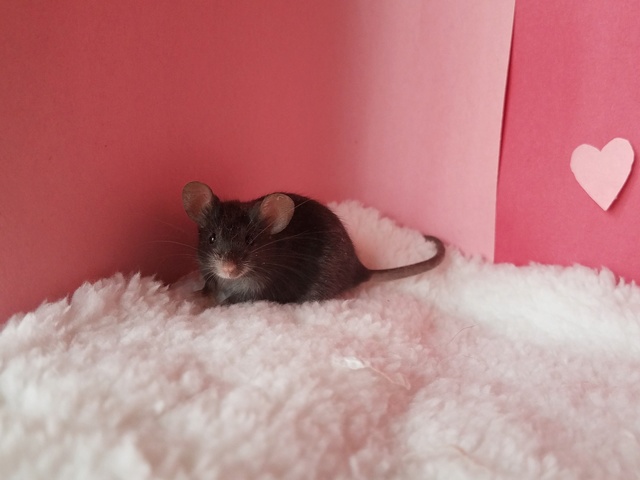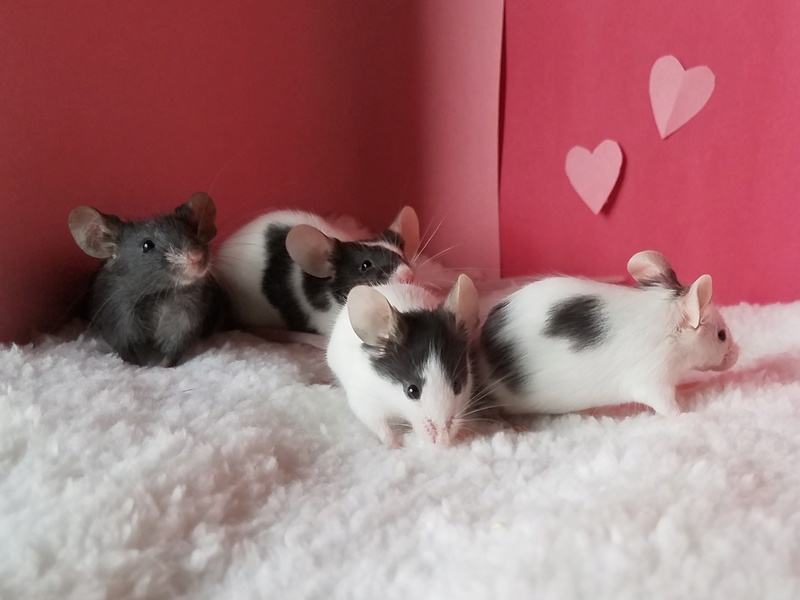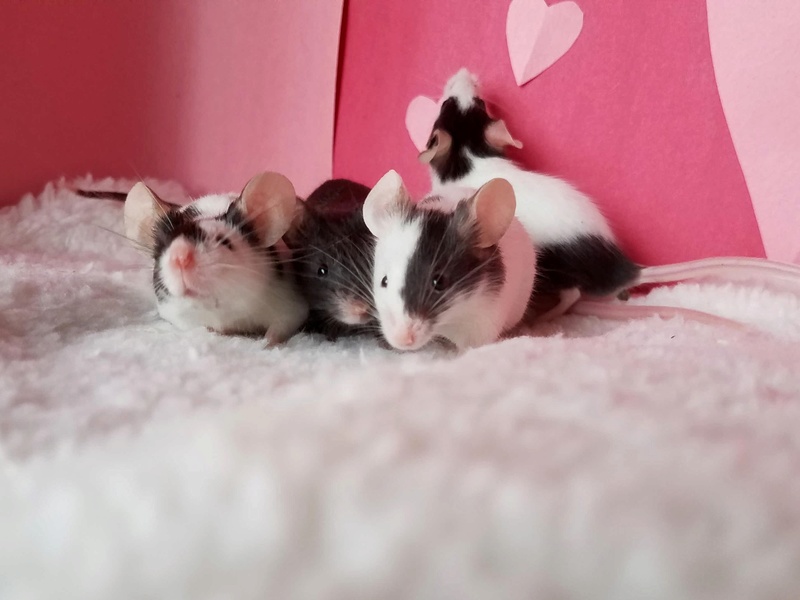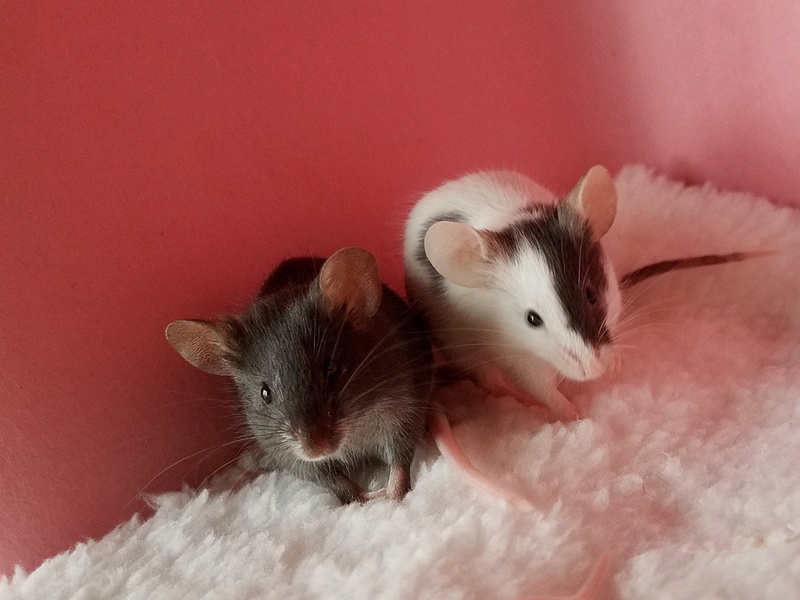 Aren't they the cutest?!

Peachy

Moderator





Join date

: 2016-04-06


Posts

: 3164






Very good pictures and quality, and the mice are cute! Momma mouse is pretty (and the others are nice-looking, too!), and wouldn't it be so cool if Verity turned out being a merle?
I'm also partial to black-and-white coats on animals, 'cause they're usually so varied, and some of the patterns are stunning!!
I like the paper with the hearts in the background, and the fluffy stuff they're on looks
so
soft!

Blessed

Sr Member





Join date

: 2017-10-26


Posts

: 347






They're all so cute but omgosh I just love Vera's face!!
Verity's coat is neat.

CallaLily

Hero Member





Join date

: 2016-04-03


Posts

: 3937






_________________
Lady mice
: stormy, Dahlia, lily, Ella billie, coco, maggie
Gentleman mice
: milo, jimmy
Other pets
: Little Buddy, Kevin (cats) robert, lulu, Englebert, harold, Gerald, Zumi, nico, charlie, (hamsters), stella (gerbil), Gilly (hedgehog)
 Penny, Honeybun, Lucy, Annie, Gilly, Furgie, Tedward Wigglesworth, Olivia, Goose, Sweet Katie, Binky, Delilah, Bitsy, Boopers, Sprout, Splotchy, Eva, Slappy, Shuggie, Fancy Pants, Jellybean, Charlie, Murray, Sally, Maya, Gunther, Lil Smokey, Magnus, Norman, Winnie, Sally, George, Harriet, Spec, Erzulie, Lucille, Agatha and Clementine.

scaredymouse

Hero Member





Join date

: 2016-04-03


Posts

: 2458









Too cute! I love them!
So the ladies moved into my Ferplast cage and the boys moved all of their childhood home belongings into a 20 gallon, pending a neuter.
The boys have been squeaking at each other so I might need to separate them before they go to get neutered, though. I guess that way they'll have somewhere familiar to rest when they come home at least.
I got pictures of the boys but need to get on the computer.

Peachy

Moderator





Join date

: 2016-04-06


Posts

: 3164






Oh my gosh, they are all so beautiful!!!

Rodents rock!

Hero Member





Join date

: 2016-06-27


Posts

: 1818






AAAAAAAAH I CAN'T HANDLE IT, THEY'RE SO CUTE!!!

CinnamonPearl

Hero Member





Join date

: 2016-04-06


Posts

: 1725




---
Permissions in this forum:
You
can
reply to topics in this forum