I just brought home three new girls and I am really excited. They are all white and I can hardly tell them apart but that is all my local pet store had.
I am kinda freaking out though because on of them looks pregnant. I have decided I can deal with it if she is, but I really hope so is just chubby. Here are some photos.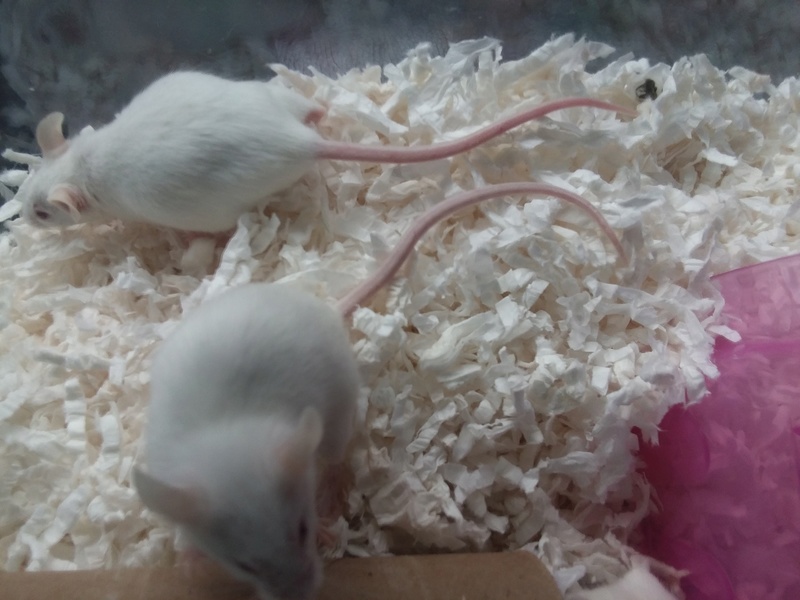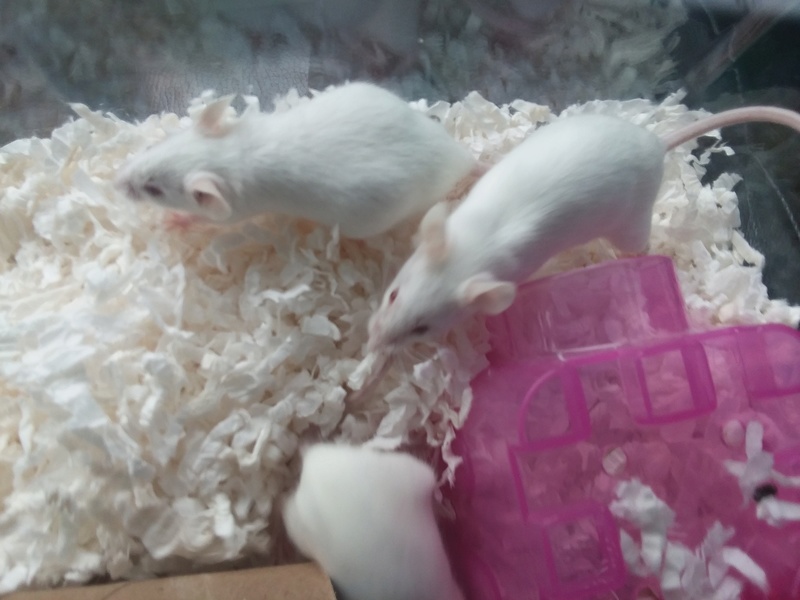 Sorry for all the photos, I just want to give you a good idea.
If she is pregnant, do I need to separate her right now because I don't have any other cages? Can she have her babies in the same cage as the other two girls or will that be bad? I am honestly really scared and confused now.

TiramisuTheMouse

New Member





Join date

: 2017-12-13


Posts

: 18


Likes

: 12




Yes, that looks like the classic pregnant "golf ball" shape to me! How long have you had her? Did she seem thinner when you first brought her home?
She looks pregnant to me too. I would start a baby calendar. Start counting each day from when you took her home. When you hit day 23, if nothing's happened, then she wasn't pregnant. But best to set her up in her own tank soon and prepare for babies.

CinnamonPearl

Hero Member





Join date

: 2016-04-06


Posts

: 1725


Likes

: 256





I only got her yesterday. Those pictures were from the travel carrier. I was able to go to my storage and get my old bin cage to put her in by herself. Thanks for the help.

TiramisuTheMouse

New Member





Join date

: 2017-12-13


Posts

: 18


Likes

: 12




She looks a little pregnant, however, i have also seen mice that look like that that weren't pregnant. It's good that you separated her. Start a calendar, keep track of her for the next 21 days. After that you're in the clear. Just make sure she has a nice best. Try not to worry, we'll help you through it. I brought home a pregnant female last year, i actually had the best time with all the babies. And i was in a position to keep them all. Keep us updated. If she gets bigger, you may want to read through the breeding packet sticky, it will walk you through the whole thing.
_________________
Lady mice
: Maggie, Claire, and Penny (aka Sweet P)
Gentleman mice
: Alexander
Other pets
: Little Buddy, Kevin (cats) Sherberta, Dustin, Lidiya, Chip, Squiggy, Nina, Harold, Spike, Mia, Mim, Henrietta(hamsters), Chloe and Zoey (chinchillas), Herman/Figaro Whooopers/Burlington (guinea pigs)
 Penny, Honeybun, Lucy, Annie, Gilly, Furgie, Tedward Wigglesworth, Olivia, Goose, Sweet Katie, Binky, Delilah, Bitsy, Boopers, Sprout, Splotchy, Eva, Slappy, Shuggie, Fancy Pants, Jellybean, Charlie, Murray, Sally, Maya, Gunther, Lil Smokey, Magnus, Norman, Winnie, Sally, George, Harriet, Spec, Erzulie, Lucille, Agatha and Clementine.

scaredymouse

Moderator





Join date

: 2016-04-03


Posts

: 2457


Likes

: 743










Similar topics
---
Permissions in this forum:
You
cannot
reply to topics in this forum