This is my first post so hi everyone.
About a month ago, I bought a pregnant mouse and it gave birth to three babies. I am positive of the gender of two of them, girls, so I can keep them with my other three adult mice but I am not so sure about the third. I was having trouble taking a picture of the little mouse so this is the clearest shot I could get. The baby mice are around a month old and I would like to separate them before they can reproduce. I will probably post more pictures at different angles if no one can tell from this one.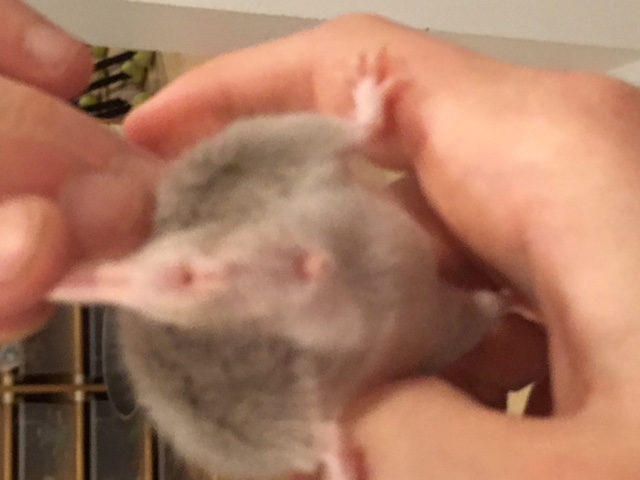 I'm not sure if I posted the picture correctly. Hopefully it appears properly.
I don't have a whole lot of experience with sexing, but I'd definitely say that the little one looks like a boy. I'd separate him from the girls, as I believe they can technically begin to reproduce at 4 weeks.
@BambaSnack
_________________
tabby | she/her | 22 | usa
~Mouse Dossier~
mouse mom to Checkers, Clue, Mahjong, Dragon, and Pumpkin
remembering Trouble + Yahtzee
~gamer girl gallery~
~pumpkin patch~
Sr Member





Join date

: 2017-11-23


Posts

: 152


Likes

: 47







Like chiroptera, I don't have lots of experience with sexing, but I'd say that mouse is a male. If they are a month old, it means you should seperate them really soon, as they are about old enough to begin reproducing.
_________________
Ashia, Luana and Natsuki
Remembering Momo, Effie and Tonks
Jr Member





Join date

: 2017-08-13


Posts

: 33


Likes

: 0







Thank you guys, I'll separate him. The poor little guy will be alone though.
Dont worry, so long as you give him attention, boys are perfectly fine living alone. They cant even live with other girls unless you neuter em.
Hero Member





Join date

: 2016-04-06


Posts

: 1721


Likes

: 256





@BambaSnack

wrote:Thank you guys, I'll separate him. The poor little guy will be alone though.  
He's a lovely looking boy!!
I understand the feeling; my one male seemed super lonely.

_________________
Blessed are the undefiled in the way, who walk in the law of the LORD. Blessed are they that keep his testimonies, and that seek him with the whole heart. - Psalms 119:1-2.
Oh, aren't we blessed? =)
Sr Member





Join date

: 2017-10-26


Posts

: 304


Likes

: 75







Going to the pet store tonight to buy the rest of the supplies for him. Hopefully my dad will allow me to buy him some a little more toys. I named him Taffy thinking he was a she.
Nothing wrong with Taffy for a boy. There was a telly series from the 1950s called "The Buccaneers", starring Robert Shaw as reformed pirate Captain Dan Tempest. One of Cap'n Tempest's crew members was named Taffy.

I used to get up at 6:00 am on Sundays to watch reruns of "The Buccaneers" and "Sergeant Preston Of The Yukon" on KTLA Channel 5 in Los Angeles. Very little else could get me up that early on Sunday. How I loved "my shows" -- way better than Saturday cartoons! Now I have them in boxed sets on DVD and I still enjoy them.
_________________
Zephyr
Coco
Bobby
Noche
Paiva
April
I loved you so / I still do / I always will / 'Twas Heaven here with you.
Sr Member





Join date

: 2017-10-18


Posts

: 134


Likes

: 74







Good luck with your new boy!
Just for future reference males have a much wider gap between their anus and their bits, they tend to stick out more into a shaft too while females its a much closer gap and their bits tend to go in, making a Y shape, nipples are also a good way to tell genders apart as males won't have any
Sorry for mousey butts
_________________
The Girl/s:   
Kenya ~ Pied Seal Point Siamese
Berlin ~ Black Tan Pied
China ~ Burmese Pied
Fiji ~ LH Chocolate Dutch
Nairobi ~ Agouti Siamese Pied
Odessa ~ Black Tan
_______________________________________
The Boy/s:
Denver ~ Cinnamon Tan Pied
George ~ Pied Seal Point Siamese
_______________________________________
Remembering: Fey, Dahlia, and Aurora
Full Member





Join date

: 2018-02-22


Posts

: 69


Likes

: 23








---
Permissions in this forum:
You
cannot
reply to topics in this forum