Blossom has a very interesting personality - there's a lot of things I've seen in her that I have not seen with any other mice. One thing I've always liked about her is this goofy walk she does sometimes, and I was wondering why she does this? Is she just weird?
It's like she's waddling, it just looks funny.
If you look at this stock footage of a mouse walking - it looks much less like a "waddle" to me... lol
https://www.shutterstock.com/video/clip-699082-stock-footage-mouse-walking-across-a-white-background.html
_________________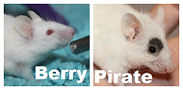 Remembering: Violet, Snow, Holly, Lilac, Clover, Petal, Cotton, Sugar, Autumn, Sage, Rocky, Jack, Willow, Blossom, Sierra, Amber, Olive, Scout, and Daisy
Is she a little chubby? My fat ones waddle. Otherwise, maybe she's just a little different.

River

Hero Member





Join date

: 2016-06-19


Posts

: 1486






First impressions -- just some things you can think about -- nothing definite.

Blossom doesn't appear to be flexing her foot when she's walking like that. If it's only an occasional thing that she's done as long as you've known her, then it wouldn't seem to originate with a permanent structural irregularity. Could be she's just got a bad-habit sloppy walk she slips into sometimes, the way we humans shlump our shoulders or type with our wrists on the desk. Could be influenced by weight distribution, or by being extremely comfortable in a situation.

Could it be due to the surface she's walking on -- just trying to keep more foot contact for better traction? Or maybe she's just a little uncertain about safety, trying to stay low to the ground. (My little April was very unsure about walking around on her own, even when I was right there mere inches away, and she very often bellied around the surface she was exploring like she was G.I. Joe trying to cross a field under enemy fire. She had to build up her own confidence in each situation.)

Perhaps there is an occasional or temporary structural problem, such as an environmentally induced arthritis. That could affect multiple bones and joints simultaneously but temporarily. Hypermobility seems like a longshot, though, because it would be more likely that only one foot would experience sufficient relative bone slippage and offset at a time, and she would limp rather than waddle. (I go through this regularly, not only with slipped foot bones, but back, hips, and shoulders too -- fortunately never all at once, or I'd look like a scribble!)


_________________
Zephyr
Coco
Bobby
Noche
Paiva
April
I loved you so / I still do / I always will / 'Twas Heaven here with you.

MerciToujoursMaPetiteBoop

Sr Member





Join date

: 2017-10-18


Posts

: 380






what a cutie! i have one mouse that walks like that. i think it's just a quirky thing. my mouse has always done it and doesn't seem to have any discomfort.
_________________
Lady mice
: stormy, Dahlia, lily, Ella billie, coco, maggie
Gentleman mice
: milo, jimmy
Other pets
: Little Buddy, Kevin (cats) robert, lulu, Englebert, harold, Gerald, Zumi, nico, charlie, (hamsters), stella (gerbil), Gilly (hedgehog)
 Penny, Honeybun, Lucy, Annie, Gilly, Furgie, Tedward Wigglesworth, Olivia, Goose, Sweet Katie, Binky, Delilah, Bitsy, Boopers, Sprout, Splotchy, Eva, Slappy, Shuggie, Fancy Pants, Jellybean, Charlie, Murray, Sally, Maya, Gunther, Lil Smokey, Magnus, Norman, Winnie, Sally, George, Harriet, Spec, Erzulie, Lucille, Agatha and Clementine.

scaredymouse

Hero Member





Join date

: 2016-04-03


Posts

: 2458









---
Permissions in this forum:
You
cannot
reply to topics in this forum