Hello everyone! It's been a while since I've posted anything on here. My little colony has grown and changed a lot, and I've come to figure out caring for them quite a bit better, I feel!
I've been lurking around reading and learning since I joined the site a year ago with my first three girls. My trio's still doing very well, and we've had some additions to the family since then! I got some pictures of the girls while I had them out for feeding yesterday, so I thought I'd share.
My first group are the big gold girl, Muenster, the gold piebald, Tweak, and the lilac, Bogart. Added since then were Pumpkin, the black and tan, the fluffy brindle Hollow(I say fluffy because she had long hair when I got her. It got a little shorter as she grew, but she's still plush), and their newest family member Fidget, the champagne longhair.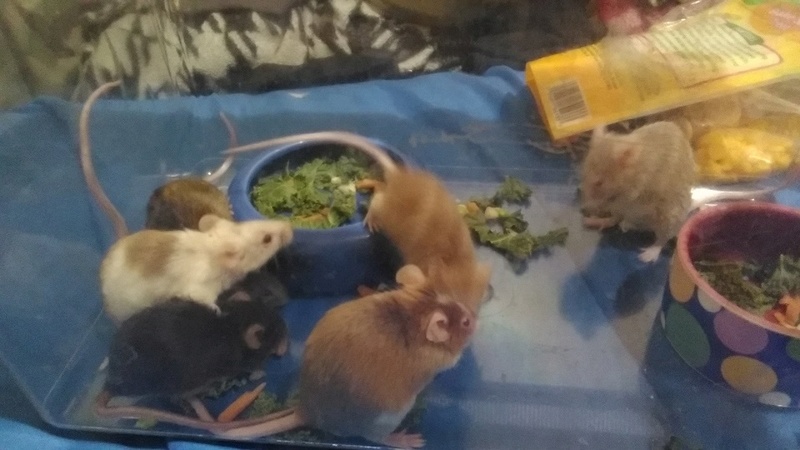 I had a little scare with Bogart a few months ago. When I added Hollow to the colony, she seemed to stress Bogie out. Pumpkin, having a very laid-back and passive personality, had been an easy addition, but Hollow doesn't have nearly the same even temperament. She seemed very, very fearful of everyone at first, myself included. She used to scream if she was touched, and she caused quite a ruckus once she started living together with the others. Bogie has a hard time getting along with the other mice sometimes- she doesn't much like to share. My poor old girl started showing signs of respiratory distress and began to rip the fur on her face and shoulders out. She seemed to be going downhill, her coat was getting rough and ragged-looking and she stopped moving around so much. She would just sit hunched over in a corner of the tank. It seemed like she was struggling to breathe. I was so scared for her, she's been my squeaky wheel since I first got the trio. Everything in their tank has been based around whether or not the other girls have enough stuff to do whatever they'd like and still let Bogie have her way, too. And so I took a $5 petshop mouse to the vet and paid 50 times the price of her to find out that she had a cold, and apparently mites, too. The vet said that it's possible that Hollow brought them to the colony, and it's possible that the girls had them all along, but the stress and chaos of their first few meetings is what made them show the symptoms.
Once Bogie was medicated and things calmed down in the tank, Bogie's fur grew back and she seemed to be doing a little better. She still wasn't her old self, though, and I was still worried. She had her fur back, but it was still rough-looking, and she still spent most of her time sleeping. After doing some thorough research, I decided to add a few things to their veggies: fresh garlic, and red grapes a few times a week. From what I've read, they're like superfoods for mice, and can help boost their immune system. I read from one breeder that it's even helped her keep tumors and cancer out of her colony. Bogie gets salads 5 times a week, and I add grapes 3 times a week for her(each mouse is on a different schedule depending on their dietary needs). It's been a month since I started adding the garlic and grapes, and Bogart is absolutely fantastic(if a little smelly!)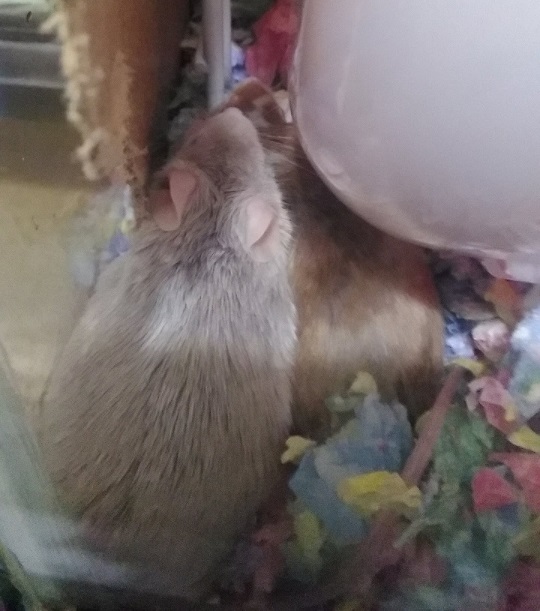 Her fur's looking beautiful again, smooth and shiny. She's so much more active now, too. She not only regained her previous energy levels, but my three older girls, who seemed to be slowing down in their maturity, all seem to have an extra spring in their step again. Tweak's even shown Fidget how to get up to the ceiling and climb around upside-down. I haven't seen her do that in months. They've been all over the place again, the tank is so active.
It's alive enough in there that I've decided it's time for the girls to graduate from their 20 gallon Mouseville. I'm in the process of building them a cage out of a 50 gallon bin. I've dubbed it Mouseburg, the next step towards Mousetropolis! I'll share pictures of their new cage once it's done as well. It's been quite a bit of work and planning, and it's nearly done!
I also have two new girls to join the colony once their settled into their new home. They're in quarantine for the time being, and won't be joining the family until Mouseburg is complete next week.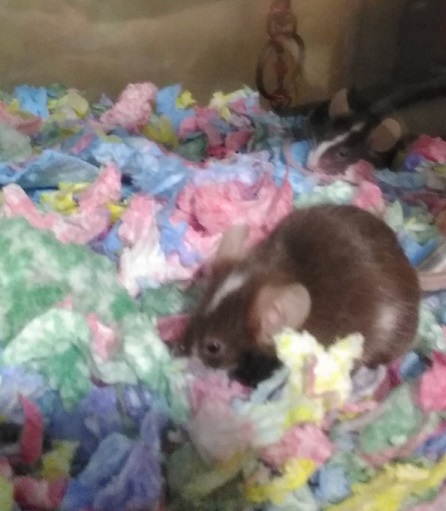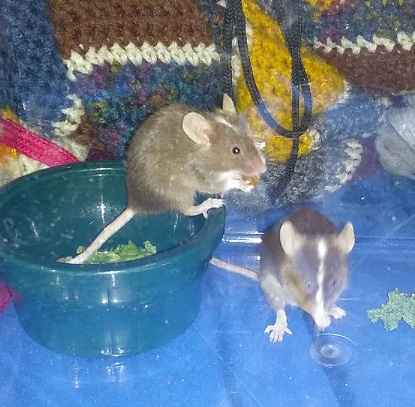 These are my new sisters, Syzygy(with the blaze all the way up her face) and Parallax (with the snip and star). They seem to act like twins, sharing just about everything or taking turns happily. They were a little nervous of me at first, understandably, but after I added them to the salad schedule last night, they seem a little more accepting! They seem sweet and curious and active. I'm sure they'll be great additions to the family!

Mousetropolis

Jr Member





Join date

: 2017-04-08


Posts

: 29






Wow! Your mice are beautiful. I might have to try that grape/garlic thing...my girls just starting to keep get some hair back too.


_________________
Goose & Otter* ♂ 

Remembering Mr. Bald ♂, Tipsy, Topsy, Maier, Graham & Garcia ♀
*Neutered male group. Do not house intact males together.*

River

Hero Member





Join date

: 2016-06-19


Posts

: 1481






Thank you!
I was reading about Graham, glad to hear she's doing a little better! The garlic/grapes could be worth a try; it' certainly seemed to help Bogart out a lot. Curry kale is also supposed to be a good one, loaded with vitamins!

Mousetropolis

Jr Member





Join date

: 2017-04-08


Posts

: 29






Beautiful girls!

Rodents rock!

Hero Member





Join date

: 2016-06-27


Posts

: 1818






Thank you! They are my loves! I really ought to post more of them, it's just hard to catch them sitting still

Mousetropolis

Jr Member





Join date

: 2017-04-08


Posts

: 29






Similar topics
---
Permissions in this forum:
You
can
reply to topics in this forum