I got a call from a friend who worked at a pet store, they had a massive shipment of feeder mice come in and they didn't have a large enough tank for them so about 140 mice of varying age and gender were all in one tank, my friend asked me if I wanted to maybe come and get some out of that situation. I had an extra cage I wasn't using so I thought I'd go get a few in hopes of giving them a little happiness. When I got there it was just saddening to see all these mice running around in a much-too-small tank. I took my time and selected a few to bring home with me, it's hard to not want to take them all. They all were small and sickly looking, unkempt and matted fur, they were feeders, not meant to be pets, and the cashier told me not to get my hopes up. They have all since passed on, and much too soon, but they were all well cared for the short time I had them with me. they were all bright, playful, and loving.
One that has stuck with me though, is Roxie. She was under a pile of about 20 mice, not moving, she looked disoriented. I took her home, got her to eat and drink some, and let her rest on my chest until the early hours of the morning, when she passed away. She was so sweet and gentle, her eyes were never dull, she had a bright soul in them, and I wish I could of had more time with her. I knew she was clearly ill, but I guess I didn't expect her to be gone so soon.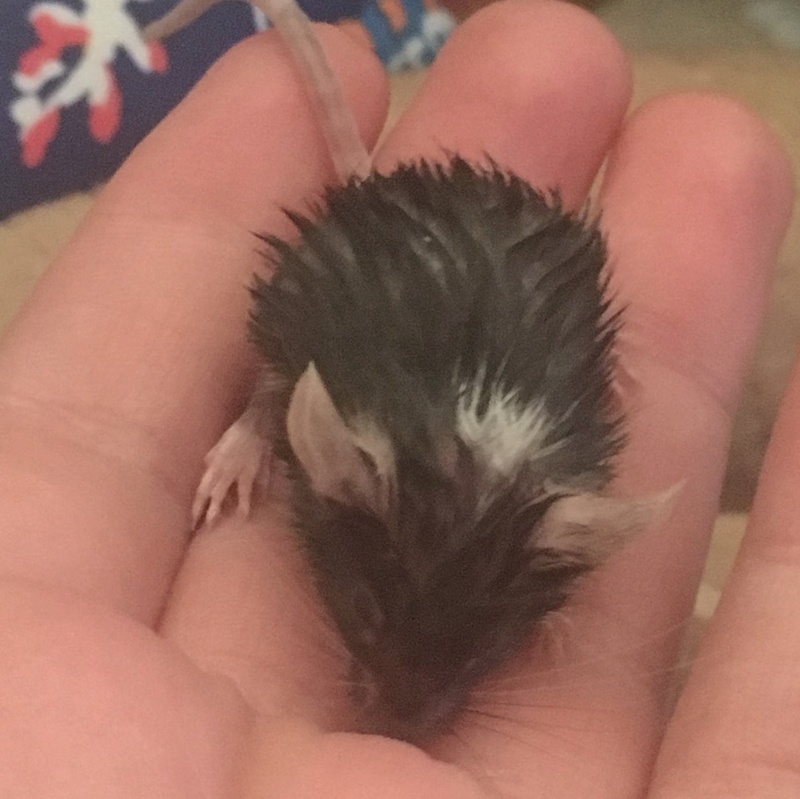 casualmousemom

Jr Member





Join date

: 2018-02-23


Posts

: 20


Likes

: 4







She died knowing love. Thank you for giving her that chance.

River

Hero Member





Join date

: 2016-06-19


Posts

: 1168


Likes

: 255







That's such a kind thing to do for those babies. It's so hard to see a sick mouse. Maybe it's because they have so much life inside them when they're well. I'm sure they appreciated what you did for them.
_________________
Always remembering my angel mouse Marie
Current babies are Nicole, Madeline, Angelica, and Dora Winifred
You can't keep a good mouse down!

BananaPie

Jr Member





Join date

: 2018-03-05


Posts

: 24


Likes

: 1







Poor little mousie. She shows signs of starvation/dehydration, the way the bone structure shows through the skin on her tail, and the prominent knuckles on that little foot. If she seemed uninterested in eating or drinking very much, then her little body was probably just shutting down. Even force-feeding doesn't always turn around that process, and sometimes it does more harm than good if the body suddenly finds it has an influx of basic food materials to work with when it has already shifted to more complicated processes to derive energy from its own fat and muscles during the time sufficient food was not available.

So what you did for Roxie was just about the best thing anybody could have done. Bless her, and all the other little ones at the store that day. What tragic mistreatment going on there.
_________________
Zephyr
Coco
Bobby
Noche
Paiva
April
I loved you so / I still do / I always will / 'Twas Heaven here with you.

MerciToujoursMaPetiteBoop

Sr Member





Join date

: 2017-10-18


Posts

: 300


Likes

: 164







I'm so sorry for your loss. You did a wonderful thing to let the mice feel love even if it was for too short a time. At least they left this earth knowing what love feels like, thanks to you. You are an angel

Rodents rock!

Hero Member





Join date

: 2016-06-27


Posts

: 1818


Likes

: 599







---
Permissions in this forum:
You
cannot
reply to topics in this forum