+29
MerciToujoursMaPetiteBoop
AppleCheeks
admin
Blessed
Winter Moose
Mice Are Cute
Drago
PastelMouse
September
Goldehwolfeh
olimarthemouse
Asteria
CanadianExport
EverythingAnimal
Mouseketeers
River
Rodents rock!
MesaMouse
stephlisa
CinnamonPearl
CallaLily
AnonymousMouseOwner
Brynne
scaredymouse
Artistwolf
Bandit Cat
MouseLover
Soren
Peachy
33 posters
Page 64 of 64 •
1 ... 33 ... 62, 63, 64
Just thought I'd let you all know I'm fine in case someone remembered I live in California
There was a big 7.1 earthquake in Ridgecrest, CA and we felt it where I live, all the mice came out and were running around their tanks, I think they felt it too, everything shook for a good minute but no damage here. Where the earthquake was centered, however, got quite a bit of damage including house fires, so keep those people in your thoughts/prayers, it was quite terrifying for them, they were interviewing some people on the news and a lot of people want to move out of CA fearing another one.
_________________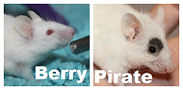 Remembering: Violet, Snow, Holly, Lilac, Clover, Petal, Cotton, Sugar, Autumn, Sage, Rocky, Jack, Willow, Blossom, Sierra, Amber, Olive, Scout, and Daisy
Riding out an earthquake -- how exciting!  I know about the destruction and fear, and I don't take them lightly, but I always enjoyed the challenge from Mother Earth.

There was one epicentered by Lee Vining in October 1990, 5.8 mag, and I was in Bridgeport, the next town up 395 past Mono Lake.  I was standing in a doorway and the floor yanked under my feet in one direction (the "P wave" going through), then perpendicularly (the "S wave" going through), as the rooms creaked and the wood paneling crackled and popped.  Then the L waves arrived and I watched the floor begin rippling toward me like ocean waves.  First I wondered if I ought to grab the bouncing telly so it wouldn't end up on the floor, but I decided to just skip it and stood where I was.  I seem to remember that the only property damage anybody had was from things falling off shelves, but Yosemite had rock falls all over the place!

I don't live in California or Nevada anymore, but I was back in 1999 for the last 7.1 you had.  At the beginning of August I began telling people I worked with to start preparing in case I was delayed getting back from my upcoming October vacation back to California, because there was going to be a good-sized earthquake while I was there and they'd have to cover for me.  The usual response was along the lines of "a-ha-ha-ha, sure", until one day the president of the company asked me for some specifics.  I leaned back in my chair and closed my eyes and it was like I was trying to read dark, blurry headlines inside my brain.  I told him "Magnitude 7.0 ... 7.1 ... while I'm in San Diego ... between B-something and something-Palm."  Even as I was boarding my plane to Los Angeles, I called back to my mum from the passenger line: If I don't get back on time because of the earthquake, say hi to [person I knew who was making an appearance at the local comix convention at the end of the month] for me!

So at 2-something AM on the final day of the San Diego portion of my stay, the Hector Mine quake woke me up.  Although there were smaller communities closer to it, news reports said it was epicentered between the cities of Barstow and Twentynine Palms, and it was initially measured at magnitude 7.0, upgraded and finalized to 7.1.

* * * * * * * * * * * * * * * * * * * *

In current events, I am very sad to report that the baby robin that emerged from the hatching-in-progress egg I found lying in the parking lot at work after a violent storm on the Fourth Of July parted company with its brief life within the last hour.  It was very tough trying to take care of a hatchling while working a 65-hour-a-week job and attending to a hospitalized parent, as well as taking over his house maintenance, bill paying, and yard care (I am SO covered in mosquito bites!), but we (the peepster and I) did what we could.  Little Parfait had every strike against him/her once that egg left its nest, but until midday yesterday things seemed on the surface to be going quite nicely.  Alas, it seems that stupid enemy, dehydration, slowly creeped into the situation and just wouldn't give up.
_________________
Zephyr
Coco
Bobby
Noche
Paiva
April
I loved you so / I still do / I always will / 'Twas Heaven here with you.

MerciToujoursMaPetiteBoop

Sr Member





Join date

: 2017-10-18


Posts

: 380







Peachy

Moderator





Join date

: 2016-04-06


Posts

: 3164






River, SarahAdams and Dee67 like this post
Just wanted to pop in and say I miss you guys!! My early days on this forum were great. My luck with mice, not so much, but I have such fond memories of scrolling for hours here…if anyone is wanting to stay connected I am on instagram @quietosprey.



_________________
Goose & Otter* ♂ 

Remembering Mr. Bald ♂, Tipsy, Topsy, Maier, Graham & Garcia ♀
*Neutered male group. Do not house intact males together.*

River

Hero Member





Join date

: 2016-06-19


Posts

: 1486






Page 64 of 64 •
1 ... 33 ... 62, 63, 64
Similar topics
---
Permissions in this forum:
You
cannot
reply to topics in this forum