Hello everyone!
Unfortunately, my mouse came down with a tumor. - Well, not exactly. Hes gotten a large lump that's on his stomach, all the way to his bottom. It makes his tail go all the way to the right of his body, and its really demented. This tumor has been growing for a few months, and I feel miserable that I didn't do something in the first place. Its not like I haven't, I've tried my best to keep him comfortable. My mother refuses to bring him to the vet, because hes "Just a mouse" and doesn't really like him, honestly. I feel very bad for him. Even earlier this afternoon, I was cleaning his cage and putting fresh Care Fresh bedding in, and putting his hut and wheel in. When I got Zazu (My mouse) out of his old cage and picked him up, I noticed some brownish/reddish coloration on his tail, which completely blabbered me. I decided to try wiping it off with a wet piece of toilet paper, and he started to bleed from his tumor, or his belly, I wasn't sure. It extremely freaked me out and I hurried to put him in his regular cage and wash my hands. It got on a few bits of betting, but not a lot. I'm hoping to find out whats wrong. He has never been to a vet, and unfortunately I had gotten him at Petsmart. So, I should have been expecting this. My grandma suggested it was the tumor popping, but I honestly have no idea.
I definitely need advice, its absolutely appreciated!


Fukari

Jr Member





Join date

: 2018-04-07


Posts

: 28






in this case, taking him to a vet is really your only option. not much can be done about the tumor itself as having them removed can be very stressful and sometimes fatal for the mouse. as to the bleeding, this is something that a vet most definitively needs to look at as it could be an infection which can be fatal if not treated. if your mother refuses to take him to the vet you could offer to pay for it yourself?
best of luck for your little guy
_________________
Luna~ ~Nova~ ~Vega~ ~Apollo~
Remembering: ~Milly~ ~Jazz~ ~Jem~ ~Oreo~

Jadamouse

Sr Member





Join date

: 2018-04-02


Posts

: 127






It's always best to take your mouse to the vet first in cases like this, just to ensure that it's a tumor and not an abscess or something treatable. Your vet can also help discuss pain meds and euthanasia.
Is it possible for your grandma to help assist with a vet? Maybe you could call the vet and ask for an estimated cost, and then work with your parents? Offer extra chores, babysitting, allowance?
If you really can't get anyone to help, it might be best to not get anymore mice after this unless you have a plan for a vet. Earning/saving your own money and ensuring that you have a way to the get to vet. A small size doesn't make a mouse any less of a living being deserving of proper care, and vet care is part of that.
How is Zazu behaving? Still pottying ok? It's not unlikely that the bleeding is from the thin skin around the tumor stretching and breaking open. Without interference, it's possible for this to keep happening until your mouse passes. I'm at the same point with one of my ladies.
My best to you and Zazu. Keep your chin up and give him lots of love.

Peachy

Moderator





Join date

: 2016-04-06


Posts

: 3164






Thank you! I've talked with my mother about going to the vet, and I've made sure shes definitely thinking about it. I'm trying the best I can for him, and I do believe  he might pass. Hes definitely using the bathroom okay, and I don't think its hurting him just of yet. After he bled on my hand, he was running around all over his tank. I'm earning money by walking dogs, and I got a small amount after my birthday. I'm doing my best to get the amount of money I need for him. Thank you a lot for the advice, I really appreciate it!

Fukari

Jr Member





Join date

: 2018-04-07


Posts

: 28






I'm so happy she's thinking about it! There's not much that a vet can do to treat a tumor, but euthanizing when it's time is much kinder than letting him bleed to death.
Kudos for being a responsible owner and doing your best for Zazu, that's so wonderful to hear.
Mice are prey animals and excellent at hiding pain. I'm not trying to say you're wrong, just some information to keep in mind. Keep us updated!

Peachy

Moderator





Join date

: 2016-04-06


Posts

: 3164






I have very good news! My mother said no, and my dad walked in. He yelled at her for making random decisions, and said he would take Zazu to the vet! Now I'm picking out a vet to take him to, and I'm absolutely grateful for my father.
He said he could take him, I just need to figure out a day. I've really seen the benefit of the doubt here.
I'm thinking about today actually, cause its the only day my father has off. Or I could go tomorrow, after hes done with work. Thank you a lot Peachy, I really respect you and the advice you've given me. <:

Fukari

Jr Member





Join date

: 2018-04-07


Posts

: 28







Fukari

Jr Member





Join date

: 2018-04-07


Posts

: 28






I'm sorry. I had a mouse with a tumor that large. I ended up having to put her to sleep because the skin was starting to break down and she was having trouble getting around. But she did fine with it for a long time. Mice handle these sorts of things much better than we can imagine. My mouse was fine until she wasn't. I'm glad you are able to go to the vet, if only just to let him go peacefully. Keep us posted. Again, I'm sorry you and your mouse have to go through this.
_________________
Lady mice
: stormy, Dahlia, lily, Ella billie, coco, maggie
Gentleman mice
: milo, jimmy
Other pets
: Little Buddy, Kevin (cats) robert, lulu, Englebert, harold, Gerald, Zumi, nico, charlie, (hamsters), stella (gerbil), Gilly (hedgehog)
 Penny, Honeybun, Lucy, Annie, Gilly, Furgie, Tedward Wigglesworth, Olivia, Goose, Sweet Katie, Binky, Delilah, Bitsy, Boopers, Sprout, Splotchy, Eva, Slappy, Shuggie, Fancy Pants, Jellybean, Charlie, Murray, Sally, Maya, Gunther, Lil Smokey, Magnus, Norman, Winnie, Sally, George, Harriet, Spec, Erzulie, Lucille, Agatha and Clementine.

scaredymouse

Hero Member





Join date

: 2016-04-03


Posts

: 2458









Its okay. At least now I know its actually a tumor, heh. Hes fine at the moment, hes not depressed. I managed to get a shot of him on my hand.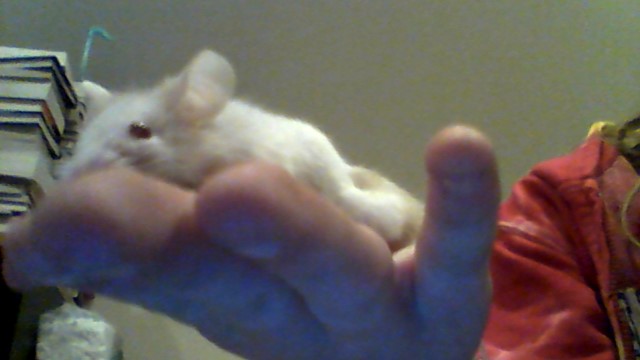 Currently, he isn't in any pain that I know of, but his skin is starting to open and hes started to have blood popping out of him.
Hasn't happened more then twice, though. I have a vet appointment for Friday, so he'll be checked.

Fukari

Jr Member





Join date

: 2018-04-07


Posts

: 28






Similar topics
---
Permissions in this forum:
You
cannot
reply to topics in this forum