So I bought six adorable supposedly female mice from the pet store; already one has been male and I had to return it (which was extremely sad because I knew he would be snake food). Now, I keep thinking I see little tiny balls on several of the mice. When I look closer, it looks more like just kind of a puffy spot though. Does anyone have any suggestions on how to be more sure?
do you have any idea how old the mice are? if they are over 4 weeks of age there is a possibility that you may have some pregnant does if you have males. here is a picture of the difference between males and females... you can put them one by one in a clear plastic container and hold it above your head and take a look at their underside.
_________________
Luna~ ~Nova~ ~Vega~ ~Apollo~
Remembering: ~Milly~ ~Jazz~ ~Jem~ ~Oreo~
Sr Member





Join date

: 2018-04-02


Posts

: 126


Likes

: 39







Okay, using that photo I was able to confirm that five are definitely female. This one is the only one we aren't sure about (and of course, she's my favorite). She has such long fur and she's younger than the others, so it's very hard to tell.
Any suggestions?
https://imgur.com/a/blWk4gG
Also, thank you so much for posting that. I was literally having a panic attack thinking I might not be able to keep ALL of them if they were all male.
I can't tell from your pictures. The best way to figure out sex if you can't find nipples is to look for a vaginal orifice. This picture shows where it is and what it looks like.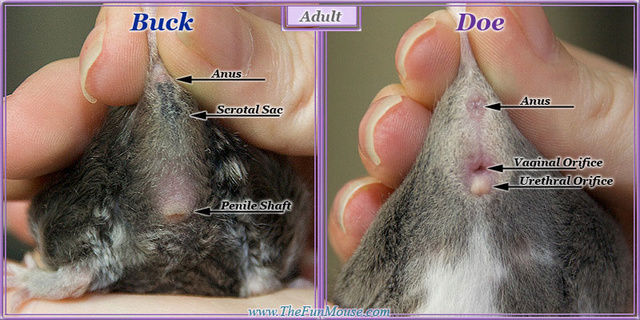 If you'd like to try for a clearer picture, put your mouse on a solid surface and gently but firmly lift their backside by the base of the tail, as is bring done in the pic above. This keeps ypur mouse under control and gives you a clear view.

_________________
Always believe that something wonderful is about to happen.

~Alex, Verity & Finnegan~
~Milo~
Moderator





Join date

: 2016-04-06


Posts

: 2886


Likes

: 827







Last edited by MerciToujoursMaPetiteBoop on Sun 22 Apr 2018, 10:43 am; edited 1 time in total (Reason for editing : To add source credit.)
_________________
Zephyr
Coco
Bobby
Noche
Paiva
April
I loved you so / I still do / I always will / 'Twas Heaven here with you.
Sr Member





Join date

: 2017-10-18


Posts

: 195


Likes

: 101









Similar topics
---
Permissions in this forum:
You
cannot
reply to topics in this forum