I was searching for some information about telling female/male mice apart and came across this site and was hoping someone may be able to help.
I've been wanting pet mice for a long time and the only place I could find female mice was at a neighboring towns pet store. I got 4 from there about a week and a half ago- but I'm not sure if one of them is actually female. I did ask for 4 females because I was keeping them as pets but males and females were all mixed together so they had to check them first and then they gave me two medium size mice and two small mice. I've been watching them a lot every day and I've noticed the smallest looks different than the other 3. I wasn't sure if maybe it's because it's so young and still growing or because it's not a female.
I've never posted here before either, but I'll try and attach some pictures (one when she/he was eating and you can see behind and another to show their size. I have no idea how old they are or if it'd help, but maybe someone else could tell). If it's too hard to tell from the eating picture I can try to take another later too- I just didn't want to scare them too much because I had to keep moving and lifting them to get the picture.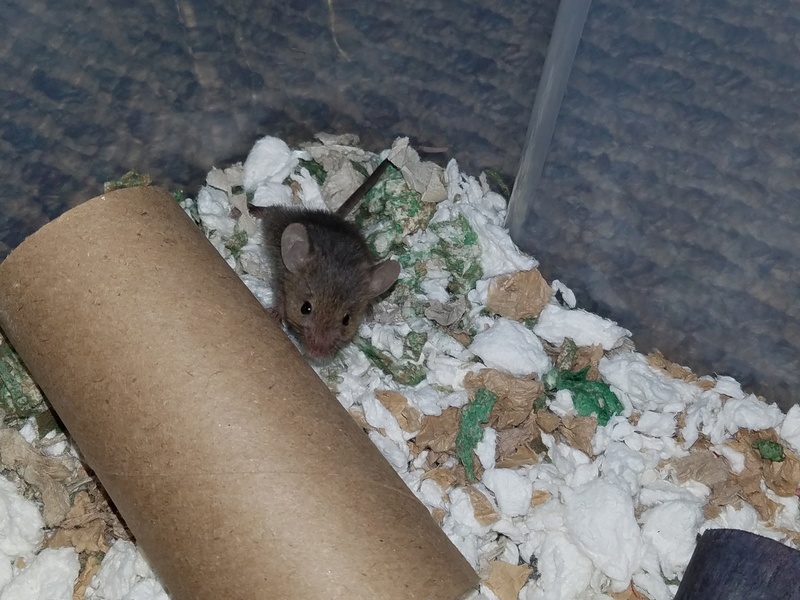 the best and easiest way to tell is to put the mouse in a clear plastic container or bowl and hold it above your head and take a look at their underside. i will attatch a picture to show you the difference between males and females... it might pay to have a look at your other mice as there is a chance that they could have mis sexed any of them. from the picture you posted it looks female.. but don't quote me on that. he/she does look quite young, and there is a chance that the 4 mice you got weren't from the same litter and they could be different ages, hence why 2 of them were smaller. were they being sold as snake food? because often times when mice are being sold as snake food they just shove them all in one enclosure no matter how old/what gender they are.
_________________
Luna~ ~Nova~ ~Vega~ ~Apollo~
Remembering: ~Milly~ ~Jazz~ ~Jem~ ~Oreo~
Sr Member





Join date

: 2018-04-02


Posts

: 126


Likes

: 39







Thank you for replying. I tried comparing to the pictures, but maybe it's because it's darker and younger it looked different and I just couldn't tell for sure. I checked the other 3 though and they all look similar to the female picture. So I'm hoping they all 4 are for sure. They get along really well and always cuddle so I don't want to have to put one by itself after they've already bonded with each other so well. The pet store I got them from did sell them for snakes though, so the males and females were all together. They mostly had their sizes separated, but some tanks did have some that were a little bigger/smaller together.
I took another picture today from underneath thats hopefully more helpful, but from the other picture it did seem more likely it's female? I just want to make sure so I don't end up with babies, although I do know that's already a possibility since the males and females had already been kept together at the pet store.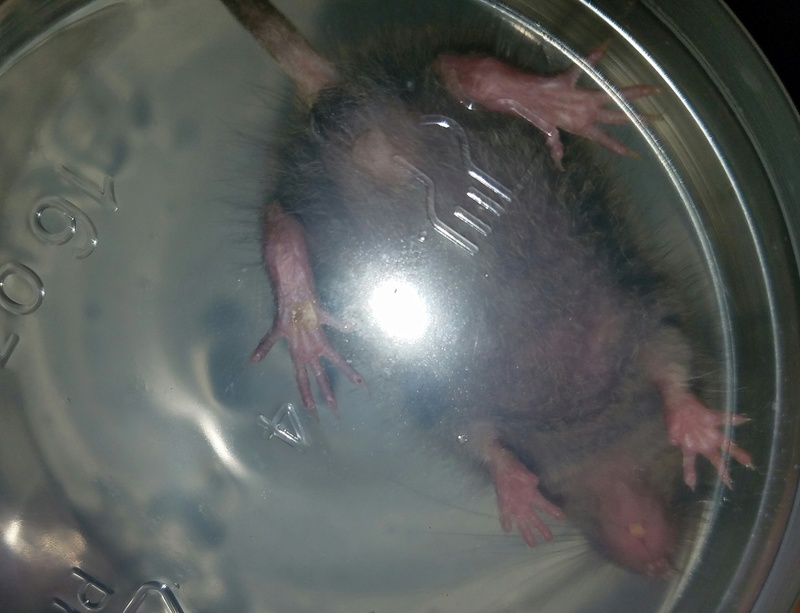 Thank you again for your help too.
I would say female, but not with the certainty that I'd like. It's difficult for me to tell from your pictures. I'll share the picture we use on this site.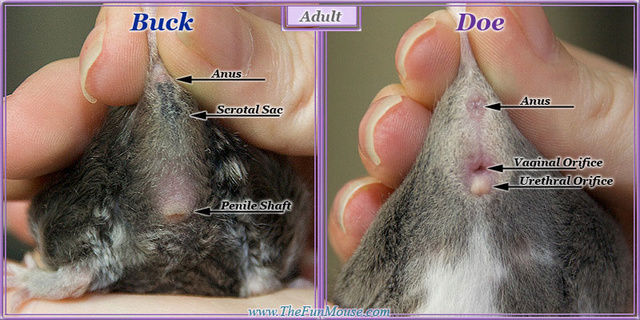 The BEST way to be certain of sex is to find nipples. If they're not visible because of long hair, the second best way is to look for a vaginal orifice. The picture I shared shows where it is and what it looks like. I would look at your known females and then double check the one in question.

_________________
Always believe that something wonderful is about to happen.

~Alex, Verity, Tulip & Finnegan~
~Milo~
Moderator





Join date

: 2016-04-06


Posts

: 2839


Likes

: 795







Last edited by MerciToujoursMaPetiteBoop on Sun 22 Apr 2018, 10:45 am; edited 1 time in total (Reason for editing : To add source credit.)
_________________
Zephyr
Coco
Bobby
Noche
Paiva
April
I loved you so / I still do / I always will / 'Twas Heaven here with you.
Sr Member





Join date

: 2017-10-18


Posts

: 148


Likes

: 81







Thank you both too. 3/4 have longer hair, so I didn't see nipples on them but I checked under their tails and the 3 definitely look like the female picture and the female in the video and then this one kind of does look like the others but then it also doesn't. I was thinking it might be easier to tell when it's a little bigger. I'm not sure how young it is, but watching it compared to the others it seems like a baby. Maybe once it's their size it will be more noticeable like they are? Or maybe it is kind of an in between female like the one from the video so it might always be different than the other 3. Thank you all again for the pictures/videos too- now I know certain things to look for to tell the differences.
I hope it's alright to post in the same post I made again. I'm still questioning my youngest mouse and took a few more pictures I was hoping to get opinions on. I know that there wasn't a clear way to tell if it's male/female before, but maybe these will be better. I circled one picture under its tail too- its the main thing that's throwing me off. Before it kind of looked female sometimes to me too, but now I don't know. Whenever it's walking around with its tail up it just looks more like a male to me. I just still have this feeling it might be. These are my first mice though and it's still so much smaller than the others, so I know there's a good chance I'm wrong and worrying for nothing. I don't know what other reason it'd look different though unless it really is in between like the one in the video.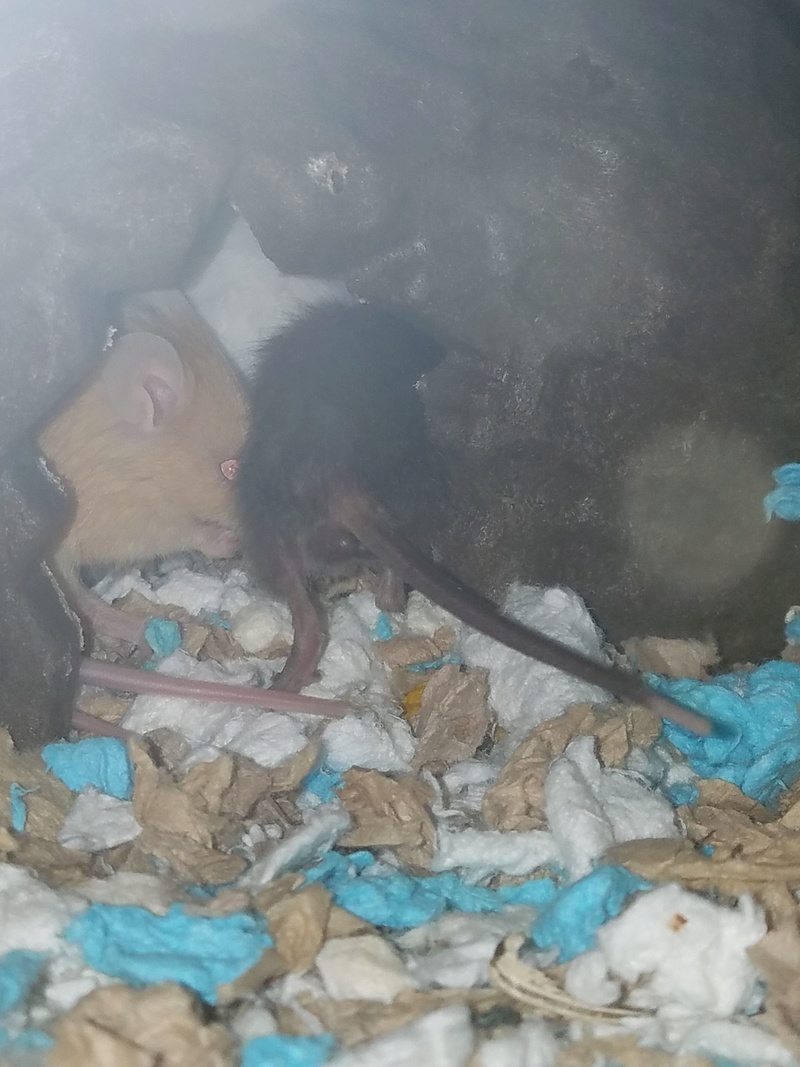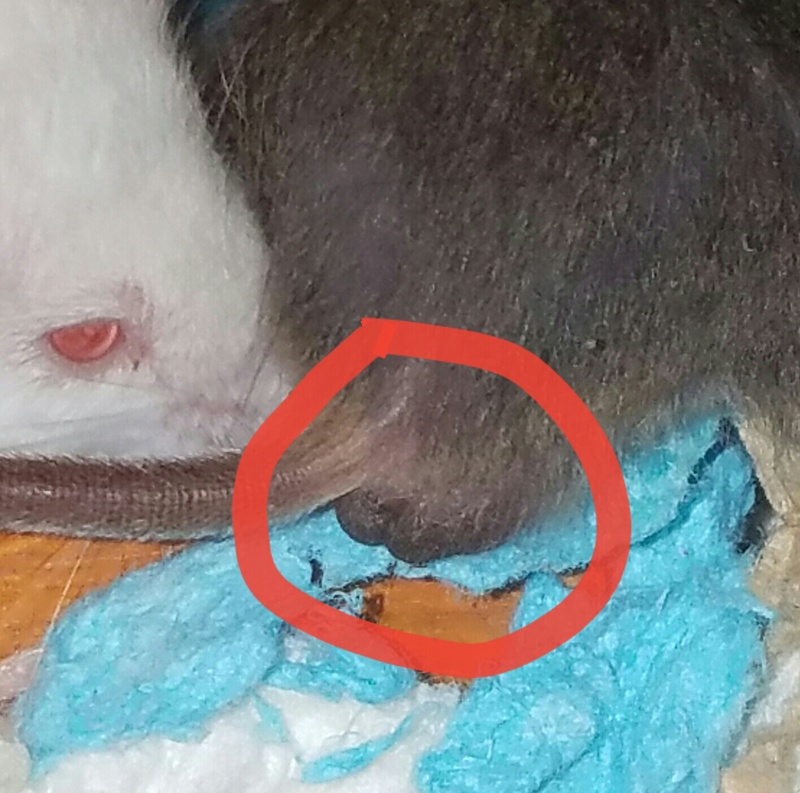 I'm sorry for being annoying with all the posts/pictures too. Hopefully these ones are a little more helpful. They're all pretty fast mice though so sometimes it will just be a blur or a tail by the time I take the picture.
Those look like testicles to me, which would definitely mean you have a boy! Your other mice are girls? If so, I'd separate that one out so he doesn't get them pregnant.
Hero Member





Join date

: 2016-06-13


Posts

: 1773


Likes

: 481










That's what I was thinking, but I wasn't sure. Sometimes it looked like a female when I compared it to the pictures posted, but other times it didn't. So I wasn't sure if maybe it was a female/ in between with male characteristics like the video posted or if it really is 100% a male.

The other 3 are females too, so if it is a male is there a good chance they're pregnant now if they've been together a couple of weeks? It's still smaller than the rest and I feel like it's slower at things. It just now started climbing on things in the cage and before it couldn't pull itself up to climb. The other 3 could though so they catch on to things faster and I think they're all older. I'm just hoping that means it's too young to get any of them pregnant.

If it is a male too and I have to separate them, is there anything that usually should be done if they've all already bonded? They all sleep cuddled up together and are constantly together and playing, so if I separate one by themselves won't they feel lonely or depressed? And would they always need to be separated? Would they be able to visit together every now and then or is it too much of a risk?

I'm sorry for all the questions too.I looked into mice before getting them but it was only for females living together. I didn't plan on having a male. I'm not really sure what to do if I have 3 females and a male, but I want to make it work. I know they can't live in the same cage anymore, but I'm hoping visiting is okay. I feel so bad if I have to separate them. They seem happy together and I don't know how they'll react to it.
It all depends on how old they are, I believe at 4 weeks they are mature and can become pregnant, but the male also has to be 4 weeks. Your mice likely weren't under 3 weeks when you got them, due to the fact that they usually don't eat solids until week 3. So let's assume your mice were 3 weeks old when you got them, you've had them how long? 2-3 weeks? From 3-4 weeks they shouldn't have gotten pregnant if they truly were that young. Once they hit 4 weeks, they can become pregnant. So let's say they become pregnant that day, and you've had them for 2 weeks after that. That would mean they could be 2 weeks pregnant right now. Mouse gestation period is around 3 weeks. So you should know soon if they are pregnant.

When you think about it, if you go and buy a single male mouse from a pet store, you are taking him away from his cagemates. You taking your mouse away from your other mice isn't much different. As long as you give him lots of playtime and interact with him as much as you can, he should be ok on his own.

I really wouldn't put them together for playtime. It only takes a couple seconds for a mouse to become pregnant. You turn your head away from them for a couple seconds, you end up with 20 more mice. Plus, it can be kind of confusing for the mouse to keep seeing mice for a few minutes, then going back in his cage alone. He won't understand why he can't stay with them. So giving him playtime with you is much better than playtime with your girls.
Hero Member





Join date

: 2016-06-13


Posts

: 1773


Likes

: 481










Thank you for everything. I'll keep an eye on my other 3 to see if they get any bigger but so far they haven't seemed to. I still feel bad having to separate them permanently but I see how it'd be confusing for them if I kept letting them visit and then separating them again. I didn't think of how that'd be hard on them too. I have them in 2 different cages now so hopefully they'll like it okay.

---
Permissions in this forum:
You
cannot
reply to topics in this forum