Sweet little Bitsy.  The first night, she built a crazy nest but didn't sleep in it.  I think is was busy work.  She's been sleeping in the hammock every night.  I cleaned the tank but since the hammock was clean and still smelled like Annie, I left it in there.  Bitsy is still really jumpy, but she has always been like that.  If I'm patient, she will come to me.  Anyway, here's some pictures:
Here is where I buried Annie... with all my other little loves.
Day 1, leave me alone, I has a sad.
Bitsy will sit still on my shoulder now
And when I return her to her tank, she calmly eats her treats and then curls up out in the open!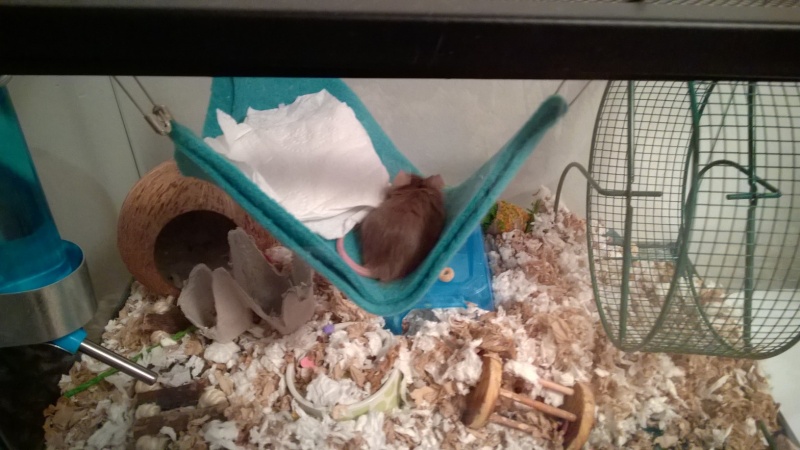 I would say things are going as well as to be expected.  In related news, Jellybean is a whole 28 grams now!  And my colony of four is bonded and happy.  So I look forward to making further progress with Bits and sending her home where she belongs.

scaredymouse

Hero Member





Join date

: 2016-04-03


Posts

: 2458









_________________
Lady Mice: Sarah Jane, Eliza, Sabine, Tegan
My "Crazy Mouse Lady" channel on youtube-
bit.ly CrazyMouseLady
Aaw good luck Bitsy, hope things aren't too hard on you right now.

_________________
Current Mice: None.
Rainbow Bridge: Daisy, Peach, Ivy, Penelope, Hazel, Ruby, Clover, Peanut, Minnie, Ginger,  Honey, Violet, Flora, Fauna and Merryweather.
Hope she'll do well with the other girls. She's so pretty.

Peachy

Moderator





Join date

: 2016-04-06


Posts

: 3164






I'm hoping to reintroduce this weekend. And since this whole thing is off script, I'm going to reintroduce on neutral ground but the tank I put them in is going to have the home court advantage. I'm going to leave in all the toys that smell like the colony. But I do plan to swap out the bedding in the next day or two in preparation. This is a good case study should anyone else find themselves in a situation like this.

Bitsy has been doing the cutest thing, when she sits on my shoulder, she curls her tail around neck (like a hug). I love when they wrap their tails around me. I'm so nervously excited. The suspense is killing me. I can't wait until this weekend. It's going to work. It's totally going to work.
_________________
Lady mice
: stormy, Dahlia, lily, Ella billie, coco, maggie
Gentleman mice
: milo, jimmy
Other pets
: Little Buddy, Kevin (cats) robert, lulu, Englebert, harold, Gerald, Zumi, nico, charlie, (hamsters), stella (gerbil), Gilly (hedgehog)
 Penny, Honeybun, Lucy, Annie, Gilly, Furgie, Tedward Wigglesworth, Olivia, Goose, Sweet Katie, Binky, Delilah, Bitsy, Boopers, Sprout, Splotchy, Eva, Slappy, Shuggie, Fancy Pants, Jellybean, Charlie, Murray, Sally, Maya, Gunther, Lil Smokey, Magnus, Norman, Winnie, Sally, George, Harriet, Spec, Erzulie, Lucille, Agatha and Clementine.

scaredymouse

Hero Member





Join date

: 2016-04-03


Posts

: 2458









Similar topics
---
Permissions in this forum:
You
can
reply to topics in this forum