So this little sweetie is balding on (?) her tummy. I'm assuming a standard ivermectin treatment wouldn't be a bad choice, but just in case I'm missing anything I figured I'd post here. I'm 90% sure on female, she came from a feeder tank and doesn't seem to understand her wheel as I've only seen her on it for a minute. Would more out of cage play time be a good thing? She's not super fond of umm. Anything? At all? She just digs holes and hides. I've just gotten a proper lid and am about to build some more amusement stuff for her, but she really isn't using anything in her cage except as emergency shelter. She sleeps out in the open like a weirdo? I leave her alone during the day but the wheel stays completely clean so I'm sure she isn't running on it.
The vets here would likely prescribe anything I ask for for her, but they absolutely don't know enough about treating mice to make their own suggestions on what to do. I've tried before with past mice and I get a shrug and told they don't even know how to examine them properly.
I've had her about 2 weeks, and she's gone from 14g to 16g. I hear her eating frequently, I see her drinking regularly though a bit less than I expected from previous mice. She chewed her way through the clay bowls I made her a bit (only after I left her alone with them, ugh), but none of the veggies I had put into it. She won't take treats like oats from me, but she'll eat them if I leave the room.

j.n379

Full Member





Join date

: 2018-04-13


Posts

: 66



what type of bedding are you using? is it aspen? if you are using aspen bedding switch her onto something paper based like carefresh or kaytee clean and cozy, she might have an allergy to the aspen causing her stomach to lose fur. it may also be her barbering herself (although her stomach is a weird place to barber you never know?) and yes an ivermectin treatment could be a good idea if needed.
possibly try finding a new vet if your current one doesn't really know anything about treating mice, try to find an 'exotic pet' vet maybe.
i have had mice in the past who dont sleep inside hides and just sleep in the middle of their cage, some mice just don't like hides i guess? give her some hay and shredded tissue paper and she might make a nest to sleep in. keep trying lots of different toys and things with her and i'm sure you will eventually find something she likes. you could also try a flying saucer wheel, maybe she will like that. try dried papaya treats and yoghurt drops with her too, i have never had a mouse who doesn't like them
you should also look into getting her some friends (as long as you are sure she is female) as this might make her feel a bit safer and she will have other mice to snuggle with.
_________________
Luna~ ~Nova~ ~Vega~ ~Apollo~
Remembering: ~Milly~ ~Jazz~ ~Jem~ ~Oreo~

Jadamouse

Sr Member





Join date

: 2018-04-02


Posts

: 127






She's on carefresh paper and corn cob husk, I can stop the corn if it's a problem but it seemed like the only complaints were smell related. The wheel is a saucer. I don't have the facilities to do mouse qt right now, so if I were to get her friends I worry that they might bring something in to her that would be worse than boredom, so I'm going to try more toys and adventure time before I consider that. I would've gotten her with friends, but from the feeder tank it would have been risky as far as sexing,I didn't get to choose her, I only got to choose the size I wanted.

There's not really exotic vets here (or to them, exotic means birds bunnies and ferrets, lizards if you're lucky enough to live near someone with that experience), the one I had that experience with was the closest thing to it, they did work with rabbits and ferrets but knew nothing about mouse health. I know a few vet techs and it's just not really in their education at this point in Canada I guess. I've had a place willing to euthanize when I had a girl with a tumor, I've had them give me antibiotics at the ratio requested, but as far as investigations it's pretty much all on me which I understand. They're just not taught it.

I'll check at the store for papaya treats and keep trying with different safe fruits and veggies.

I got some fleece today finally, so I'm working on hanging climbing stuff, built a few housey things from some mini Jenga sets I've been saving up. I'll take her out for a longer time today and see if she gets used to being out, I had been giving her time to acclimatize to the home first but clearly she's not having enough fun.

j.n379

Full Member





Join date

: 2018-04-13


Posts

: 66



Uhhh yeah this is definitely mental. I took her out for play time with new things, she sniffed them and got panicky, after 15m I put her back in her cage because it was clearly distressing her to be out, put in the new structures and now she's hiding in the one unchanged corner and grooming herself very frantically. Maybe by tomorrow she will enjoy the new toys but right now I think she's overwhelmed.

j.n379

Full Member





Join date

: 2018-04-13


Posts

: 66



Considering that "little sweetie" is still very small, and that she has only been with you for two weeks, maybe she still just hasn't found her comfort zone yet in her new lifestyle.  Make sure the light level and noise level are subdued for her comfort, and beware of nearby electronic devices that may be making noise that is extremely bothersome to her that you don't even notice.
Having a solo mousie-girl, you will have to make extra effort to spend lots of time with her.  I had the privilege of being "giant mouse" to a solo mousie-girl, and also had the advantage of being able to have her with me on the job (where I worked ridiculous hours and so was near to her for most of every day).  If you have never been through this before, can I suggest a couple of ways of "being present" in mousie's life without having to be actively engaged in participatory playtime?
First, make sure you get your scent well distributed in the mouse house.  Roll the bedding and furnishings and toys in your hands, breathe on them -- even carry some of it around inside your shirt for a while.  As she gets used to living in her new home, she will also be getting used to living with the scent.  The smell of you will be part of the smell of home.
Second -- and you have to be extremely careful at all times when you do this -- put on a long-sleeved tee-shirt that getting soiled won't matter, tuck it in at the waist, and see if the little girl will climb up a sleeve, either outside or in, for a little exploration.  The first few times you do this, once she is onboard you might want to stand in a bathtub (with the drain covered), so if mousie decides to make a run for freedom up your arm and down your back and a leg, she won't end up getting lost in the house somewhere.  If she does try that, REMAIN CALM and let her just run around in the bathtub while you step out and turn it into a play-in-the-tub session for her.
If mousie takes to "shirt time", you may soon find you have a little buddy that likes to ride about on your shoulder and watch the big scary world from the safety of you as you go about doing simple chores, reading, telly-watching, working, idling on the computer, et cetera.  OR, you may find you have a little sleepie buddy that likes to climb on board and run to her favorite spot and settle in for a nap.
You must always be careful doing that though.  ALWAYS BE AWARE THAT THERE IS A TINY, FRAGILE MOUSE SOMEWHERE ON YOUR PERSON (and not even necessarily where you think you feel her).  And learn to recognize how she tells you she's had enough "bonding" time and wants to go back home.  You don't want her getting frustrated with you because you are so hard to train!
Finally, the reason I said to put on a shirt that soiling won't matter with, is that there will invariably be mousie "accidents".  It's just the nature of their physiology that they let it out whenever it's ready.  When you untuck the shirt, mousie doodles will hail out.  (Watch for them rolling out of your sleeves too, all during "shirt time".)  You will have wet spots too, yuck.  Pre-soaking the shirt in washing soda should take care of most staining, and won't add potentially harmful chemical contaminants to the fabric.  It worked most excellently for me. I also laundered my mouse-soiled shirts in Dawn dishwashing liquid, since it is safe for wildlife.
And as for YOU after being used as a litter box in the name of spending quality time with your beloved little mousie-girl?  Well, you probably rinse off pretty easily, eh?
Here's my little April, asleep inside my shirt one day: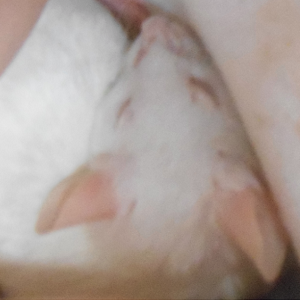 Aw, it was all so-o-o-o-o worth it.
_________________
Zephyr
Coco
Bobby
Noche
Paiva
April
I loved you so / I still do / I always will / 'Twas Heaven here with you.

MerciToujoursMaPetiteBoop

Sr Member





Join date

: 2017-10-18


Posts

: 378






Awww! Yeah I've done that a few times, she does better with shirt time than floor time. I was going to make her a little carry round pouch today with fleece and see if she would nap in it tucked into my shirt. It's a bit tricky since I have a young cat who would definitely catch her if given the chance, but I can probably spend a bit more time locked away in my room without the cat. I'm not working so I have all the time in the world I guess

j.n379

Full Member





Join date

: 2018-04-13


Posts

: 66



Similar topics
---
Permissions in this forum:
You
cannot
reply to topics in this forum