+2
AnonymousMouseOwner
scaredymouse
6 posters
I sure do post a lot of pictures!
My happy colony.  All that's missing is Bitsy.  There is room for her!  Baby Jellybean is officially the same size as Bitsy now, so it's an even playing ground.  And little Bits ate some rice krispies on my lap today, which she has never done before
Look at this sleepy baby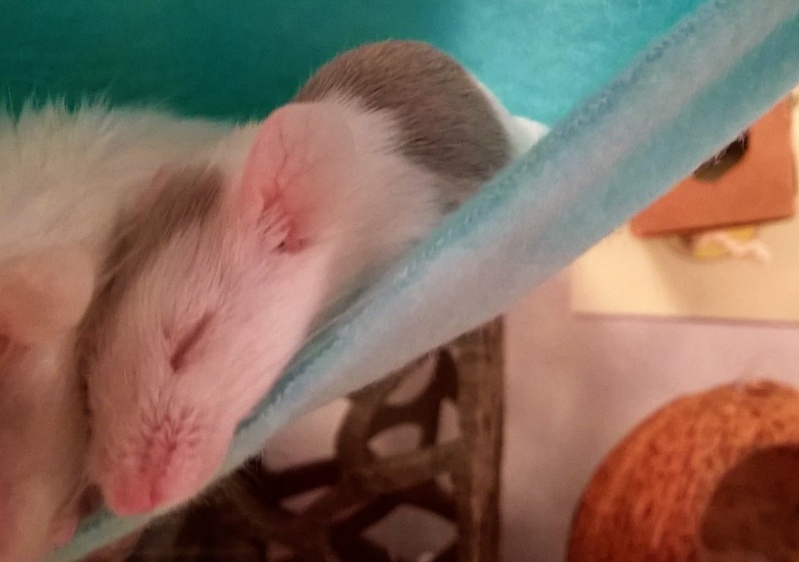 Deedee loves having her picture taken

scaredymouse

Hero Member





Join date

: 2016-04-03


Posts

: 2458









Aww cute! I love the one of them all sleeping in the hammock!
Aaaaw I love that they sleep in the hammock
so cute! What a happy turn-around Jelly's life has had
from feeder mouse to hammock-loving-snuggle-mouse.

_________________
Current Mice: None.
Rainbow Bridge: Daisy, Peach, Ivy, Penelope, Hazel, Ruby, Clover, Peanut, Minnie, Ginger,  Honey, Violet, Flora, Fauna and Merryweather.
Really hope your planned re-intro of Bitsy to the other girls this weekend works -- look how happy they are all sweet and snuggly -- it's just what Bitsy needs!

_________________
Mouseless but now Hamster-powered
Over the Rainbow Bridge: Chablis, Merlot, Bombay, Frascatti, Mimi, Musetta, Lucia, Carmen, Tosca, Tara, Buffy, Willow, Anya, Cordelia and Imogene the Syrian Hamster
Also Mom to Clare Bear cat and Hermit Crabs Big Enzo, Charles Paris and Mr Pinch

MesaMouse

Hero Member





Join date

: 2016-04-24


Posts

: 702






Doesn't Jellybean look happy? She makes my heart melt. She really is just the happiest little thing. Every time she sees me, she starts jumping for joy and springs into the hammock to come out. She's only been here for like a month, but I can't imagine like without her. She has really brought joy to my old girls, Gilly and Furgie. They have started sparking again. They haven't sparked in months. Jellybean has this infectious happiness. Bitsy has been sparking, too, in her own tank. I'm glad that she's not depressed. I'm going to make it my job to get Bitsy some snuggles. If it doesn't work out with my colony... I still have 2 young, well-behaved sisters from a local breeder who would be happy to move in here and love on her.
_________________
Lady mice
: stormy, Dahlia, lily, Ella billie, coco, maggie
Gentleman mice
: milo, jimmy
Other pets
: Little Buddy, Kevin (cats) robert, lulu, Englebert, harold, Gerald, Zumi, nico, charlie, (hamsters), stella (gerbil), Gilly (hedgehog)
 Penny, Honeybun, Lucy, Annie, Gilly, Furgie, Tedward Wigglesworth, Olivia, Goose, Sweet Katie, Binky, Delilah, Bitsy, Boopers, Sprout, Splotchy, Eva, Slappy, Shuggie, Fancy Pants, Jellybean, Charlie, Murray, Sally, Maya, Gunther, Lil Smokey, Magnus, Norman, Winnie, Sally, George, Harriet, Spec, Erzulie, Lucille, Agatha and Clementine.

scaredymouse

Hero Member





Join date

: 2016-04-03


Posts

: 2458









You always get the best snuggling pics!

CallaLily

Hero Member





Join date

: 2016-04-03


Posts

: 3937






Ack, I can't get over Delilah... she's so cute! Fingers crossed that Bitsy can fit in as well as Jellybean.

Peachy

Moderator





Join date

: 2016-04-06


Posts

: 3164






---
Permissions in this forum:
You
can
reply to topics in this forum