@"Rodents rock!" requested crabitat pictures on another thread but I didn't want to hijack.
I just moved the crabitat last week and snapped this pic after. Won't be long and they'll have it a mess again.
It's a 75 gallon aquarium. I need to top off the substrate still - had to remove some of the old.  There's two more "shell shops" behind the piece of wood in the center that you can't see.
And here are some recent pics of the crabs: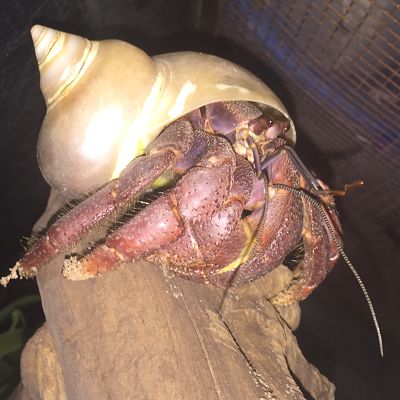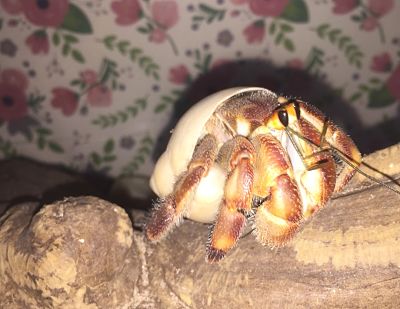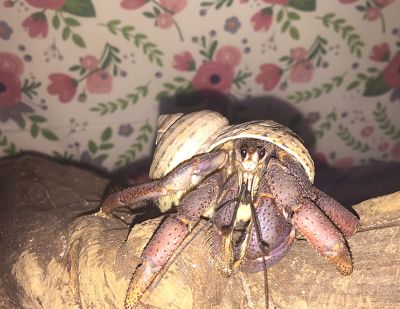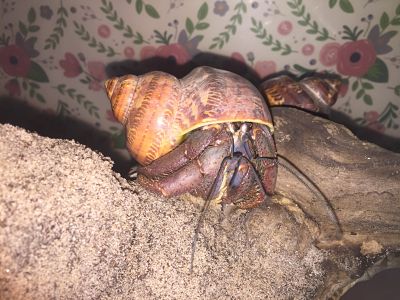 (Floral background pics are from the bin they were held in during the move)
I have C.clypeatus (aka purple pincher) and 1 C.compressus (aka ecuadorian).  I discovered some losses with the move.
I've been keeping land hermit crabs for 10 years this July. I'm not 100% sure who's who but I'm fairly confident that the crab in the 3rd picture and the crab in the 5th picture have been with me since 2008. Cinnamon and Athelas. Looks like them, acts like them, and they're the correct size and sex to be them. I just don't know for sure without a doubt. Sometime over the last few years I've lost track with molts and shell changes.  
I've spent some time comparing pics and notes trying to figure it out. 1st pic I think is Collins. The only other crab it could be is Cinnamon but I really think he's the 3rd pic. 2nd pic is for sure Algaliarept (aka Gally) because he's my only E left.   I really thought the 4th crab was Emerald based on size/behavior/looks but she's female. So Tani I guess. And the 6th crab is most likely Rameriz though could be Emerald if he's drastically changed coloring/size/shyness with his last molt or two (which isn't impossible but I really think it's Rameriz).
I was going to attach pics of some of my older setups but photobucket is being a pain loading for me right now and that's where all my old crab pics are. I'll try again, if there's any interest, when I have better internet access.
EDIT: ugh I can't get the tag to work.
_________________
currently without meece but always remembering:
Cheeseburger, Bacon, Twix, Hashbrown, Daryl,
Celyn, Rina, Seren, Hazel, Arsinoe, Tilda, & Eulyn
Nice! I like hermit crabs, but haven't had any since a year or two.
I feel like I mainly owned the ecuadorian crabs, as I had really friendly ones. But my last crab was a mean one... She was a purple claw crab, so that probably explains it.
I did like her when she was my only one left, though, as she was fairly social, I guess. =)
I have "crabitat" pictures to share, too, I believe, but they're not available right now.

_________________
Blessed are the undefiled in the way, who walk in the law of the LORD. Blessed are they that keep his testimonies, and that seek him with the whole heart. - Psalms 119:1-2.
Oh, aren't we blessed? =)
Sr Member





Join date

: 2017-10-26


Posts

: 307


Likes

: 76







Very cool CallaLily! Thanks for sharing photos. Very nice set up! Your crabbies are living the life
When I was a kid, I had two hermit crabs. I didn't really know much about them and from what I understand about them now, the pet store I got them from back then, didn't give me accurate instructions on taking care of them. (there's a shocker  
)
Hi Blessed, would also love to see photos you have of the crabs you had and their habitat.
Thank you.
In my experience, most purple pinchers are more laid back than Es. My Es were mostly all a bit skiddish and they're so quick! If I accidentally startled them they flop into their shell so quick they'd fall, then run for the hills. Gally is a little more chill than that though. My PPs on the other hand mostly just pull into their shell, then slowly peek out antennae waving. Some then just walk away but others just go on about their business like they don't care. But I'm sure it more so comes down to individual personality.
To tell the two species apart you can really see the difference between eye and claw shape. Plus Es don't get as large as PPs and tend to be more blues/grays and orange/browns. PPs tend to be more pinks/tans and reds/purples - though some will be really dark, almost black. There's always exceptions with coloring though, so stick mainly with comparing eye and claw shape. I can try for claw pics if you want to see the difference.
I would love to see your crabitat pics too, Blessed.
The very first time we kept land hermit crabs - I think around 2004 because I think my oldest was around 5 at the time - we did everything wrong too. We went by the shop's advice. They lived in a large Kritter Keeper with gravel! Fed commercial crab food and only had fresh water.
I feel horrible looking back. One only made it 6 months. The other only about a year. I don't even count it towards my crabbing experience. Thankfully, the next time around in 2008 I did my research and learned so much over at the hermitcrabassociation.com. You should see some of the amazing setups over there. Make mine look boring as crap.
_________________
currently without meece but always remembering:
Cheeseburger, Bacon, Twix, Hashbrown, Daryl,
Celyn, Rina, Seren, Hazel, Arsinoe, Tilda, & Eulyn
Yes, that would be very interesting to see differences in the claws.
Mine were kept in a rectangle shaped fish bowl. I think I had sand as the substrate, a log, a water dish, and a food dish with whatever hermit crab food they sold. And a few extra shells. I honestly can't remember how long they lived, but I know it was way less than a year.
It's weird, when I was a kid, I so wanted a hamster or a guinea pig, but I was never allowed to have either. But I was allowed to have fish, lizards, frogs, and hermit crabs. You would have thought it would have been the opposite.
What made you get into hermit crabs?
I will check out the habitats at the hermit crab association, thanks.
Ecuadorian claw on the left, purple pincher on the right.
Sorry Gally's is so blurry. He didn't want to sit still.
When we got those first 2 hermit crabs it was for my older two sons when we went to Chincoteague. Yep, they were from a tourist shop.
 Same thing with the first 2 crabs in 2008 but this time I looked further into their care and did my best to give them a proper setup. Over time the boys grew less interested and I became crab crazy.
 They're loads of fun to watch and I think they have adorable little faces. I never get tired of watching them gobble up food. Sometimes they're silly, climbing into weird places or falling. Sometimes they can be a little scary, like the time two of my bigger boys (Collins and Cinnamon) got into a shoving match over guarding my big female Athelas. No damage done though but it wasn't easy to watch.
_________________
currently without meece but always remembering:
Cheeseburger, Bacon, Twix, Hashbrown, Daryl,
Celyn, Rina, Seren, Hazel, Arsinoe, Tilda, & Eulyn
So interesting! Have you ever had any of them reproduce?
Yes. I have seen Athelas carrying eggs and have found deceased babies in the salt water a few times. But even had I found them while still alive, they're very difficult to raise so I personally wouldn't have been able to do it. Many have attempted to raise the zoea to land only to lose them all before they transition to land. Last I checked, only a handful of crabbers
worldwide
have managed it successfully.  It's a lot of work and very specific setups and food are needed to raise the zoea. Plus very small shells for when they're ready to transition to land.
Here are some pics of the boys grappling, Athelas with eggs, and some of the zoea. I put them together in a collage so not to clutter the thread with tons and tons of pics, but I won't resize so that hopefully you can see clearly.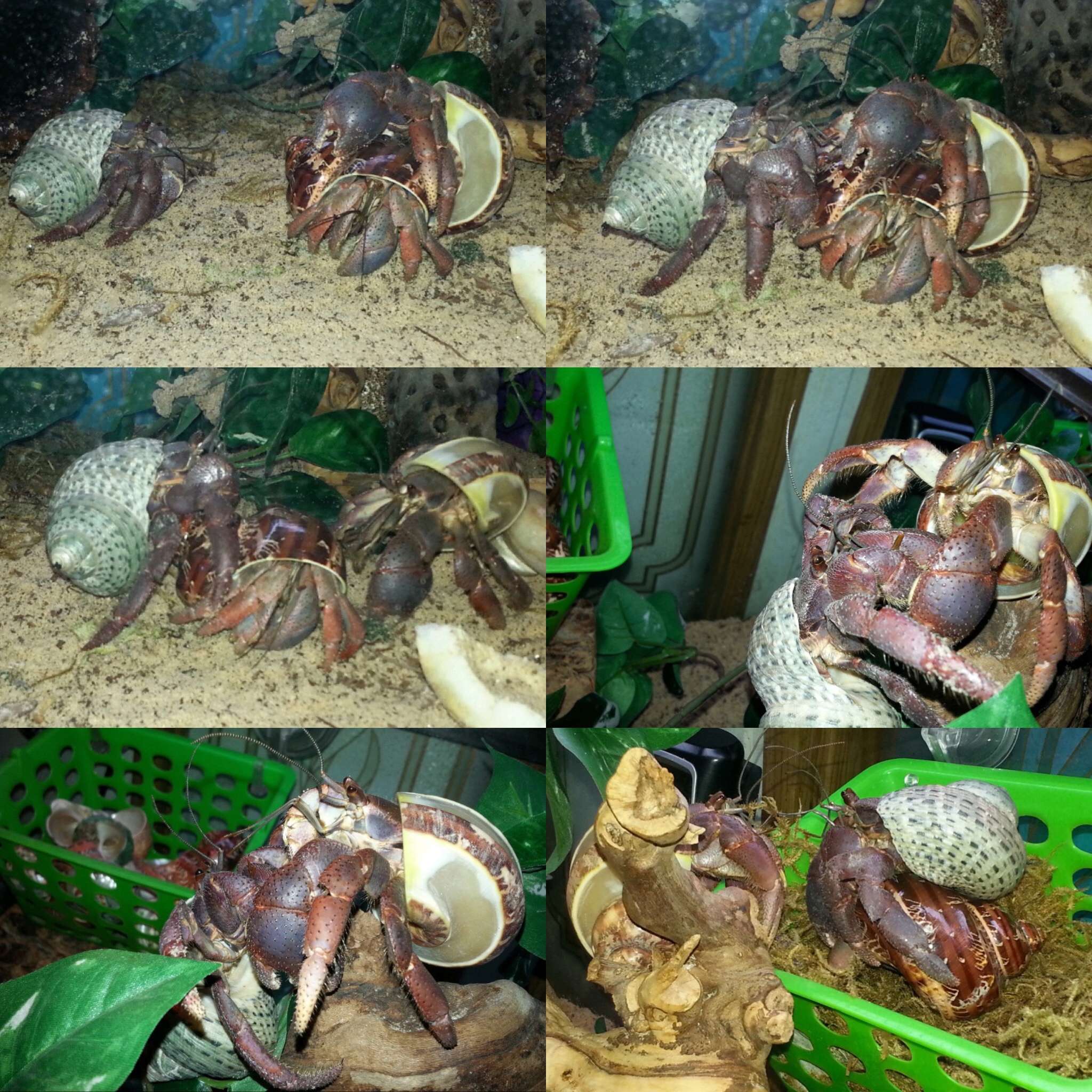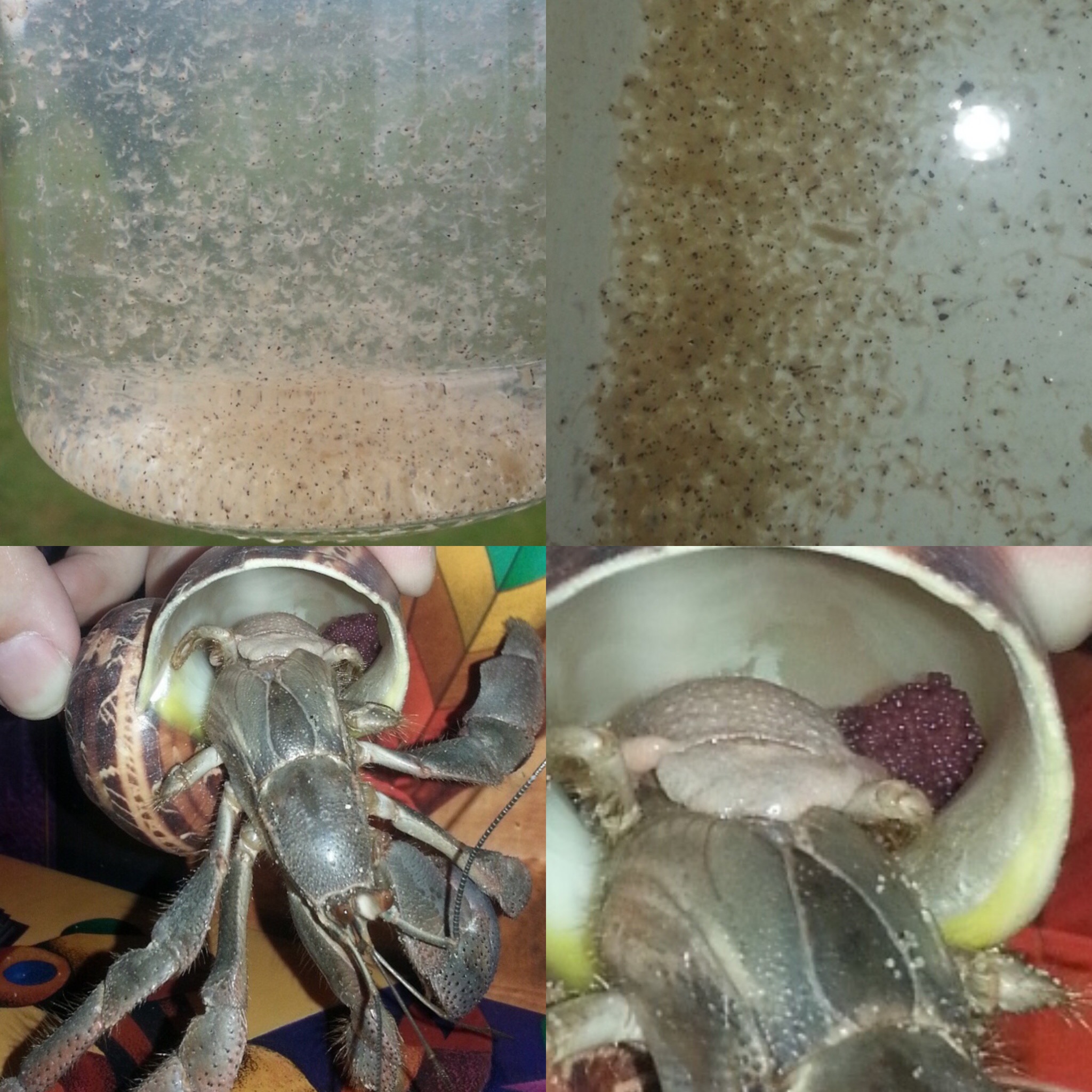 I've seen a lot of guarding over the years but that year is the first and last I saw the boys grapple over a female.  The only thing I can figure is it was the first year without my jumbo crab, Mallorn, so they were working out who's the dominant male. I'm pretty sure Cinnamon won.
I'm not ashamed to admit Mallorn was my favorite. He was the largest crab I've owned (though Cinnamon and Collins are getting close now) but he was so sweet and gentle with me and all the other crabs. Though dominant and he would only share a meal with Athelas but he never hurt any of the others. He would just flick a leg at them and kick them away.
 He always had a durpy looking face to me.
Mallorn: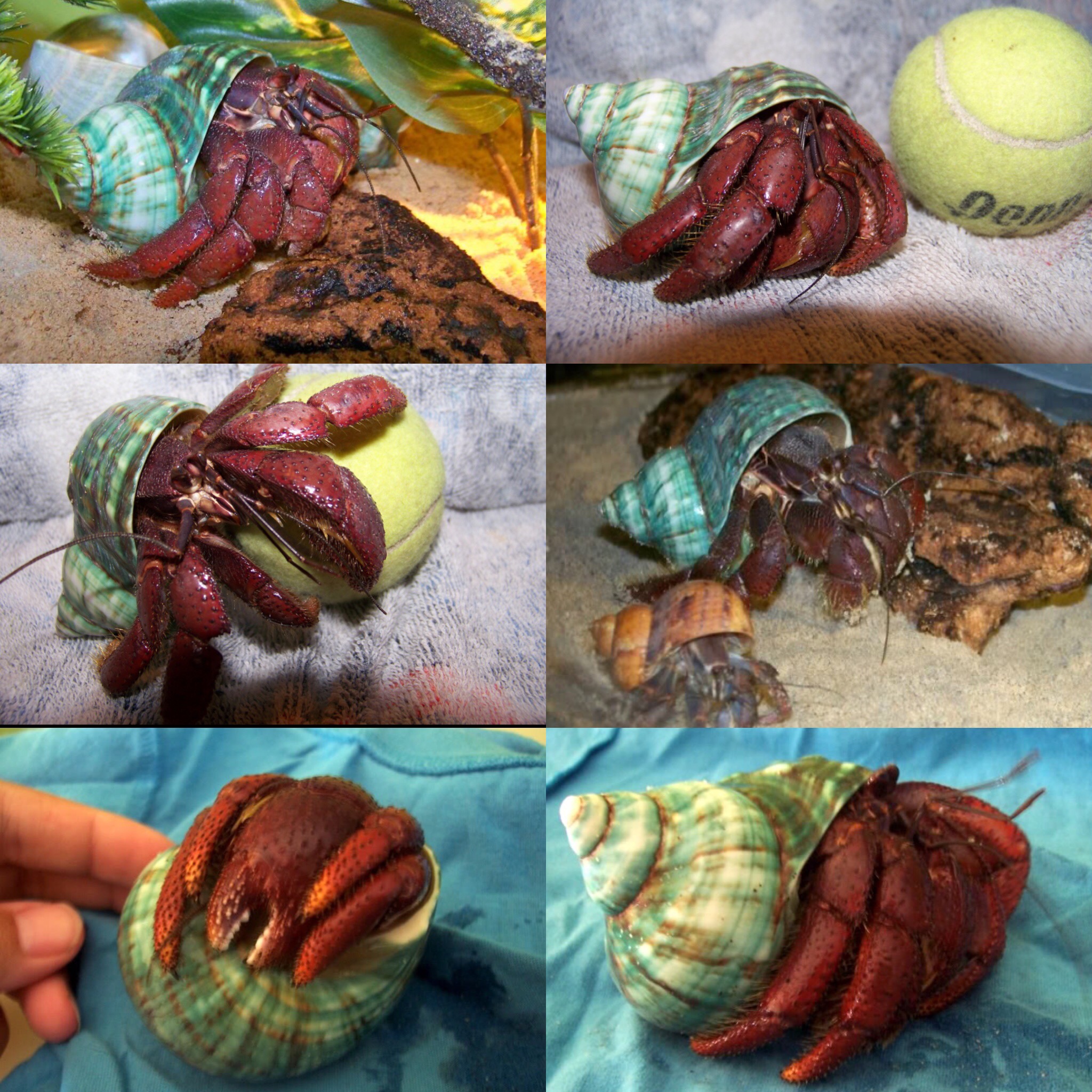 And here's one of the old setup I had, the 40g breeder tank with the bottomless exoterra on top.  I really liked it but it was too small.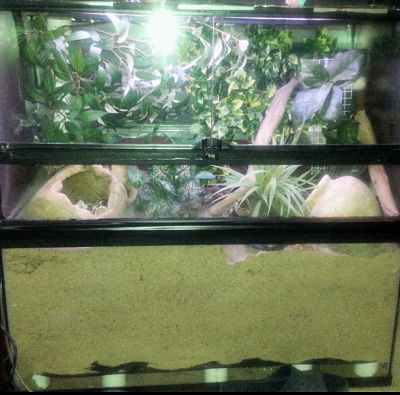 _________________
currently without meece but always remembering:
Cheeseburger, Bacon, Twix, Hashbrown, Daryl,
Celyn, Rina, Seren, Hazel, Arsinoe, Tilda, & Eulyn
The pics of the babies aren't very good, they're so small. But if you look closely, the black dots are eyes.
_________________
currently without meece but always remembering:
Cheeseburger, Bacon, Twix, Hashbrown, Daryl,
Celyn, Rina, Seren, Hazel, Arsinoe, Tilda, & Eulyn
Very cool photos!!! So interesting, the ones of Athelas with her eggs! And Mallorn was huge! Wow, so many babies!!! Too bad it's so difficult to raise the babies. But if they all survived, imagine how many hermit crabs you would have!!!

---
Permissions in this forum:
You
cannot
reply to topics in this forum