Almost a year later, I have never gotten around before to posting a proper memorial to my little mousie girl, April.  I have shared an anecdote from time to time, tales of her curiosities and quirks, her likes and dislikes, her sweet disposition ... oh, with a few odd hang-ups.  She was a gentle and feminine little mousekin, so obviously a girl that she should have had her tank outfitted in pink, but she got mostly blue because mice can't see pink!  Maybe that is nature's way of making sure mousies concentrate on gathering food and raising baby mousies and avoiding predators, instead of sitting around in mutual admiration circles, enchanted with how adorable everybody's pink noses are.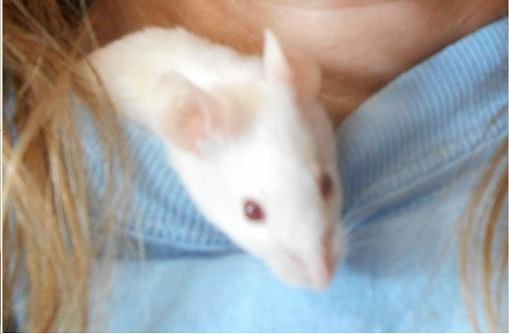 I'll close with the words to one of the "mousie girl" songs I used to sing to her:
    Little April, sweet and fair
    Rose pink eyes and snow white hair
    In my shirt, I see her there --
    She's sleeping in my underwear!
April S Sweetmousie
Entered this world at a rodent mill in about the first half of July in the year 2015.
Entered the next world cupped against my right cheek at two minutes before midnight on 06 July 2017.
No longer in my shirt; forever in my heart; always infinitely loved.
 ~~~ Merci
_________________
Zephyr
Coco
Bobby
Noche
Paiva
April
I loved you so / I still do / I always will / 'Twas Heaven here with you.

MerciToujoursMaPetiteBoop

Sr Member





Join date

: 2017-10-18


Posts

: 325


Likes

: 167







Awww, what a lovely mouse.. I can tell she was loved. I love the point about the "mutual admiration circles"... haha.
_________________
Proud owner of two crazy one year old cats, Salt (grey and white) and Pepper (tuxedo)!
No mice... yet

See my Etsy Shop at www.etsy.com/shop/ArtistwolfDesigns
This is so sweet.
_________________
tabby | she/her | 24 | tx, usa
★Mouse Dossier★
my mouse gallery
mouse mom to: Pronto, Nellie, Frankie, Lovey, Zinnia + Magnolia
remembering: Trouble, Yahtzee, Checkers, Mahjong, Clue, Pumpkin, Spider, Beetle, Peebee, Jay, Sid, Zola, Caramel, Hazelnut, Bonny, Thyme, Olive, Popcorn, Shelley, Frida, Dragon + Pancake
Awww, what a sweet little girl she was. I know she had a wonderful life

Rodents rock!

Hero Member





Join date

: 2016-06-27


Posts

: 1818


Likes

: 599







I just want to thank everyone who stopped in to "visit" this post.  More than a year without April, and every day the grief, though no longer fresh, is still raw.

There is value in ceremony and tradition, as they give us a framework to guide us when we might otherwise lose ourselves completely.  It was not possible to hold a proper shiva observance for my little mousie girl when she had to leave, but by posting here and sharing with others who understand the importance and value of a little mouse life, it feels that I have at least tried to do right by April in such a necessary and appropriate obligation.

I messed up one big thing, though: There's no food for the mourners!  Sorry I didn't have a big plate of rugelach and a bunch of Chinese take-out for y'all.  (That's what we did for my mum's observance -- which is strange, because she could never abide Chinese food!)
_________________
Zephyr
Coco
Bobby
Noche
Paiva
April
I loved you so / I still do / I always will / 'Twas Heaven here with you.

MerciToujoursMaPetiteBoop

Sr Member





Join date

: 2017-10-18


Posts

: 325


Likes

: 167







---
Permissions in this forum:
You
cannot
reply to topics in this forum