Uh, hello all! I know it's been a little bit since I've been around. I'm kind of winding down on keeping mice now, I just have two old ladies left, transitioning to being a bunny owner! But I wanted to get some advice. My little girl Chara is getting close to two years now, and a few days ago I noticed she had some scabbed-over sores on her back. I wasn't sure what to think of it, they almost looked like bite wounds, but I knew she and Nutmeg weren't fighting. I put some neosporin on it. Today, I put some neosporin on again, but a few minutes later, I saw that she'd scratched them open! And had a little bit of blood on her fur. I cleaned the blood off and applied some cortaid, but I'm concerned. Definitely don't want her to downward spiral at her age!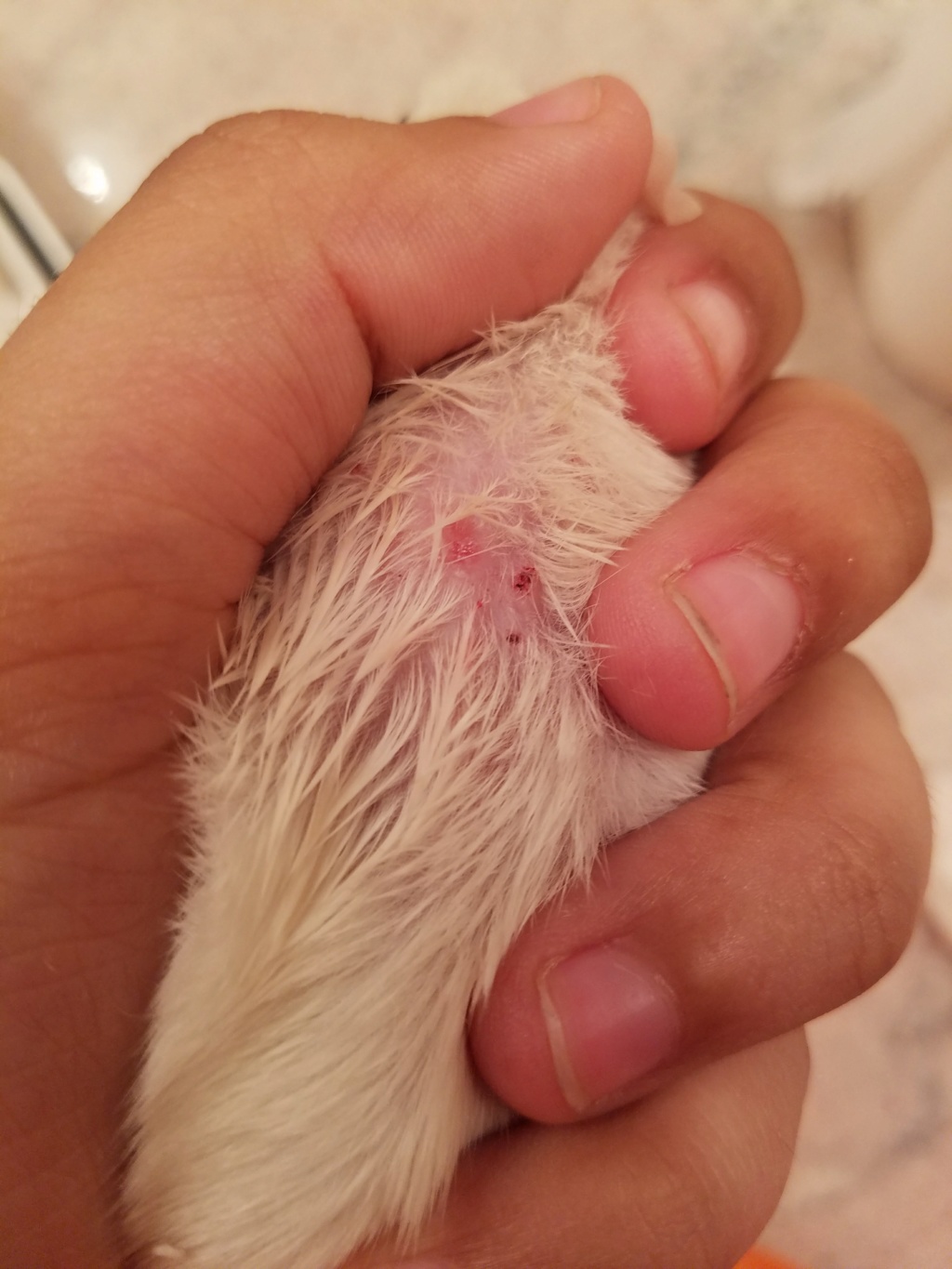 Here's a picture. She's on kaytee clean and cozy birthday cake bedding and has been her whole life. And she eats a 60-40 mixture of Sunseed Vita Conure Formula (CP 14%) and Supreme Science Selective Rat Food (12%). I'd really appreciate some help. >w< Thank you!

CinnamonPearl

Hero Member





Join date

: 2016-04-06


Posts

: 1725




They look like mite scabs to me, one of my old girls got them once!
Are they anywhere else on her body? Is her fur appear oily or greasy? Does she have thinning hair, especially around the eyes/nose/face? These are all symptoms of mites.
_________________
M I C E:
Berlin, Odessa, Fiji, Kenya, Nairobi, Xanthi, Arizona, Denver, Cyprus, George.
Remembering:
Fey, Aurora, and Dahlia

JuniperBerry55

Full Member





Join date

: 2018-02-22


Posts

: 96






Mite scabs, you say? :O Wasn't expecting that one. I ivermectin all my incoming mice.

Her coat looks normal. She does have some thinner fur, but she always has that. I think her and her sister barber each other. I think it's a genetic thing for them, cause Chara, her sister, and her other sister who passed away all have barbered at times. But if they stopped barbering at some point but their fur stayed thin cause of mites, I may have never realized.

I could cook up another bottle of ivermectin and see what happens? I don't want mites in my household.

CinnamonPearl

Hero Member





Join date

: 2016-04-06


Posts

: 1725




I would retreat for mites too. Doesn't hurt to try and that's always my first thought with things like this too. I hope it helps.

CallaLily

Hero Member





Join date

: 2016-04-03


Posts

: 3937






Thanks, Calla. I'll give it a try. Just gotta look up the ivermectin mixing formula again, it's been so long I've forgotten it.

Edited to add: Do you think I should treat my bunny, too? They don't interact, but they're in the same room.

CinnamonPearl

Hero Member





Join date

: 2016-04-06


Posts

: 1725




Do mites cross species like that?  I know lice usually do not.
Edit
Quick search results reveal this:
There are three common species of Cheyletiella mites that affect cats, dogs, and rabbits. They are Cheyletiella yasguri, C. blakei, and C. parasitivorax.
https://njaes.rutgers.edu/fs1183/
While many species of mites infest wild rodents, only three species of nonburrowing mites are commonly found on laboratory mice and rats. Myobia musculi and Myocoptes musculinus infest mice, while Radfordia affinis infests rats (475).
https://www.ncbi.nlm.nih.gov/pmc/articles/PMC106832/
So I think a crossover is unlikely...
But if you know the proper way to treat your rabbit I don't see how it hurts anything to be extra careful.

CallaLily

Hero Member





Join date

: 2016-04-03


Posts

: 3937






Hmm okay! I think I'm probably good then. I'll hold off on treating Clover for now. Thanks, everyone!

CinnamonPearl

Hero Member





Join date

: 2016-04-06


Posts

: 1725




Similar topics
---
Permissions in this forum:
You
cannot
reply to topics in this forum