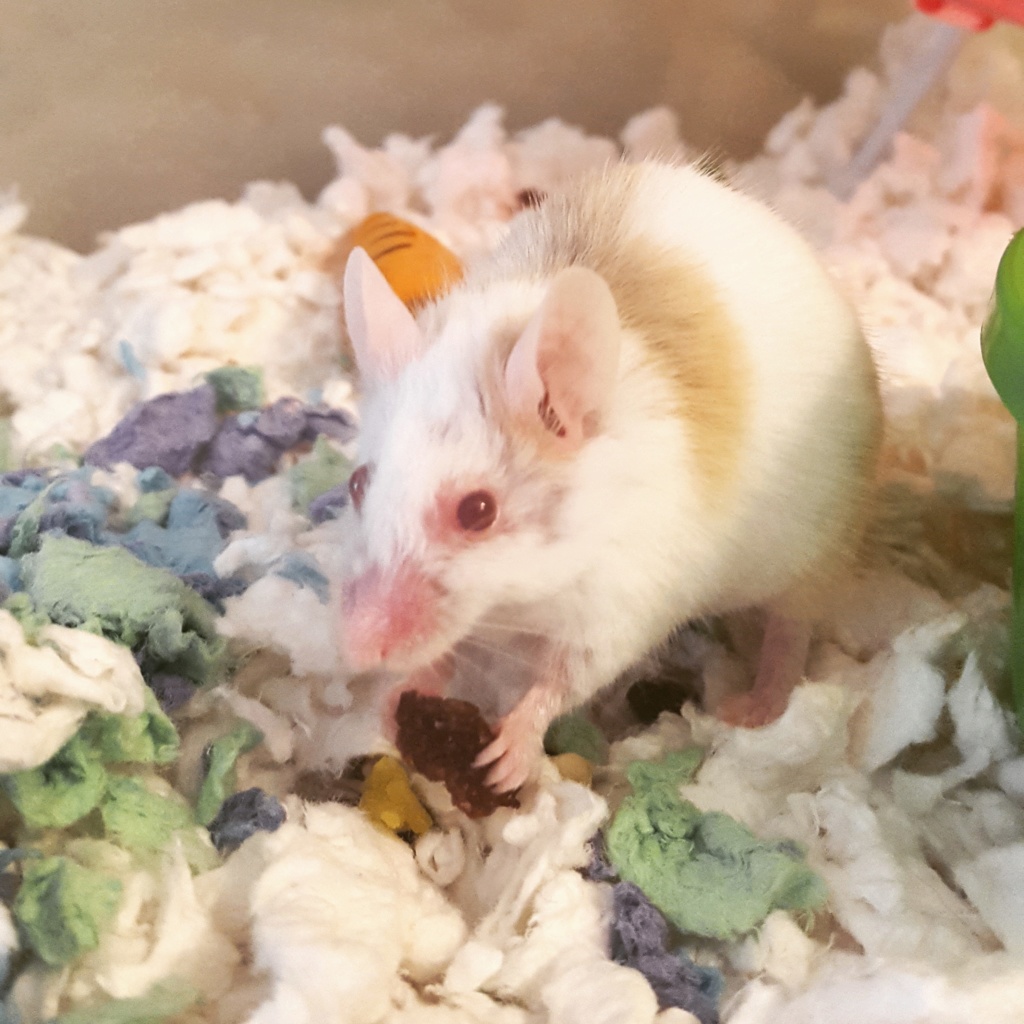 Here's the boy! Now for the story.
At the store I work at which sells small animals, there was this mouse who had a sign saying "Free for adoption" on its tank. After about a month of him being there, I finally asked why he was free, not only because it's pretty unusual for an animal to be free there, but why hadn't he been taken yet? As you can see by his picture, his hair is a little sparce on his face. They told me his hair falls out and grows back in repeatedly, and that he probably has alopecia. Thus, they didn't feel right selling him as "something is wrong". Apparently multiple people had asked about him, but in the end no one took him, calling him "diseased". When I heard all that I HAD to take him home, so on my way out that day I adopted him!!
Since then, I've upgraded him to a bigger tank and coconut bedding and he's totally living his best life!!

Lumpy

New Member





Join date

: 2018-08-05


Posts

: 4



He's cute! Have you figured out why he keeps losing fur? If he had been housed with other mice, I would have thought barbering based on the pic you shared. Does he groom or scratch a lot? Have you treated for parasites?
https://www.petmousefanciers.com/t17-itching-hair-loss-and-parasites
I'm glad you took him in.

CallaLily

Hero Member





Join date

: 2016-04-03


Posts

: 3937






@CallaLily
He had been isolated for at least 2 months at the time of that picture. His hair is mostly full right now with a small bald spot. I don't have a good current pic right now though. Could he maybe have been grooming himself too much in stress from pet store conditions? No other mouse there has this issue (and their setups aren't the worst, just bare minimums). I haven't noticed him scratching a lot or anything in the time I've had him.
Thank you for the link, too. I haven't treated for parasites, and I guess mites are common in pet store animals so perhaps he has some invisible buggies on him?
Is it good if I treat as per that links instructions anyway, just to be safe?
_________________
Arcangelo
Remembering Gabriel,Tiberius, Charlie, Zane, Sanderson, Eloise, and Arya

Lumpy

New Member





Join date

: 2018-08-05


Posts

: 4



It is generally recommended to treat all new mice for parasites just to be on the safe side. It is safe if you follow the directions provided in the link.

CallaLily

Hero Member





Join date

: 2016-04-03


Posts

: 3937






Similar topics
---
Permissions in this forum:
You
can
reply to topics in this forum