Zola had to be put down yesterday.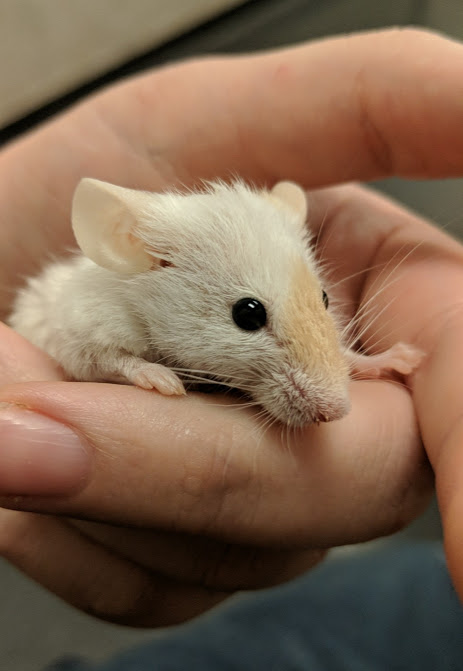 The night before, I checked on her, and she was dragging around her back half. She had a wound on her foot and it was severely inflamed/infected; I called the vet around midnight and managed to get her in with the exotics vet 8:00 yesterday morning... by the time we were at the vet, she was doing worse than she had been just the night before; more lethargic, more trouble moving the other rear leg, etc. I decided it would be best for her to have her put down, rather than keep her alive to suffer.
I'm still really upset... I feel like I failed her; I was supposed to give her a better life than her previous owners, and I wasn't able to for long. Mahjong was in solitary, so I'm thinking the wound on her foot and the ones on her back were likely from Dragon. I was in the process of getting another mouse from a local-ish breeder so that I could separate Zola from my colony, but clearly that's no longer in the cards... The current colony of five is at its max, I think. I don't know why the bigger girls are suddenly getting aggressive towards newcomers, but for whatever reason, it's not fair for me to bring that other older girl into the colony, so I won't be following through with that.
Zola was a very sweet, bold little mouse, and she reminded me of my angel Trouble, so I'm sad to be without her now (and little Sid!). But of course I'll still be here for my current mice. Just... sad to see her go.
_________________
tabby | she/her | 24 | tx, usa
★Mouse Dossier★
my mouse gallery
mouse mom to: Pronto, Nellie, Frankie, Lovey, Zinnia + Magnolia
remembering: Trouble, Yahtzee, Checkers, Mahjong, Clue, Pumpkin, Spider, Beetle, Peebee, Jay, Sid, Zola, Caramel, Hazelnut, Bonny, Thyme, Olive, Popcorn, Shelley, Frida, Dragon + Pancake
I am so very sorry about Zola. You tried you best to provided her the best home possible. You should not fault yourself for that.
_________________
Amy Lynn
(a loving
mouse mom)
My Current Mouse Family
Does:
Bucks:
Ruby                            Pepper
Princess Fluffles       Stuart
Bianca                         Chestnut
Dottie                          Tiny
                                   Mogwai
                                   Ninja                                   

AmyLynn

Sr Member





Join date

: 2018-06-30


Posts

: 172


Likes

: 20







I'm so sorry to hear about Zola. hugs

CallaLily

Hero Member





Join date

: 2016-04-03


Posts

: 3937


Likes

: 1109







@AmyLynn
@CallaLily
Thank you both
_________________
tabby | she/her | 24 | tx, usa
★Mouse Dossier★
my mouse gallery
mouse mom to: Pronto, Nellie, Frankie, Lovey, Zinnia + Magnolia
remembering: Trouble, Yahtzee, Checkers, Mahjong, Clue, Pumpkin, Spider, Beetle, Peebee, Jay, Sid, Zola, Caramel, Hazelnut, Bonny, Thyme, Olive, Popcorn, Shelley, Frida, Dragon + Pancake
Similar topics
---
Permissions in this forum:
You
cannot
reply to topics in this forum