I recently found out that a gerbil breeder in the nearest city has begun breeding spiny mice. Sometime soon I plan to get gerbils, which really isn't all that difficult as their care instructions are readily available.

Spiny mice, which seem insanely similar to my ASFs in every way, don't have any half reliable info online. I saw one that sounded good initially but then said crittertrails make a great cage- not trusting that site obviously.

So does anyone here have any experience with them?

And just like when I got my ASFs, the biggest issue seems to be about keeping them in groups. I can figure out what kind of cage best suits them just by watching, but I'd rather not get a group of males and have them all need separating due to fights, like regular mice. All the sites I see say they need kept in groups, not specifying male or female. Just like ASFs, who it turns out need to be housed like mice- girls in groups and males alone with lots of handling or with some normal mice.

Right now the cage I'd use, my detolf, will be used for three seperated ASF boys from a surprise litter, before I can rehome them. I'll see how life goes, but the plan right now is to eventually have two gerbils in one side and 2-4 spiny mice in the other.

The gerbils would have a bit more than one square (if you have a detolf you'll know what I mean) for the deepest bedding possible with my lid, and the remainder of their half would be for a water bottle and wheels.

The spiny mice side would be 3-4 inch deep bedding with hay, wood hides, likely saucer wheels and branches spanning the length of the cage for horizontal climbing.

The detolf divided is 34 gallons, or 482 square inches each. Does that sound decent or ridiculous? I may get a twenty gallon tank for the gerbils instead and let the spiny mice have the whole detolf if that sounds better.

Sam

Jr Member





Join date

: 2018-08-14


Posts

: 48






Hey, Sam.
I don't have experience with them--honestly, I've never seen them in person before--and that I'm aware of, nobody else, at least still active, probably, on here has any experience with them, either.
I'd personally suggest keeping them in a tank, though, you know, preferably no smaller than a ten-gallon, but if they're about the size of natal mice, then I would
think
they could be kept in a wire cage with bar spacing suitable for mice (normal mice are escape artists when living in wire cages, if you didn't know
).  
Since natal mice and normal mice can live together, and spiny mice
are
mice, though a different species, I would see no problem keeping a spiny mouse or two with your normal mice, or even with your Soft Furs, if you so wanted.
I even kept my female ASF rat with a male gerbil for a couple of weeks, and they got along. Then I returned him to the pet store and gave her a different gerbil friend, but they got in a fight, so if you ever mix entirely different rodent species, which probably isn't recommended, then definitely take it slow in the introducing process, and observe their personalities. Some are a lot calmer and more patient and accepting than others...in each species, obviously.
I think your plan sounds good. But I also think a 20-gallon alone sounds fantastic for your (future?) gerbils!
They're such busy little guys.
If you ever have any questions about natal mice, feel free to post a thread about it here, or PM me, or @ scaredymouse, as she owns a natal girl, too. There's another person who owns a couple of males, but I don't think she's been on here in quite awhile.
And then for gerbil advice, @ CallaLily would probably be great to message, as she has several of them right now. Feel free to PM me too, if you want, but I've only owned two, and haven't even been a month into my gerbil keeping journey yet. @ Rodents Rock! has had gerbils, but she doesn't get on very much anymore, but when she does, she does check her messages.
And then the last person I'm aware of for sure who's had gerbils is Peachy.
Sorry for making this post long.
I really think you personally would/could give any type of mouse a good home; in my opinion, their care all seems very very similar, anyways. :-) Oh, and, here's a link about them, if you haven't read about them on this site yet: http://www.sandsexoticanimals.com/care/spiny_mouse.html
_________________
Blessed are the undefiled in the way, who walk in the law of the LORD. Blessed are they that keep his testimonies, and that seek him with the whole heart. - Psalms 119:1-2.
Oh, aren't we blessed? =)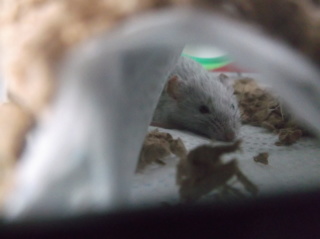 Blessed

Sr Member





Join date

: 2017-10-26


Posts

: 347






Please DON'T mix or advise to mix species haphazardly!!! This can be so dangerous. Some spiny mice have been known to be aggressive and attack and kill fancy mice.
If species are mixed there needs to be research done into the proper care (food, toys, chews, bedding, temperature, etc) and behaviors/temperament of BOTH species so that you have an idea of their compatibility. Ideally you would also have some experience with both species so you can spot if things are going the way they should... for example, many new fancy mouse keepers get nervous about very normal mouse behavior. It's also important to know your animals personally.

My best advice Satp, would be to talk with the breeder specifically. Lines can very greatly and if the breeder pays any attention to what they do they'll be able to tell you what works best for their animals regarding same sex groups, etc. Facebook groups can be amazing places for further or more general information.

Peachy

Moderator





Join date

: 2016-04-06


Posts

: 3164






Thanks Blessed, and no worries! Long posts mean more info
Although mice/ASFs are probably the only species I'm comfortable mixing. Especially if spiny mice get even bigger than my ASFs, and they look so similar I'm worried they could cross breed. I did find a 20 gallon on kijiji with two heavy duty lids, so hopefully it works out with the seller
And I'll definitely talk to the breeder. Her post about them was from a couple months ago, so I'm guessing she's just getting to know them. And apparently they have quite small litters. If the gerbils I'm looking at don't work out, then she's got retired breeders too.
_________________
Mice:
Ramen, Gadget, Cricket, Perry, Marvel, Jeepers, Cheese Stick, Brannigan, Pigeon, Missy, Darla
ASFs:
Quil, Merv, Scant, Corvus, Rocket, Beetle, Otter, Koala, Tamarack, Popple, Conifer
Cockatiel:
Holly
Gerbils:
Kala, Everest, and Mak

Sam

Jr Member





Join date

: 2018-08-14


Posts

: 48






I don't know anything about spiny mice but I see a lot of gerbil people using the detolf. I think many build up a topper on it to allow for bedding but it seems to be a popular setup for them.

Please share pics if/when you get them. Gerbils are so cute and I'd love to hear more about spiny mice too.

CallaLily

Hero Member





Join date

: 2016-04-03


Posts

: 3937






Hello there! I found this information on a scientific website. They housed and studied the behavior of spiny mice. It is full of helpful info.

https://www.ncbi.nlm.nih.gov/pmc/articles/PMC4747004/
_________________
Amy Lynn
(a loving
mouse mom)
My Current Mouse Family
Does:
Bucks:
Ruby                            Pepper
Princess Fluffles       Stuart
Bianca                         Chestnut
Dottie                          Tiny
                                   Mogwai
                                   Ninja                                   

AmyLynn

Sr Member





Join date

: 2018-06-30


Posts

: 194






AmyLynn wrote:Hello there! I found this information on a scientific website. They housed and studied the behavior of spiny mice.  It is full of helpful info.

https://www.ncbi.nlm.nih.gov/pmc/articles/PMC4747004/
Thank you! I just read over it and it answers quite a few questions. Sounds like a group of girls would be best but we'll see what the breeder has. I'm hoping to get some gerbils from her soon so I'll probably ask anything else then
_________________
Mice:
Ramen, Gadget, Cricket, Perry, Marvel, Jeepers, Cheese Stick, Brannigan, Pigeon, Missy, Darla
ASFs:
Quil, Merv, Scant, Corvus, Rocket, Beetle, Otter, Koala, Tamarack, Popple, Conifer
Cockatiel:
Holly
Gerbils:
Kala, Everest, and Mak

Sam

Jr Member





Join date

: 2018-08-14


Posts

: 48






Similar topics
---
Permissions in this forum:
You
cannot
reply to topics in this forum