Lately I've been wanting to adopt a group of female mice. The only thing that is holding me back is this question: do they stink? I've had hamsters and their smell does not bother me at all so I am wondering if mice smell way more? I know that male mice have a strong smell...but I've heard many different things about the smell of females. Some have said they don't smell at all, as long as you clean their cage every week or two. Others say the smell is absolutely unbearable and they will never get mice again because of this. Please tell me what you think/your expirences with mice and their smell! Thanks.

coziebee

New Member





Join date

: 2018-09-25


Posts

: 9






My experience personally - hamsters I don't smell at all. Not sitting near the cage, not with my head in the cage, not on the hamster itself. Maybe if I'm cleaning their cage I will get a whiff of the smell but it isn't bad at all. Female mice I do smell but usually only with my head in the cage or standing right over the cage, so it's really not an issue. The female mice themselves don't smell at all. Male mice do smell, they have a certain smell for marking their territory and I can smell it strong when near the cage sometimes (it's worse somedays more than others). When I hold a male mouse, they tend to want to mark me as "theirs", and when they do, it's the worst lol, you can smell it on your hands for hours regardless of what you do to get the smell off, it still smells. Some males are worse about smell than others though, my Jack doesn't smell much at all, but Scout and Rocky do. I've heard some say their males have absolutely no smell.
_________________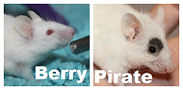 Remembering: Violet, Snow, Holly, Lilac, Clover, Petal, Cotton, Sugar, Autumn, Sage, Rocky, Jack, Willow, Blossom, Sierra, Amber, Olive, Scout, and Daisy
Personally, I don't notice their smell at all unless it's been too long since I've cleaned their cage - and I am
very
sensitive to scents and other sensory stimulus (I'm autistic), so it's surprising to me that other people have such a problem with their smell. If they have peed on you, it does smell a bit, but in my opinion it's not a very offensive odor. Even my male mouse doesn't bother me, I was worried when I got him, but I don't smell much from his bin, either.
So, in my experience, the smell isn't bad at all, but of course others might disagree! I will suggest that they may smell more if they're housed in a tank or a bin without much ventilation- my mice have bins with mesh on the top and at least one side each, so tanks may cause the smells to build up more.
_________________
tabby | she/her | 25 | tx, usa
★Mouse Dossier★
my mouse gallery
mouse mom to: Pronto
remembering: My dearest Trouble and all her siblings who've joined her across the rainbow bridge.  
I haven't had any issues with the smell of my 1 male mouse, especially since I switched from carefresh bedding to a coconut substrate which is extremely good at scent reduction. When I was using the carefresh, there was a scent but not too noticeable. It also probably depends on the mouse; I'm sure different mice have different levels of smelliness, haha! Changing the bedding with a frequency appropriate to the type will help if you have a Lil Stinky bunch of course.
_________________
Arcangelo
Remembering Gabriel,Tiberius, Charlie, Zane, Sanderson, Eloise, and Arya

Lumpy

New Member





Join date

: 2018-08-05


Posts

: 4



Here's the thing; mousey smell depends on two things. 1) The individual mouse and 2) Your nose!
Everyone can come on here and talk about their individual experience — and that can help you to kind of get an idea — but really no one here can say for sure how you will find the smell of any mice you may get.
Personally, I don't think female mice smell bad. Is there a smell that I notice? Yes. But I don't find it overpowering or even bad. It sort of reminds me of jasmin rice.
I've only had one male. To me his smell was much stronger than the girls I've had. More muskier-kind-of-skunky. Even though it was more intense and kind of lingered, it didn't really bother me much. Not necessarily a good smell but not really a bad smell either. It just was him. But my husband found his smell to be totally horrible and he complained often.
And just to be clear, this was with spot cleaning as needed and weekly full cleans.

CallaLily

Hero Member





Join date

: 2016-04-03


Posts

: 3937






---
Permissions in this forum:
You
cannot
reply to topics in this forum