We brought a young mouse home from the pet store four days ago, and dubbed it Androgyny Mouse (Andy for short) since no one can successfully sex it. Officially, Andy was in a cage of males, but we (and the pet store employees) are not sure Andy IS male. We didn't want to take any chances that Andy is female, so Andy is solitary right now.

That said, Andy successfully "stunk up" his/her cage within less than 24 hours. I've never had a cage smell this rough after two weeks, much less one day (for perspective, I owned mice as a kid, recently lost a 3-year-old male hamster, and currently keep two lovely rat ladies). The smell from the cage is overwhelming, and Andy definitely leaks like a sieve when you handle him/her. I chalked this up to being young and scared, since Andy hasn't been handled much before.

Andy loves to climb up and play on your shoulders, and snuggle with your neck, but everything Andy touches comes away smelling like the cage. To top it off, today Andy is pooping mucus in addition to the normal "I'm nervous" soft pellets. Andy is active and otherwise behaving normally, but I'm starting to wonder if I've brought home a mouse with a bacterial infection? Are (possibly) male mice just that smelly? Should a male that hasn't had testicles descend yet smell this strongly? Or, do I have a sick mouse? I'd appreciate your thoughts.

MyraTrue

New Member





Join date

: 2018-12-08


Posts

: 4



That amount of stink does not sound normal at all, and mucus-poo can be a sign of an extremely irritated bowel.

There are several possibilities for what is going wrong, in addition to bacterial/viral infection or new-home stress, including (but not limited to) parasite, food allergy or intolerance, dietary imbalance, injury, and genetic factors.

My advice is to take Andy to see a mouse doctor with the least possible delay.  It may turn out to be nothing to worry about after all, but mousies are very small and have to eat and digest a lot to keep up their metabolisms.  Disruption in their ability to properly digest enough food will lead to quick (and possibly irreversible) deterioration of their health.

Keep us updated.

MerciToujoursMaPetiteBoop

Sr Member





Join date

: 2017-10-18


Posts

: 380






MerciToujoursMaPetiteBoop- thank you for the help. Andy and I made a trip to the vet today. They think she's female (thank goodness she didn't stay in with the cage of boys), her lungs and heart sound good, her coat and eyes look fine, and her stomach is not swollen. She's only 26 grams, but the vet wasn't worried about her weight. We came home with two weeks of antibiotics and some probiotics. She was a hit with the staff. She's still a hit with me. .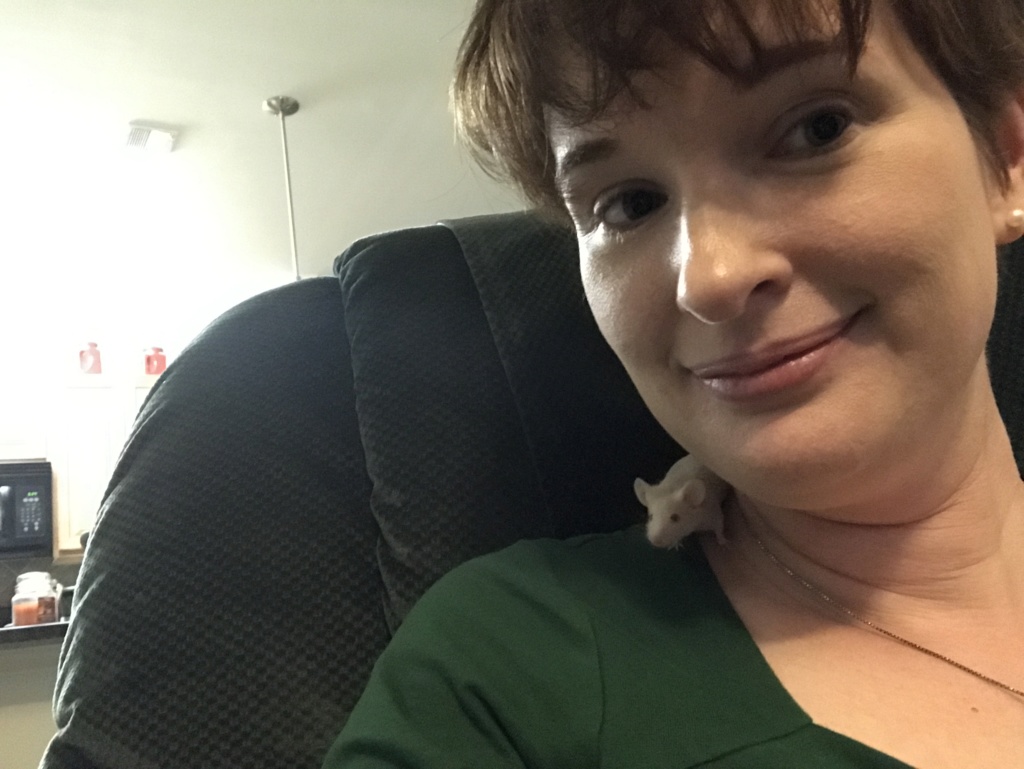 MyraTrue

New Member





Join date

: 2018-12-08


Posts

: 4



Sometimes new mice have loose/stinky poos from the stress of moving to a new home and adjusting to a new diet. And male mice (if that turns out to be the case) are often much smellier than females. Still really awesome you took Andy to get checked out! Things can go down hill quickly with mice so prompt vet care is important and always better safe than sorry. I hope it clears up soon!

If you can snag clear pics of Andy's bum, one of us here can help in determining male or female.

CallaLily

Hero Member





Join date

: 2016-04-03


Posts

: 3937






I think I recognize the contented smile of a person with a wee mousie on board.

MerciToujoursMaPetiteBoop

Sr Member





Join date

: 2017-10-18


Posts

: 380






I'm glad you got Andy to a vet... I had two mice with intestinal parasites (2 kinds), and the only symptom was mucus in diarrhea, but they would have gotten much worse without treatment. Always better to be safe! Did they run a fecal test?

ZuzuPants

New Member





Join date

: 2018-11-28


Posts

: 6



---
Permissions in this forum:
You
cannot
reply to topics in this forum