+2
MerciToujoursMaPetiteBoop
Smee/Berlioz
6 posters
Hello!
I think I posted this to the wrong area so I'm going to post on here as well!
I have a mouse that has a pretty big bald spot on his face that looks very raw. I can see it irritates him a lot, but I'm not sure how to treat it. I believe he has had mites before from being outside and I treated that by cleaning his cage and washing the effected areas and it help and it went away. He was perfectly fine for a couple of months and now this new issue appeared. It looks different from when he had mites so I'm not sure what to do for treatment. To me it looks like a burn spot because it's so raw. I've included pictures of what it looks like and also his cage set up because I was reading about how they can be bored and that causes them to over groom. Any advice????? I also have another mouse and he hasn't had any skin issues at all.
What it looks like:
https://i.servimg.com/u/f21/20/01/95/82/img_0810.jpg
https://i.servimg.com/u/f21/20/01/95/82/img_9710.jpg
https://i.servimg.com/u/f21/20/01/95/82/img_0710.jpg
Cage Setup:
https://i.servimg.com/u/f21/20/01/95/82/img_3710.jpg

Smee/Berlioz

New Member





Join date

: 2019-01-11


Posts

: 3



Poor little guy.  That location on the side of the head seems like a longshot for self-barbering.  It looks like he gouges that with his back right foot -- does he?  Is there bleeding?
I suggest a vet visit, so a professional can have a look for any parasite or infection issues.  Maybe prescribe an antibiotic/anti-inflammatory plan of defence.  I also suggest asking the vet for an opinion on some of the "safe for all animals" topical application products on the market that are formulated to encourage skin healing.  Some even claim to treat hot spots, which your mousie may have.  The brand names I am aware of are Vetericyn and Banixx.  There is another that carries a slightly lower concentration of the same active ingredient (hypochlorous acid) as Vetericyn, but the brand name evades me.  Banixx has a different active ingredient. The spray bottle application may not be practical so close to the eye, but you can always apply it with a fingertip or cotton swab or something like that.
Also, make sure mousie's nails are trimmed.  See this report:
https://www.sciencedaily.com/releases/2016/01/160106215525.htm
Whether you have the vet do it, or have enough rough-ish "sanding" surface available for mousie to run on to do it himself, makes no difference.
Let us know how things progress. We care.
_________________
Zephyr
Coco
Bobby
Noche
Paiva
April
I loved you so / I still do / I always will / 'Twas Heaven here with you.

MerciToujoursMaPetiteBoop

Sr Member





Join date

: 2017-10-18


Posts

: 378






Hello
@MerciToujoursMaPetiteBoop
& @Smee/Berlioz
Thank you for posting on this topic. I am in a PANIC over here and I'm not sure of what to do. My little one (Peanut) is also having the same issue as yours @Smee/Berlioz and I'm not sure if there is anything I can do to help. Is there anything that you have tired that has fixed this issue, Any updates on your little ones health? I do not have the money for a vet at this time, so I have been doing my best to make Peanut and my other two girls ( Rogue & Cooper ) comfortable.
Only one of the three is having hair loss, excessive scratching, and bleeding around the bottom back / front of her ear. I have also noticed her scratching and over cleaning that area, so I'm sure she is only making it worse.
I have tried to separate her from the other girls, BUT this only causes her not to eat, and she ends up stressed and I fear this will only cause her to harm herself more.
I handle her very little to not at all these days, washing my hands immediately before and after in fear it's something that she has something that can harm me, or worse something I can make worse with my germs.
Any and all advice would be great. I can see that there is something wrong, but I am unsure as to what to do.
Thank you for your help.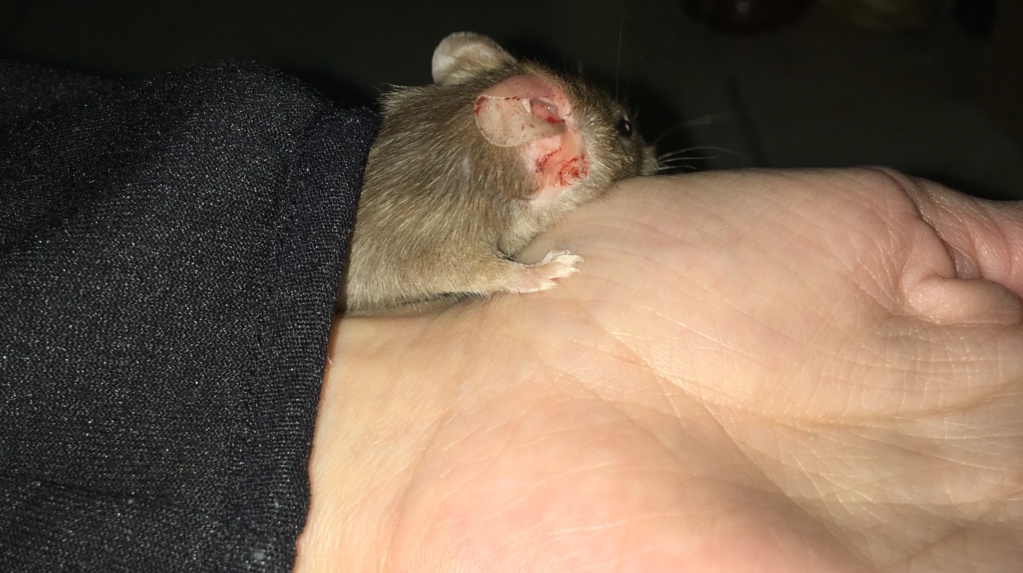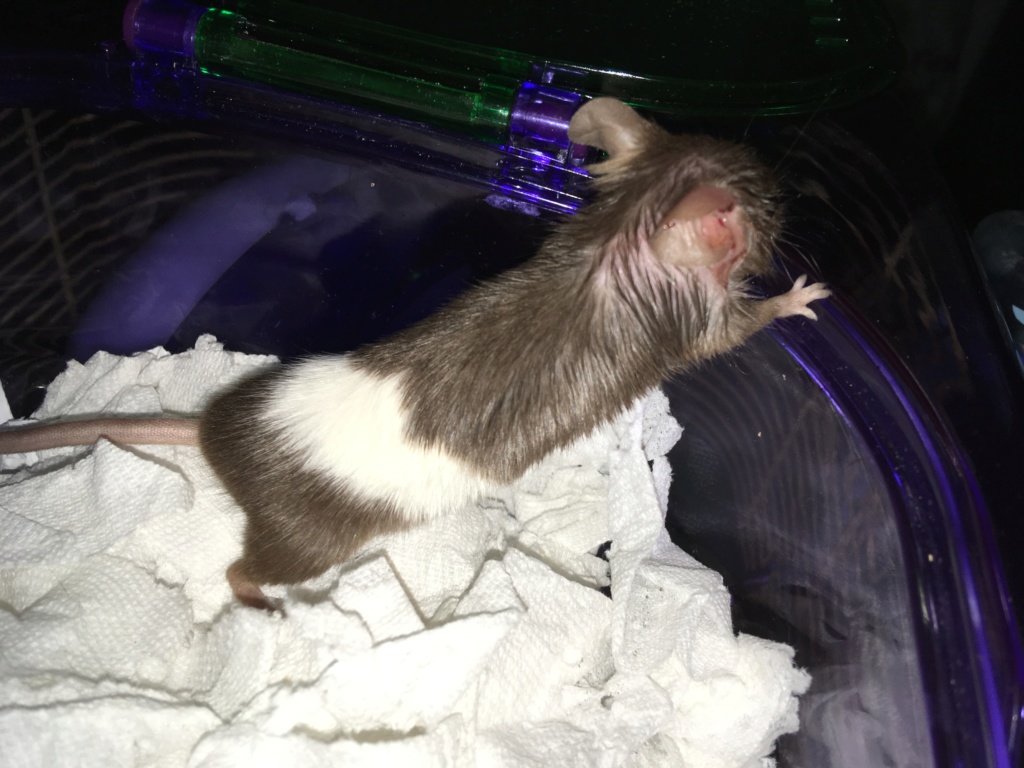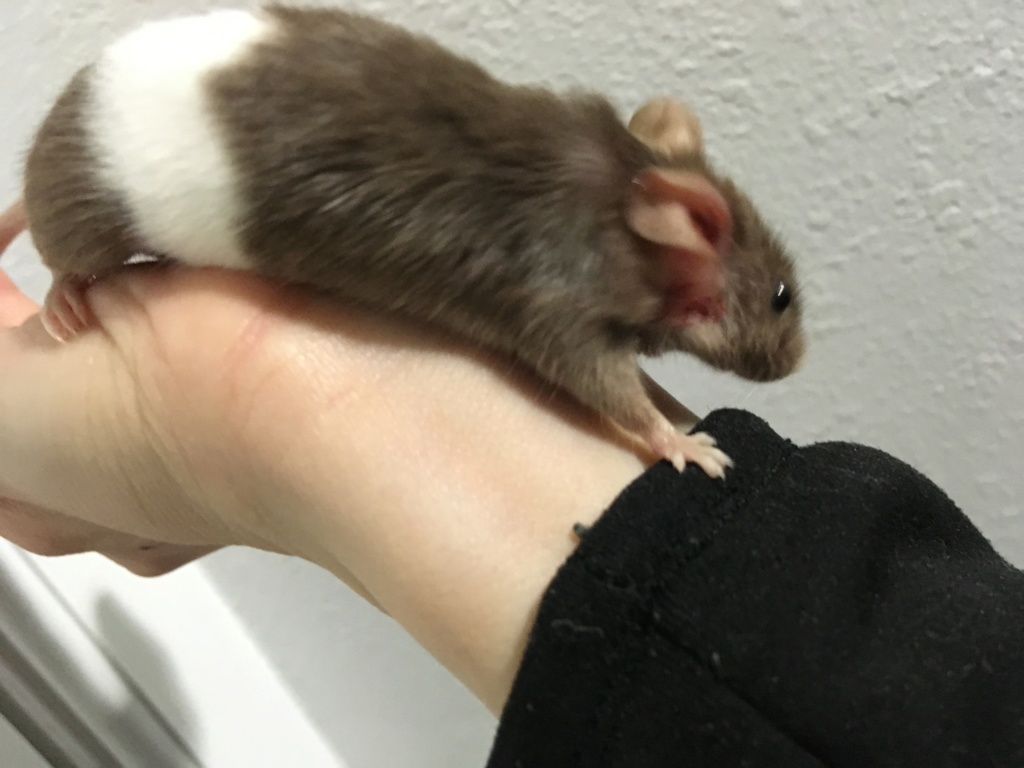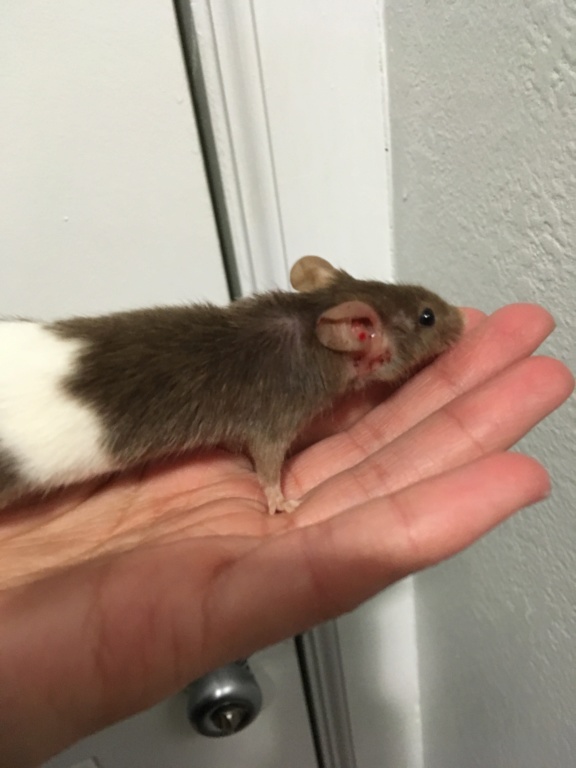 _________________
··· Cooper
··· Peanut
··· Rogue

IamAllurre

New Member





Join date

: 2018-04-05


Posts

: 8






Have you looked into it being an allergy to bedding or maybe his food?, I had a mouse that had to be kept on fleece and paper towels as he was allergic to all types of bedding even paper and his face would turn red and start to lose fur, it never got super raw like that though

Pet.crazy101

New Member





Join date

: 2018-08-28


Posts

: 16



The best plan of action is always to see the doctor, because the doctor can sample and culture to identify any parasite or bacterial issues that may be causing or contributing to the problem.  The source of the problem directs the proper treatment for the problem.

Without that medical verdict, you are stuck with just treating the symptoms.  One analogy for the danger of doing that is, say you have a cough, so you take some medicated syrup to stop the coughing.  However, because you suppress the cough, there is stuff in your breathing passages that is not coming out the way your body would otherwise be trying to get rid of it.  So even though you are not coughing, mucus and bacteria and other pestilence is accumulating in your breathing apparatus and sending you down the road toward bronchitis and pneumonia!  The moral of my fear-mongering tale is: Easing the symptoms is generally a good thing, but not if it means you don't identify what is actually causing the symptoms.

As you find yourself unable to afford the doctor visit, I'm not sure what your budget might be for basic home remedy-style skin care treatments.  When attempting anything, though, you must be willing and able to either scruff or burrito-wrap your little patient so she won't squirm around and wiggle away.

First, treating from the outside in, you will want to clean the area (as well as an extended zone surrounding it) with something that will zap bacteria but will not overly dry out the skin.  Betadine or an equivalent generic povidone iodine solution works well, but you must dilute it (at least five parts water to one part solution), apply it with a cotton swab or other small-tipped absorbent device so you can control the area you are cleaning better, leave it on for about a minute, and then rinse it thoroughly (to avoid Peanut eating any when she grooms).

Then, also treating from the outside in, you can try to address inflammation issues by making yourself a cup of green tea, ginger tea, or a combination of the two, to create a compress.  Either allow your wet, but not drippy, tea bag to cool to a comfortably warm temperature, and see if Peanut will hold still while you hold part of the tea bag against the affected area until the bag has cooled completely -- or -- you can dip a cotton ball into your good strong tea and use that for your compress instead of the tea bag.  After one treatment session, Peanut will probably have had enough, so rinse the skin and let her go about her business.

Those safe-for-all-animals hot spot treatments mentioned above in this topic may bring blessed relief, but they are not cheap.  The 3-oz Vetericyn+plus hot spot antimicrobial gel, marked as safe for all animals, runs close to $20 at the farm store.  Some Vetericyn products are available at chain pet stores; I personally have not seen this particular formulation there, but I would sort of suspect a similar price point there to what the farm store has.  Maybe it is available cheaper online.

Another home remedy for itching is "colloidal oatmeal".  I'll let you read about that online on your own.  Aveeno bath wash turned out to be the magical cure for long-term crazy itching I had because of gluten intolerance.  One shower using Aveeno, and the itching was gone.  GONE!  But for a mouse you would have to use the colloidal oatmeal powder on its own, no soapy suspension, no fragrance, and figure out how to give mousie the required soak.

I don't advise other anti-itch home remedies like apple cider vinegar rinse (would sting raw skin) or calamine (too much residue -- and it never helped me at all for anything!).  Nor would I rely on hydrocortisone ointment without first consulting a vet.

Now, treating from the inside out, do a little research online to find out common food allergies for mice, and eliminate those from Peanut's food bowl.  And because gut health is essential for total body health, allow her a few licks of probiotic yogurt for a treat each day.  Peanut's sisters can share in that too, no problem.  Goat milk yogurt might be healthier than cow milk yogurt for mice, but since you will have to eat most of what is in the container, don't worry too much if you go for the cow milk.  Just be sure there are active cultures!

You'll have to do the outside-in treatments more than once a day, maybe 3-4 times if the itching seems to be calmed, and maybe more often -- like whenever you see Peanut messing with her injury.  You will have to check on her frequently, and keep track of the progress of the wounds and the surrounding area.  If there is improvement, then continue the treatment even after all symptoms disappear, and save up your money to take Peanut to see the doctor as soon as possible.  If there is not improvement or if the situation gets worse, then I cannot emphasize enough the importance of finding a way to get Peanut real medical treatment without delay.  Wounds can be signs of existing infection, and they can also be conduits into the body for new infection.  Mousies are very tiny, and infections do not take very long to spread and do great damage to them.

Also, be sure to use the great resource of information that is the World Wide Web. We can't know everything here, as much as we might like to. Let us know how Peanut is doing.
_________________
Zephyr
Coco
Bobby
Noche
Paiva
April
I loved you so / I still do / I always will / 'Twas Heaven here with you.

MerciToujoursMaPetiteBoop

Sr Member





Join date

: 2017-10-18


Posts

: 378






Thank you so much
@MerciToujoursMaPetiteBoop
& @Pet.crazy101 for all of this information. As I was reading it all, I started to cry. There is just so much about these little creatures that I didn't know, I am so thankful that this forum is here and for all of your help!
I am going to head into the market today to purchase the listed items in the post, and will start treating and caring for Peanut the best possible way at home until I can take her into the vet.  I will also head into a pet store to get some different forms of bedding & food in case this is an allergy that can easily be resolved. Would you
@MerciToujoursMaPetiteBoop
recommend using both the Green tea, ginger tea compress and Betadine within the same time frame? Do one treatment, wait two days and then do the other? I would hate to overwhelm her.
Also, I have a question on handling Peanut, in fear of me harming her or her harming me I haven't been picking her up or touching her often. Would you recommend I wear protective gloves? or pick her us using a napkin? I know this wont be as comfortable for her, But I would absolutely hate to use my hands and cause further issues. When I do hold her, She seems to be acting normal and interactive as usual, but she is a bit sluggish. As I'm sure the poor little thing is in some pain. In her cage with the other girls she eats and moves about as if nothing is wrong, it is only when I separate her to clean the area & observe her after cleaning for a day that she stops eating & sleeps the entire day.
Again thank you for all of your help!
_________________
··· Cooper
··· Peanut
··· Rogue

IamAllurre

New Member





Join date

: 2018-04-05


Posts

: 8






Don't cry!! As they said in London during the Blitz, "Keep Calm And Carry On.". Mousies will appreciate your cool head when things don't seem to be going right in the mousehouse.

There is no specific schedule for cleaning and "compressing". The cleaning is to do what you can to keep contamination from setting up a home in the wounded area. The tea compresses are to soothe the injured area, to combat inflammation (swelling, pain, itching, and all that good stuff). Technically, you could alternate the treatments all day and all night, with short breaks in between so you don't waterlog the wound surface, because there shouldn't be anything injurious or toxic. But more realistically, maybe try three or four sets per day. Cleaning should only take a few minutes, and then the compress will take longer. Remember, though: The more time you spend with Peanut, actively keeping her from scratching, the BETTER!

Although Betadine used to be highly favored for disinfecting human wounds, it seems to be largely considered of no great use. Unfortunately, the same negative effect the iodine has on bacterial cells is also perpetrated on sound cells in the wound bed, which is counterproductive to the healing process. Saline solution or clean tap water are now considered to be sufficient for most wound cleaning purposes. But the reason I think Betadine (or, as I like to remind everybody, a lower-cost generic equivalent) is of use in caring for mouse wounds is that a mouse wound is far more likely to come into contact with serious contamination sources, crawling around in the same substrate with bio-waste materials and discarded food pieces. Also, a mouse will be much less concerned about the cosmetic results of the wound healing process, so a little disturbance to the wound bed cells is a fair tradeoff for removing bacteria and reducing the chance of infection. Just be sure to dilute the Betadine before using.

When treating Peanut, I would just handle her with my bare hands, since that is what she is used to. After treatment, in case there are parasites involved, go straight to wash your hands. Then you can wash off any bottles or other items you may have handled during the treatment session. But keep in mind that if Peanut has parasites, her sisters have already been exposed too.

Let's hope Peanut is just having a little hypersensitivity reaction to something, maybe caused by the changing seasons or a long dry winter indoors, and that paying attention to what she eats and tending to her open wound will bring her back to good health.
_________________
Zephyr
Coco
Bobby
Noche
Paiva
April
I loved you so / I still do / I always will / 'Twas Heaven here with you.

MerciToujoursMaPetiteBoop

Sr Member





Join date

: 2017-10-18


Posts

: 378






I'm seeing more and more of this same problem lately, scratching that starts below the ear and doesn't seem to slow down from there. My girl had it and we took her to vets, were recommended a specialist -- nothing was making any sense. We couldn't find a cause and eventually just decided it had become OCD after discovering she had an abscess in her cheek in the beginning (though this may have come from the scratching, really) but the more I see the same pattern the more I wonder if that is truly all it was.

She never stopped scratching, though it did become less severe over time. I'm not sure how much of this was just up to her old age. If you ever find any other causes, please message me about them! What helped the most was silvadine with us. It was very cooling and relaxing, although she hated it being applied.

Best of luck. Be sure to work on distraction as well, even while looking into the physical side of things.
_________________
Goose & Otter* ♂ 

Remembering Mr. Bald ♂, Tipsy, Topsy, Maier, Graham & Garcia ♀
*Neutered male group. Do not house intact males together.*

River

Hero Member





Join date

: 2016-06-19


Posts

: 1486






This is becoming such a common issue!

My mouse Oreo was having similar issues, he was uncontrollably scratching and I assumed it was mites. The truth is you can't do much for him without taking him to the vet. For Oreo, the vet gave him more medicine just in case (didn't see anything after a modified skin scrape) and he got antibiotics to help heal it and prevent infection.
He's getting better! I'm sure a vet would be able to help your little guy out too! It's so sad to see them rip themselves apart but keep in mind that mites and lice can't kill him unless they're left for wayyyy too long.
My vet thinks Oreo is self mutilating so she recommended getting a nail trim and keeping rocks in the tank, maybe you could try that too.
I hope I could help! Good luck to you and your mouse

Oreoandfriends

Sr Member





Join date

: 2018-07-22


Posts

: 107






Thank you so much for the additional information,
@River
,
@MerciToujoursMaPetiteBoop
&
@Animallover562
I will do my best to care for Peanut carefully and with as much love as I can while I continue to save up for that vet visit. All of your kind words and advice helps more then you understand. Thank you so much for taking the time to help me!
Much love for all of you and your little ones<3
_________________
··· Cooper
··· Peanut
··· Rogue

IamAllurre

New Member





Join date

: 2018-04-05


Posts

: 8






Similar topics
---
Permissions in this forum:
You
cannot
reply to topics in this forum