Useful Links
Forum Rules
Please read the forum rules before posting. If you have any questions, contact a moderator.
Pet Mouse Info
Links to help you find all the care info threads throughout the forum.
Contact
Use this link if you need to get in touch with the administration team without an account.
FAQ (forum)
Frequently Asked Questions about the forum.
Vetective™
Vetective™ is "a community-driven exotic mammal veterinarian locator and review service."
A quick PSA! A good idea that I got from an old parrot first aid kit a few years back is to always have all of your pets' medical information in their first aid kit. A good way to do that is to tape a sheet to the inside lid of the kit, and have it say the name, address, hours, and phone number of your regular veterinarian, the address and phone number of an emergency clinic, the number for pet poison control, and information on your pets' birthdays, medications, and allergies. I think it's a good practice because if you ever need any of that information in a medical emergency, you don't have to waste time digging through websites or your phone for it. Or if you're not at home and someone else is handling an emergency, they have all the information right there for them. A first aid kit is the best place to keep all that information, and it's great for safety.
Here's an example of my setup. I updated it recently by removing information for deceased pets, changing the address and phone number of the emergency clinic to a closer place, and adding slots for medications since my girls are getting older. It's best to hand write all of the info rather than typing so you can make changes without having to switch out the whole sheet.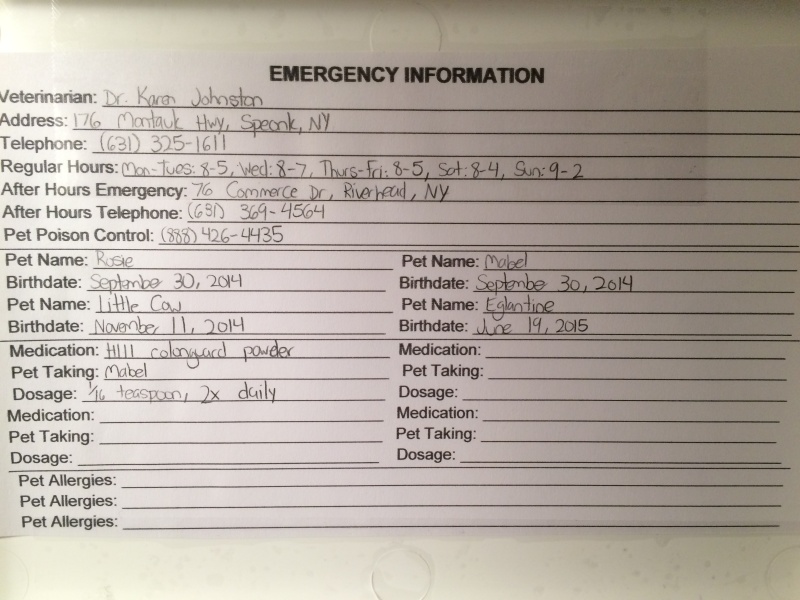 _________________
Girls: Annie (broken chocolate angora), Grace (pink-eyed self champaign), Shelly (banded agouti), Nutmeg (self beige), Chara (banded beige)
Sleeping in the Soil
: Lilith, Little Cow, Mabel, Rosie, Eglantine, Monster, Henry, Suzie
Check out my Etsy shop,
CinnamonMouse Crochet!
Hero Member





Join date

: 2016-04-06


Posts

: 1505


Likes

: 176





Excellent idea! Will borrow your idea.
Sr Member





Join date

: 2016-04-13


Posts

: 101


Likes

: 25





Similar topics
---
Permissions in this forum:
You
cannot
reply to topics in this forum