First of all, is she brindle? I mean, the banding isn't perfect but am I mostly correct, not in terms of showing but just IDing. I never see these in real life, I've probably never seen one in real life, they just aren't around me and I got excited.
What is this one? She goes from soft tan near the face to soft grey on the butt. She's also the biggest and the one I'm only 97% sure is female so I'm going to be checking every day this week. I was 100% sure, and then I picked up one of my boys after he did a little acrobatics and he was clenching so hard I would've mistaken him for a girl if I hadn't had him since birth. Now I'm thinking she could be clenching that hard too. We'll see. I have an extra tank, it wouldn't be the end of the world.
Here is where I would put a great joke about helping me identify the last one, if I could think of one. This one I've got figured out
And to think, I waited months scouring the ads for female mice for adoption. I've gotten boys TWICE when what I wanted was girls, because that's who needed me at the time. And I only found these because of this forum! It's only an hour from me, but I rarely look at the Hamilton classifieds and by magic the classifieds came right to me! The night before I had a car booked!

j.n379

Full Member





Join date

: 2018-04-13


Posts

: 64



Both look like brindles to me! Not perfect by show standards but beautiful all the same. Keep an eye on their coats, they may change patterns and colors. Brindles are cool!
I tried to adopt mice from rescues but when I was finally ready the females were all gone. I checked Craigslist but kept finding males. Finally went to PetSmart. lol Wish people were near me!
The easiest way to tell sex for certain is to check for a vaginal orifice. You can put your mouse down on a table and then lift her tail by the base to check easily. Feel free to post pictures if you'd like.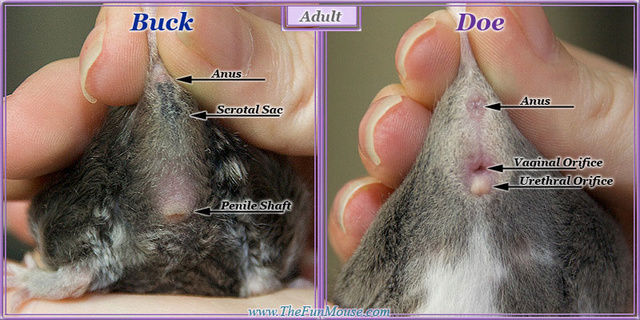 Peachy

Moderator





Join date

: 2016-04-06


Posts

: 3164






Yeah I know how to check, they're just still quite small so I don't trust myself.
If they were from a pet store I'd just assume that one was a couple days older, but I don't think this shelter would do that, the litters in that tank were clearly about a week apart. The size difference made me wonder about my boys too, before their testes dropped, if maybe they were one of each but really one was just bigger. It's probably just that.

j.n379

Full Member





Join date

: 2018-04-13


Posts

: 64



Another way to tell sex (which is easier if your mice have lighter colours) is nipples!
Male mice do not have nipples, but the females do. So if you get stuck, you could try looking for any little dots that could be nipples
I think they're especially visible on the lower end of the mouse (i.e. nearer the back legs, as opposed to the front legs).

_________________
Current Mice: None.
Rainbow Bridge: Daisy, Peach, Ivy, Penelope, Hazel, Ruby, Clover, Peanut, Minnie, Ginger,  Honey, Violet, Flora, Fauna and Merryweather.

j.n379

Full Member





Join date

: 2018-04-13


Posts

: 64



Similar topics
---
Permissions in this forum:
You
can
reply to topics in this forum