I got 2 new girls recently who's owners were moving and couldn't take them with they came in a small cage that I see at Wal-Mart (I also own 2 from past adoptions) the hamster fun home it's called, i tried to put them in a 10 gallon and they didn't like it they were breathing hard,squeaking,every sound or movement freaked them out, I put them back in the small cage (changed the wheel to something bigger) and they seem content and settled down.
I'm not sure what to do I know that cage is to small for mice but they seem to like it best
https://www.walmart.com/ip/Hamster-Fun-Home-Cage/47133384
< here is a link to the cage I will take measurements once i find my tape measure

Pet.crazy101

New Member





Join date

: 2018-08-28


Posts

: 16



I had that cage for a solitary male. That cage is too small for mice, but it'll do until you figure out what you'd like to do. A tank is perfectly safe and can be LOADS of fun... sounds like your mice were being drama queens.
If you'd rather have them in a cage, Amazon has a couple that are a good size for $50-100 or you could buy a cage meant for a larger animal and cover it in mesh so no one can escape. Something like this.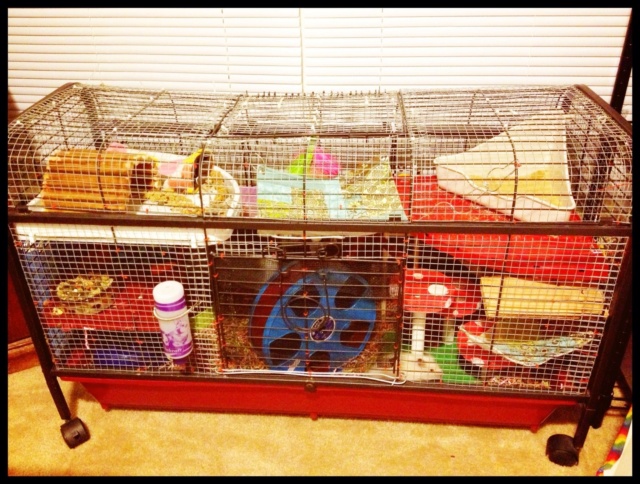 This page discusses different types of housing, and has some great examples of different tank-style setups. There's also some links to cages under the Wire Cages header.
https://www.petmousefanciers.com/t26-proper-housing

Peachy

Moderator





Join date

: 2016-04-06


Posts

: 3156






@Peachy

wrote:I had that cage for a solitary male. That cage is too small for mice, but it'll do until you figure out what you'd like to do. A tank is perfectly safe and can be LOADS of fun... sounds like your mice were being drama queens.

If you'd rather have them in a cage, Amazon has a couple that are a good size for $50-100 or you could buy a cage meant for a larger animal and cover it in mesh so no one can escape. Something like this.

This page discusses different types of housing, and has some great examples of different tank-style setups. There's also some links to cages under the Wire Cages header.

https://www.petmousefanciers.com/t26-proper-housing
yes they are quite the drama queens but i do think i found a "middle man", i found one of my old cage that i got 9 years ago with my first pair of gerbils it has the same floor space as a 10 gallon and has nicely spaced bars, i just had to fix a hole in the floor and bend some wires back into place, then i will set it and move them in hopefully they will like

Pet.crazy101

New Member





Join date

: 2018-08-28


Posts

: 16



Similar topics
---
Permissions in this forum:
You
cannot
reply to topics in this forum