+3
Peachy
lupus_corde
newmousiemommie
7 posters
It has now been 9 days since we brought home our rescued feeder mice.
We told ourselves we weren't allowed to officially name them until they'd lived a week. Haha.
For the first few days, the mice were eating kitten milk. First from a syringe, then a dish. I recently transferred them from a critter keeper to a wire cage (which I know isn't the best...I'm working on finding options. They go between two houses), and are snacking on fruit, and drinking lots of water.
They don't or can't yet drink from a water bottle hanging on the side of the cage. They still drink from a dish.
I bought some "small rodent" food from petsmart...but I'm afraid they're still too small for it.  I'm going to crush some up and see how they do! I'll try to get pictures of them to post! For now, here are some (bad) photos I have of them on my phone.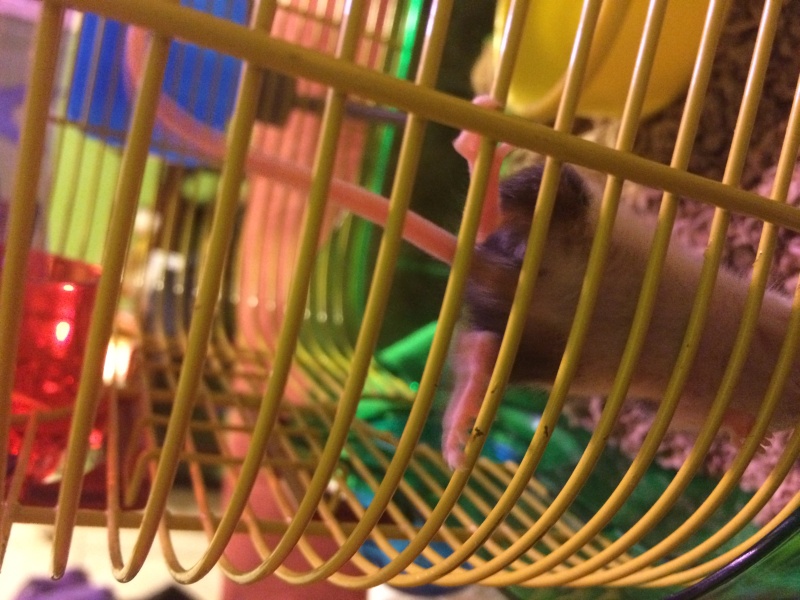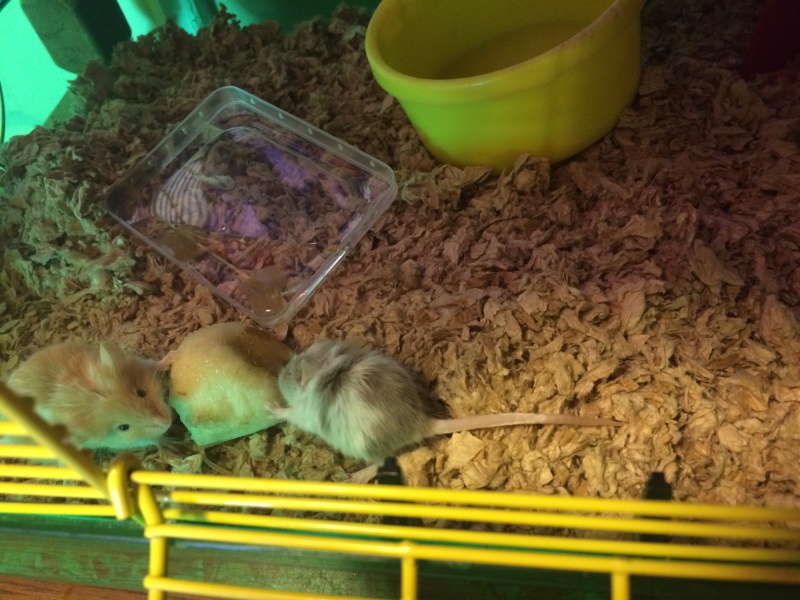 newmousiemommie

New Member





Join date

: 2016-06-19


Posts

: 7



awwe cute! Hope they continue to do well and transition to mouse pellets or seed mix soon
_________________
Full Time internet user and animal lover
My mice: Luna, Eclipse and Galaxy

lupus_corde

Sr Member





Join date

: 2016-06-18


Posts

: 100






So much cute! I loved saying handful of mice when I had babies.
I'm so happy they're doing well.

Peachy

Moderator





Join date

: 2016-04-06


Posts

: 3164






Aw! Any named for them yet? Is that one dove or gray? Either way, love those colors.
_________________
Goose & Otter* ♂ 

Remembering Mr. Bald ♂, Tipsy, Topsy, Maier, Graham & Garcia ♀
*Neutered male group. Do not house intact males together.*

River

Hero Member





Join date

: 2016-06-19


Posts

: 1486






So sweet! Glad to see they're doing well. You're their hero

_________________
Current Mice: None.
Rainbow Bridge: Daisy, Peach, Ivy, Penelope, Hazel, Ruby, Clover, Peanut, Minnie, Ginger,  Honey, Violet, Flora, Fauna and Merryweather.
Glad to hear it! Just be careful, young mice can often slip out of wire cages very easily. A tank might be better. Did you name them yet?

CinnamonPearl

Hero Member





Join date

: 2016-04-06


Posts

: 1725




_________________
Lady mice
: stormy, Dahlia, lily, Ella billie, coco, maggie
Gentleman mice
: milo, jimmy
Other pets
: Little Buddy, Kevin (cats) robert, lulu, Englebert, harold, Gerald, Zumi, nico, charlie, (hamsters), stella (gerbil), Gilly (hedgehog)
 Penny, Honeybun, Lucy, Annie, Gilly, Furgie, Tedward Wigglesworth, Olivia, Goose, Sweet Katie, Binky, Delilah, Bitsy, Boopers, Sprout, Splotchy, Eva, Slappy, Shuggie, Fancy Pants, Jellybean, Charlie, Murray, Sally, Maya, Gunther, Lil Smokey, Magnus, Norman, Winnie, Sally, George, Harriet, Spec, Erzulie, Lucille, Agatha and Clementine.

scaredymouse

Hero Member





Join date

: 2016-04-03


Posts

: 2458









---
Permissions in this forum:
You
cannot
reply to topics in this forum