+4
Peachy
River
Brynne
AnonymousMouseOwner
8 posters
Ok, I was going to get two mice today, but I just couldn't find the perfect two, maybe another day I will get another one when the right one comes along, but for now, meet my new mouse! No name yet, but I was thinking of naming her Violet, what do you guys think? She's from PetCo and she's really sweet
.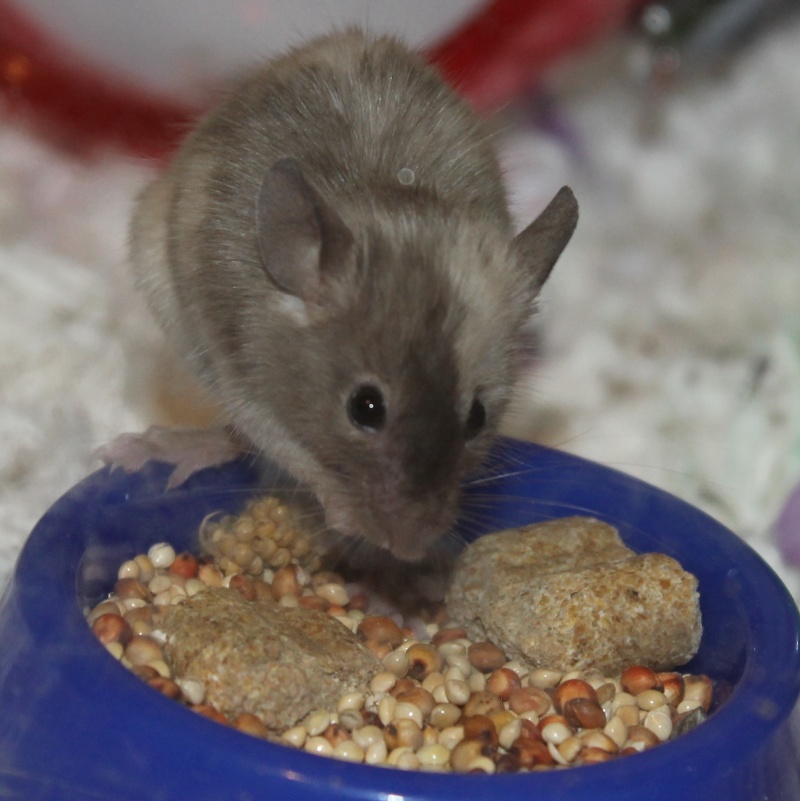 Lovely!  I can see why you bought her.

Coincidentally, I went into a Petco yesterday for the first time in a few months. They had a doe with that same unusual multi-shades of brown colour scheme!  Must have come from the same batch at the factory farm. I couldn't work out if she was a burmese going through a moult or what. Fascinating to look at.

It will be fun to see if your Violet changes a lot over the next few months.
_________________
Lady Mice: Sarah Jane, Eliza, Sabine, Tegan
My "Crazy Mouse Lady" channel on youtube-
bit.ly CrazyMouseLady
Wow! She's beautiful. Violet surely fits the theme you have going on. She seems to suit Iris as well - just a suggestion.
I love her colors! She's very tiny. Congrats.

_________________
Goose & Otter* ♂ 

Remembering Mr. Bald ♂, Tipsy, Topsy, Maier, Graham & Garcia ♀
*Neutered male group. Do not house intact males together.*

River

Hero Member





Join date

: 2016-06-19


Posts

: 1481






Wow, she is super cute! I like the name Violet. I'm trying to think who else has a Violet. It's interesting how a lot of us pick similar names.

Peachy

Moderator





Join date

: 2016-04-06


Posts

: 3164






I have a Violet
So I think it is a LOVELY name, but I guess I am biased. She looks adorable, I love grey mice.

_________________
Current Mice: None.
Rainbow Bridge: Daisy, Peach, Ivy, Penelope, Hazel, Ruby, Clover, Peanut, Minnie, Ginger,  Honey, Violet, Flora, Fauna and Merryweather.
She's officially Violet! I put name tags on my cages just to make things more official, and when they move from the quarantine cage to the main cage, their name tag moves too! Can't wait till' there's three name tags on the cage when the quarantine is over in a few weeks! She seems to enjoy the different foods I gave her, must be much better than pure lab blocks at the pet store, she really enjoys the little bits of millet I gave her!
(And lol MouseLover, two Violets on this forum now, eh?
)
Pretty mouse! I doubt anyone else has an "Astra."
Violet definitely suits her!

_________________
One male mouse, Willie!
Rainbow Bridge:Merci, Astra, Ellie, Suzie (Suzers), Millie, Cece and Terri.

EverythingAnimal

Sr Member





Join date

: 2016-04-02


Posts

: 320






Ooh she's pretty. Congrats!
EverythingAnimal wrote:Pretty mouse! I doubt anyone else has an "Astra."

Violet definitely suits her!
I had Astrid on my list. Close enough?

CallaLily

Hero Member





Join date

: 2016-04-03


Posts

: 3937






She's gorgeous! And look at those big peepers!
_________________
Lady mice
: stormy, Dahlia, lily, Ella billie, coco, maggie
Gentleman mice
: milo, jimmy
Other pets
: Little Buddy, Kevin (cats) robert, lulu, Englebert, harold, Gerald, Zumi, nico, charlie, (hamsters), stella (gerbil), Gilly (hedgehog)
 Penny, Honeybun, Lucy, Annie, Gilly, Furgie, Tedward Wigglesworth, Olivia, Goose, Sweet Katie, Binky, Delilah, Bitsy, Boopers, Sprout, Splotchy, Eva, Slappy, Shuggie, Fancy Pants, Jellybean, Charlie, Murray, Sally, Maya, Gunther, Lil Smokey, Magnus, Norman, Winnie, Sally, George, Harriet, Spec, Erzulie, Lucille, Agatha and Clementine.

scaredymouse

Hero Member





Join date

: 2016-04-03


Posts

: 2458









---
Permissions in this forum:
You
can
reply to topics in this forum