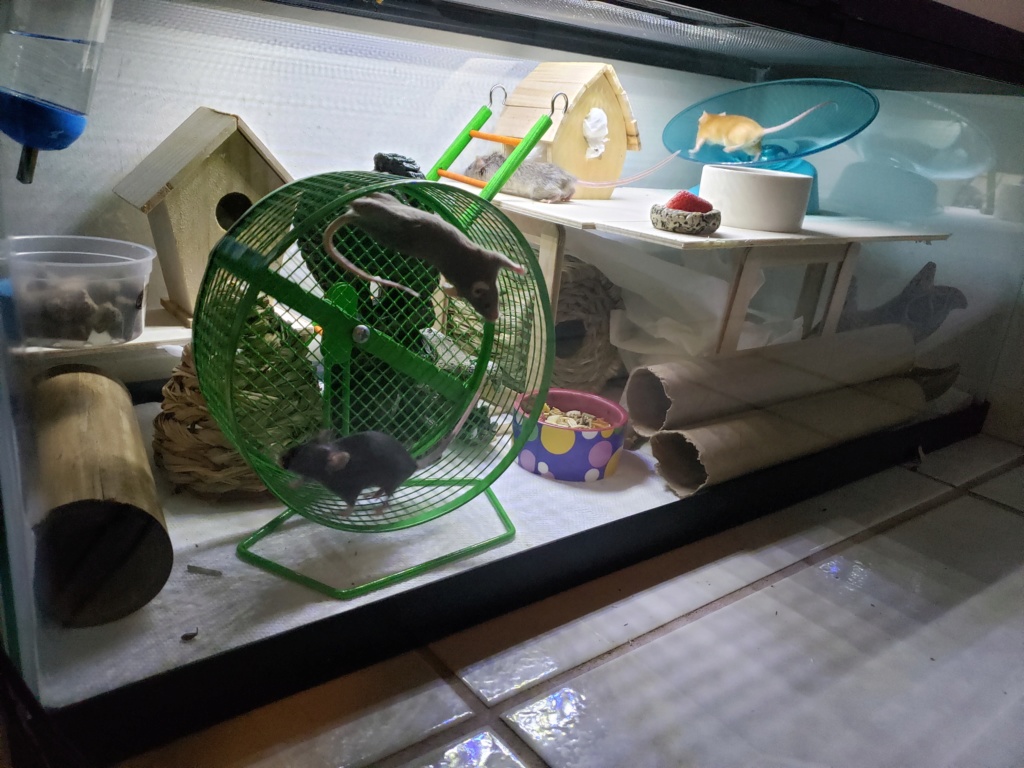 That's Noctis and Ignis being acrobats on the upright exercise wheel xD Prompto is in the back on the flying saucer, and you can see Gladio poking about in the middle. I had to rebuild their platfprm because they'd chewed most of the way through several of the legs on the old one,  this one is the biggest they've had yet but I think they enjoy it!
Last edited by lizardtails on Tue 19 Mar 2019, 11:05 pm; edited 1 time in total (Reason for editing : Edited the title so I'll just keep using this thread to post photos and videos of my babs lmao)

lizardtails

Jr Member





Join date

: 2019-02-17


Posts

: 25



I love the cage! It looks like a ton of fun for your mice!
What is that in the back on the right?
Out of curiosity, I noticed you have what looks like paper towels as substrate, does that work well for you? I'm just wondering, I feel like my mice are so messy that paper towels would never work for me
I'd have to clean the cage like 5 times a day.
You might be seeing the mouth of the triceratops skull? XD It's a fish tank decor piece I got from Petco, it's absolutely adorable to see them peeking out from the mouth or from behind the headfrill.

This was actually my first time trying paper towels, and one day later I have smell-induced regrets lmfao. I went ahead and added shredded paper bedding and hay this morning, which is what I normally use, but left the paper towel in because they do seem to enjoy ripping it up!

lizardtails

Jr Member





Join date

: 2019-02-17


Posts

: 25



Had Iggy out for bonding time tonight and she was so calm and curious!
I love how adorable they are when they prick their ears forward!
Prompto, meanwhile, despite being the biggest bully, is one of the most skittish and nervous. When I take her out, she just wants to hide--even though she's not very good at it!
She seems to subscribe to the T-Rex school of stealth--"It can't see me if I don't move!"
Lucky for her she's too cute to ever become lunch! XD

lizardtails

Jr Member





Join date

: 2019-02-17


Posts

: 25



---
Permissions in this forum:
You
can
reply to topics in this forum