Hi. I'm in 7th grade and a boy in my class brought two mice to school for a biosphere project even though I told him we couldn't use anything bigger than a shrimp. The teacher told him the same thing, and he said that his parents wouldn't let him bring them home again. I rescued them from a big sparkletts jug, and bought them a new habitat. I am keeping them safe and handling them, but every other pet in our family (a dog, two cats, six chickens, and a snake) all want to eat them!! They are a bonded pair and will be happier in a place without so many predators.
Note from Mom: My daughter is taking good care of the mice, but it is stressing her out to worry about their safety. The habitat and any food/bedding we have on hand will go with them.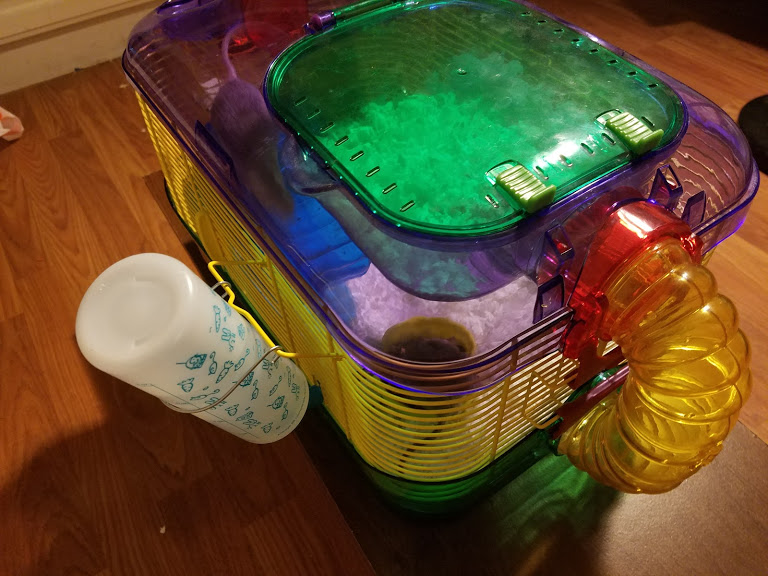 meadowleaf

New Member





Join date

: 2019-04-17


Posts

: 1



You are so amazing for taking them in! I love seeing people who care about the smaller animals!
I'm in Nevada so most likely I'd be too far away to rescue from California (I'd adopt in a heartbeat if I could).
I hope you are able to find good homes soon, until then feel free to ask the forum any questions regarding care. Good luck!!

Oreoandfriends

Sr Member





Join date

: 2018-07-22


Posts

: 107






Unless you two are awfully far apart, or you both lack transportation, maybe you can work something out.
When I was living in Sparks, Nevada (and in much better health!), I "commuted" for four months to a weekend job in Los Angeles.  I didn't drive the round trip every weekend (I'd stay in Los Angeles, where I rented a bedroom in a house, for a week between weekends, then return home the next week, alternating), but I never found the drive to be a problem.  There was a lot of time to think about things and sort out my personal philosophy and all that deep stuff -- as well as to sing along loudly with the 60s songs travelling across the desert from a station in Las Vegas to me driving beautiful scenic Hwy. 395.
If I was still out there, I'd probably offer to help.  But, I'm not.
_________________
Zephyr
Coco
Bobby
Noche
Paiva
April
I loved you so / I still do / I always will / 'Twas Heaven here with you.

MerciToujoursMaPetiteBoop

Sr Member





Join date

: 2017-10-18


Posts

: 378






Where in CA are you guys at? Depending on the area I can maybe take one of them in. If you're in the Thousand Oaks, Simi Valley, San Fernando Valley, etc. area I could maybe take them if I get some more info.

That being said, you shouldn't house males together, even if they're fine now, it won't take long for the situation to sour.
_________________
Mice
: Gus gus, Star, Silk  
Dog
: Cocoa  
Betta: Orchid  [i]Nerite
: Kohaku  
Shrimpies
: Les Roux
Passed away: [/i] Jay the Betta

BrendoniUrie

Jr Member





Join date

: 2019-03-09


Posts

: 35






---
Permissions in this forum:
You
cannot
reply to topics in this forum