Can anybody identify the species of this female mouse I adopted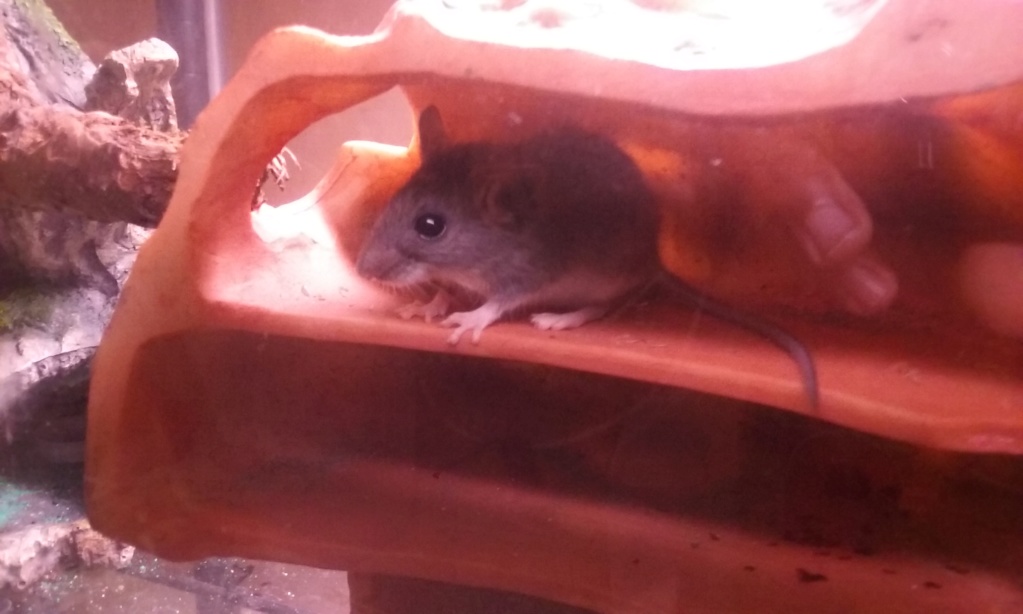 Antiant

New Member





Join date

: 2019-05-05


Posts

: 6



It would be helpful to know what country/region you live in, and where she was adopted from! (a shelter, pet store, another person, etc)


_________________
tabby | she/her | 25 | tx, usa
★Mouse Dossier★
my mouse gallery
mouse mom to: Pronto
remembering: My dearest Trouble and all her siblings who've joined her across the rainbow bridge.  
Antiant wrote:Can anybody identify the species of this female mouse I adopted
That looks like a white-footed deer mouse. She does appear to be fully grown, so taming is almost certainly out of the question. I used to care for two of them. Sadly, since they were so wily they both escaped to their eventual doom. She should be housed with another mouse (A male is fine. They can't breed) if possible.
Javascript.exe wrote:

Antiant wrote:Can anybody identify the species of this female mouse I adopted

That looks like a white-footed deer mouse. She does appear to be fully grown, so taming is almost certainly out of the question. I used to care for two of them. Sadly, since they were so wily they both escaped to their eventual doom. She should be housed with another mouse (A male is fine. They can't breed) if possible.
The feeder mice at the pet store are all female but, since they're different species do you have any tips on bonding them?

Antiant

New Member





Join date

: 2019-05-05


Posts

: 6



I would introduce them in a neutral and very secure environment if you can. Remember, wild mice can jump and run very quickly and very high. A bathtub or deep bin/bucket would work with supervision. If you manage to tame the domestic one, you may be able to give her a confidence boost. My pet mice weren't particularly tame when I had the two deer mice, but in retrospect, it may have helped a great deal. They never did fight at all, but I am inclined to believe that a fully grown wild mouse could kill a feeder one, so if you should probably listen out for squeaking. Depending on the mouse, you may be able to catch some glimpses of them sometimes. I always saw my wild ones cuddling with each other and my pet mice. I was able to pick them up without them biting for short amounts of time, but I would be very careful. If- not when- she escapes, you may want to have a stockpile of live catch traps. You should also set the tank in a room that you can easily close off. One actually escaped as I was trying to tame him (he ran up my arm and jumped off my shoulder) and I found him in my curtains a week later. If you don't have pets, closing the door is really all you need to enclose them in a room so long as it's carpeted. If not, shove a towel into the crack. I was able to successfully grab mine with a flower pot inside of a bag. Do not use your hands! They will bite and catch you off guard. I would also recommend putting crickets or mealworms into the enclosure to supply extra protein without harming your pet mouse. I wish you the best of luck with your new friend, just be careful and do the best you can!
---
Permissions in this forum:
You
cannot
reply to topics in this forum