Hi! So I started mouse keeping very recently with my little baby mouse named Goose. I've already made a few posts about him with some questions and concerns I have but I never properly introduced myself (or Goose really).
I got Goose just a few weeks ago when my friend's pet snake decided that Goose wasn't a good snack (thank god!) and with nowhere else to go I took little baby Goose in and raised him. Which let me tell you, hand raising a baby mouse isn't lots of fun but it is incredibly rewarding. I ended up feeding Goose every 3 hours for a week until his eyes opened and he preferred to lap formula out of a dish rather than sucking off a paintbrush. Since my first post Goose has grown significantly and I've fallen in love with him.
I was wondering if you guys had any advice for me on how to fully wean him onto just food and water (and maybe a couple treats)? Or how to keep odor down when he gets older? (I've heard male mice smell more than female mice) any advice is greatly appreciated thank you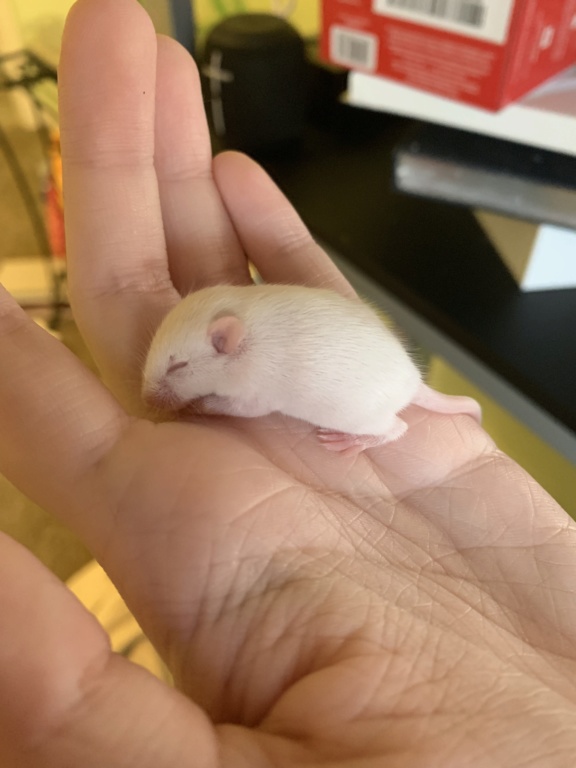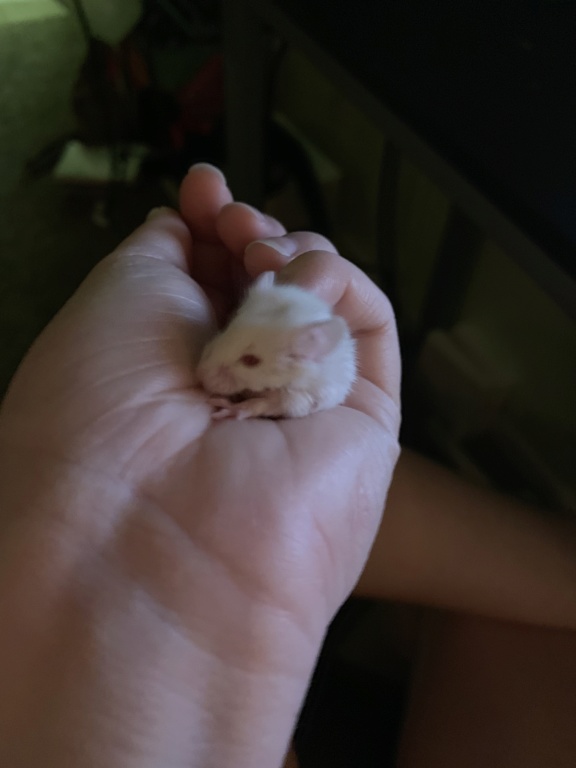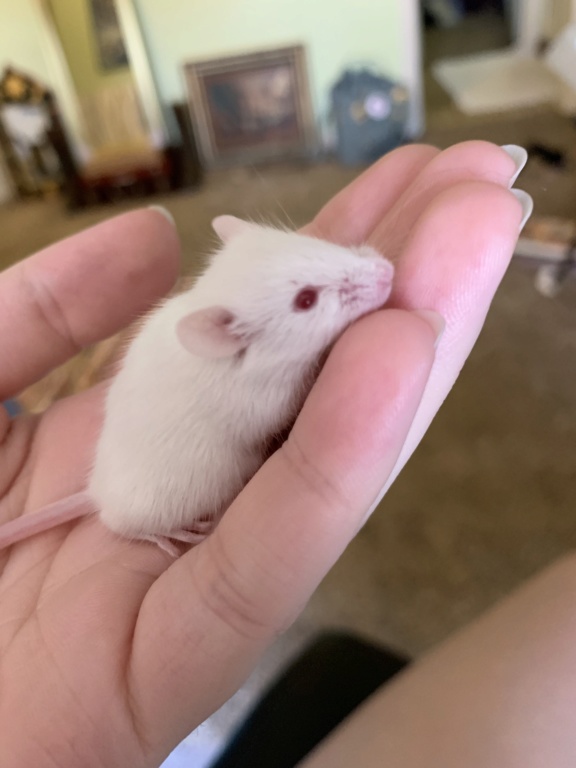 (Here's a little timeline of Goose getting older, I feel like a proud parent showing off my baby on Facebook
)

Sentientsunshine

New Member





Join date

: 2019-07-30


Posts

: 7






I don't have any advice for food transitioning but holy cow what a sweet lil boy!!
I don't have any boys, but girls smell too, so here's what I have to say there
 As for keeping odors down, I find just using a larger cage works well, that way the odor can spread out more. Using a barred cage is also a good idea so the cage can air out. Keeping on top of cleaning toys (
wheel
)/tossing smelly ones every few days will help, too.
Best of luck with him!
_________________
Mice: Raven
Other: Hermes (robo hamster), Prism (betta), Max (dog--profile pic)
Rainbow Kids: Pepper, Nugget, Dove, Artemis (hamsters), Leaf, Oak, and Moo (mice)

Robin~

Sr Member





Join date

: 2019-06-05


Posts

: 444






What a cutie!  I think PEW mice have a special place in my heart because my first mice as an adult were PEW (Cheeseburger and Bacon).  
For cleaning there's some advice in
this thread
.  
For bucks it's finding a balance of keeping some of his smell around while still providing a clean home.  
What worked best for me was:
-Daily spot cleaning any nasty spots or toys. In my experience wheels are the main culprit for strong smells between full cleans but my boy also really liked to mark up plastic toys too.
-Leaving 2-3 of his "cleaner" toys unwashed during full cleanings. (Different ones each weak so that none became too gross)
I used to try to leave his nest or a bit of the "cleaner" old bedding during full cleans but my boy developed eye problems (probably not related) so I stopped.
I found this bit of info here:
https://www.petmousefanciers.com/t43-breeding-packet#71
If the baby has its eyes open then it is around or over 2 weeks of age. You can decrease feedings some at this point. Every 3-4 hours (weaning gradually) should be sufficient. If the baby at any stage appears to lose weight, try to feed more if the baby is willing. Be sure not to over feed (don't force it). A baby should eat .05cc per gram of their body weight per feeding. This means that a baby of 10 grams should eat .5cc of milk per feeding. Once the baby has its eyes open you can introduce solid mouse food as well as a water bottle. Make sure the bottle is low enough for the baby to reach. It may not drink from the bottle right away. Give it time. I do not recommend water dishes. This can be a huge hazard as the baby can drown in even a small amount of water. Foods you can introduce to a 2 + week old baby are store bought mixes (hamster food is often best), cooked rice (mice generally accept white rice over brown but both are good. White rice often helps them get started as it's more appetizing) mixed with KMR, human baby food (select things that are easy on the digestive track. Stay away from things that might give it the runs, such as spinach, etc), soft kitten food, etc. When the baby is around 3 weeks old it should start to wean itself. Don't worry if it doesn't happen at 3 weeks. Your orphan will come around in his or her own time. It might even be as late as 4+ weeks when it starts to wean. No mouse should be fully weaned before 3-1/2 to 4 weeks of age. Also, orphans usually need to be weaned late. You may feel frustrated or concerned but know that it will happen when the time is right. It's actually quite amazing how it magically happens. Soon enough your baby will be solely on solid foods.
I hope it helps. If not hopefully someone with experience weaning a hand raised mouse will chime in soon.

CallaLily

Hero Member





Join date

: 2016-04-03


Posts

: 3937






Thank you guys so much for your odor advice and that little tid bit on weaning! Your advice was very enlightening and has actually helped a lot! So far there hasn't been any strong odors, but I was concerned about how Goose refuses to drink straight water. So far he will only lap formula or diluted formula but ignores the water completely. He's too young to be completely weaned so knowing that it's something he'll start to do on his own is relieving.
Thank you!

Sentientsunshine

New Member





Join date

: 2019-07-30


Posts

: 7






---
Permissions in this forum:
You
cannot
reply to topics in this forum