Hello,
So I wanted to ask for some advice. A month ago I noticed my mouse had an area of flaky skin and hairloss on her neck and also on her face. I took her to our local exotic vet who advised it was probably just mites and to treat her for that which I did. The hair grew back but she still has had flaky skin in some areas, and now in the past week it seems to have flared up again on different areas. I want to take her to a different vet this time, but wanted to ask on here first if you have any idea of what it could be so that I can ask / get the appropriate treatment for her.
I never really see her scratching, my other mice are completely fine. One thing worth noting is when I bought her a year ago I noticed she had almost dandruff in her fur and has always had it.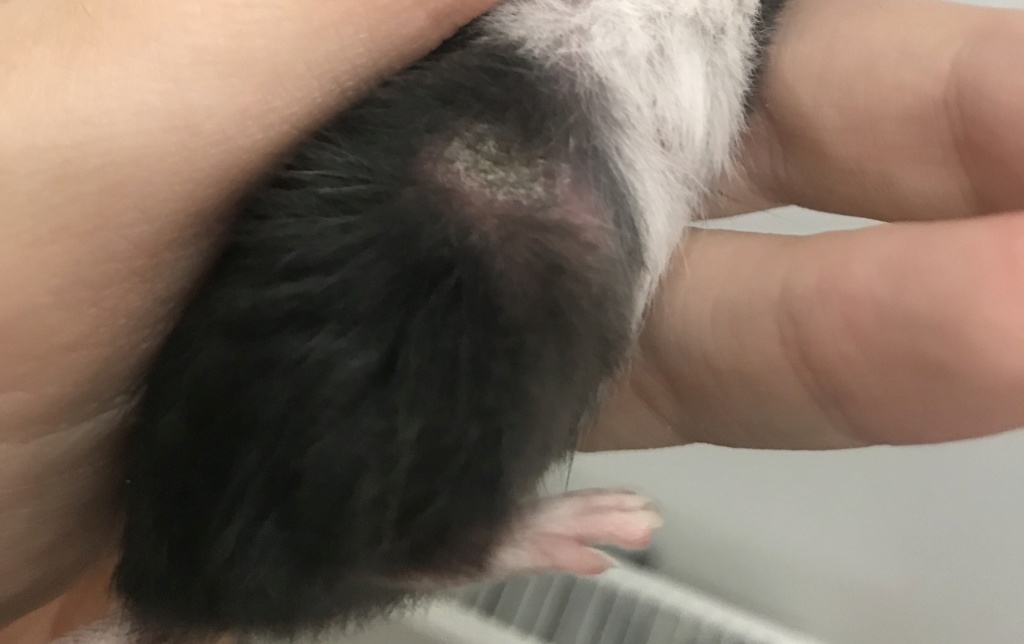 (Sorry the pictures aren't great she's difficult to keep still)
Thanks in advance!

Supern0va

New Member





Join date

: 2019-10-07


Posts

: 1



I wouldn't give up on the first vet for assuming mites. It's extremely common with mice so I wouldn't blame them for immediately thinking that was the problem. You should be able to ask them (or another vet if you do prefer) to do a skin scraping to get a closer look at what's going on. Maybe ring worm? Though I imagine that would have spread to you and the others as it's pretty contagious. Though I know there has been many times my husband has gotten it and it's never spread to me, so who knows? Maybe some are more prone to it than others?

CallaLily

Hero Member





Join date

: 2016-04-03


Posts

: 3937






This is not a diagnosis -- just a hint at the importance of properly identifying what is irritating mousie's skin.

The flaky patch reminds me of some of the eczema patches I have to contend with during periods of high stress or when my overactive immune system gets irritated (like during allergy season or when I overdo the wheat/rye/barley gluten).  It also reminds me of a long-term recurring peely area I had following a minor chemical burn.  Plus it resembles lesions I have seen pictures of, caused by parasites or fungus and exacerbated by the affected animal scratching the resulting itch.

Anyway, the point I'm trying to make is that the first step is to get a diagnosis, rather than a guess.  That will direct the correct treatment routine, whether it is to eliminate something like an allergen from the diet, add something to the diet to correct a deficiency or balance the gut biome, treat the flaky patch as a wound, administer oral or topical anti-inflammatories or antibiotics or antifungals, or try to somehow de-stress your mousie.

I don't imagine your vet is interested in doing complicated things like analyzing the intestinal bacteria balance, but be sure to collect a few poopie specimens the same day to take on your next visit. They may want to check for tiny unwelcome visitors hiding there.  You can usually count on your little mousie to produce several during a doctor visit, but if you really need some she may come up empty!
_________________
Zephyr
Coco
Bobby
Noche
Paiva
April
I loved you so / I still do / I always will / 'Twas Heaven here with you.

MerciToujoursMaPetiteBoop

Sr Member





Join date

: 2017-10-18


Posts

: 379






---
Permissions in this forum:
You
cannot
reply to topics in this forum