Hi, 3 year on mouse owner here now.
Recently my mouse Tammy started gaining a lot of weight in August, When I adopted her in April she was normal weight and 2 months old - is there an explanation how this happened?
The other 2 mice she lives with are of normal weight and I keep them at a nice diet. If this helps at all: When I got her I had 4 other mice - 2 of which have since passed on.
If age means anything: Tammy is only 7 months old, where as the other 2 mice are 1 year and almost 7 months. (They're sisters - Wasn't a planned birth, didn't know the mouse was pregnant lol)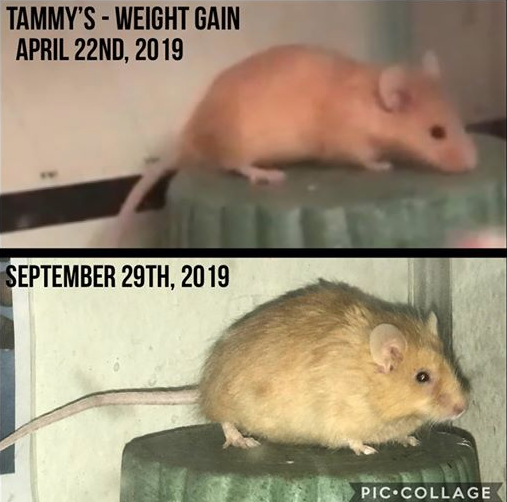 _________________
"And in the end, the love you take... is equal to the love, you make."

Proud Owner of 10 Mice:

Checkers ♂ (Adopted: 7-30-21) [Was told was a girl.]
Almond ♀ (Adopted: 7-30-21)
Ash ♀ (Adopted: 7-30-21)
--
Checkers & Almond's Kids (Oops):
Bobby D. ♂ (Born: 11-04-21)
Checks ♀ (Born: 11-04-21)
Lucille ♀ (Born: 11-04-21)
Vanna ♀ (Born: 11-04-21)
Ingrid ♀ (Born: 11-04-21)
Zora ♀ (Born: 11-04-21)
Ollie ♀ (Born: 11-04-21)
Tammy looks to be a Brindle mouse to me. Brindle mice (and sometimes yellow mice) are said to be genetically prone to obesity. There isn't really much you can do about it. Mice have very high metabolisms so need to eat small frequent meals throughout the day/night, so you can't really safely limit their main staple food. But you can provide plenty of opportunities for exercise by changing toys up a lot, giving more (supervised) out-of-cage play time, placing the food dish higher or scatter feeding or food puzzles to make them work for it. Cut out any sugary junk treats completely and limit fatty treats. You can also slowly up their fresh veggies to small amounts daily, just be sure it doesn't ever overtake their main staple food.

This will mainly be in effort to keep things from getting severely out of control, not to lose. Hope this helps.

CallaLily

Hero Member





Join date

: 2016-04-03


Posts

: 3937






Similar topics
---
Permissions in this forum:
You
cannot
reply to topics in this forum