Hello all, very new mouse keeper ! Not by choice unfortunatley (long story) but I've grown to be really liking the little guys/gals.
Heres my story:
I started with 8 adult mice on August 3rd and i had them all in a large cage, being the newbie I am and the new unsure about pets in my home , I didn't really read up until a couple months later (now). They ended up breeding, I had to seperate the 4 females in another enclosure from the 4 males. Two of the girls had 9 babies total. So now I had 17 *unsure about pets*  4 in one enclosure and 13 in a much larger enclosure ...so I being not to interested in having them around at first, and now being overwhelmed with 17...will admit i let the both cages get super dirty at least for a month on the females and babies (13) but 2 months on the males (4)...But i recently cleaned the cages a few days ago and santized the room for the most part but still needs some vaccuming. My dog went in there alot too so did I.. And I'm mostly curious about if I could get any type of disease from the mice or my dog? I saw posts on quartine which i was wondering what that is? How do i know if the 8 i received at first are quartined or not? The babies never have been and they are about 4 or 5 weeks old now..and ive had the mice a total of 10 weeks i believe :0)
Thank you! I love mice now! btw I lost one of the mice he died :0( it was the runt of the litter... It was sudden too... he was fine one day ..and.. suddenly died the next? I cryed for the rest of the day.. seeing as i saw myself in him. He was my favorite of all the mice.
Ps. I plan on seperating the new male babies soon from the females

NewbieWithMice

New Member





Join date

: 2019-10-16


Posts

: 1



Hi! Welcome
I'm a veterinary technician and the diseases you could get from a pet mouse are very very rare, it's really unlikely you or your dog will catch anything from your mice.
Quarantining is more for when you're bring new mice (or other pet rodents) into your home, if your new pets are ill they could get your other mice ill as well. This is why we quarantine any newbie mice, to make sure the new ones are healthy before adding them in with our other mice
Mice reach sexual maturity at 4-5 weeks old, so it would be best if you separated your males and females ASAP. Also, male mice most often can not live together. Males are very territorial with other males and will fight badly, which can lead to injury or even possibly death

SilverThistle

New Member





Join date

: 2019-10-11


Posts

: 7






I actually have a question on this topic as well.
I have the last of my three mice, Rouge, she's in very very  poor  condition, She's very old and seem to be not eating or drinking much anymore. Shakes a lot too. I was holding her the other  her day and noticed many and I mean many yellow dots all over her.
I put her down for a split second to grab a rag and thought at first it was just dust or food partials as I said she's very old so sometimes she does lay in her food.
But today when holding her, I noticed those little dots may be moving. Fear followed and I put her down right away and washed my hands and face. I know mice are known for mites, But I have never heard of those mites moving to humans.
I have been holding her unknowing that these dots may be alive and harmful for a few days now. she's been on my clothing and on my bed as well. Are there any precautions I should be taking? Are these even harmful to me?
Once she passes away I'm afraid Im going to have to throw everything away as I don't want cross contamination of any sort to my next animal.
I'm very very worried that I may have given her something, or she could be giving me something unknowingly. Please let me know what should be done if anything at all can.
I did take a few photos of her. Like I said at this time I only thought the dots were food  particles, now that I'm thinking otherwise, I'm just trying to do my best not to panic.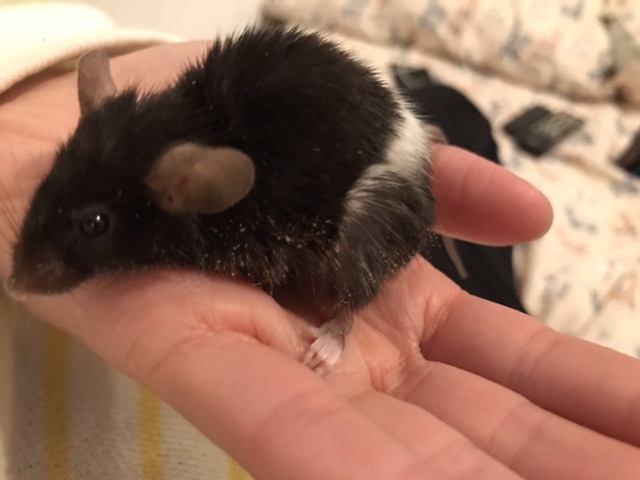 _________________
··· Cooper
··· Peanut
··· Rogue

IamAllurre

New Member





Join date

: 2018-04-05


Posts

: 8






Hi, I'm new to this forum.  I'm not sure what is OK to share for medical questions.  I am sharing a link to a Youtube video that gives you a home remedy for mites.  
https://youtu.be/yAkVpMSF4-A
I did ask my vet if this remedy was safe and she confirmed it was OK so long as I didn't get it in my mouse's ears or on his face/eyes.  
The one thing I did differently from the video was I really soaked the mouse.  The girl in the video just dabs a little of the remedy on her hamster's coat.  I used a gentle squeeze bottle and a small plastic container to hold the mouse.  I've use this remedy 3 times with great success.  
Also, a vet can very easily give you an ivermectin  treatment.  The visit and treatment should be under $100, just in case you were wondering.
Whichever route you choose, definitely clean the habitat and any other washable accessories with hot water and soap.  
Throw anything porous away like wood, cardboard, or lava rock.  You can try boiling and then freezing expensive items overnight if you don't want to part with them.  I wouldn't re-introduce them into the habitat until your little kiddo is feeling better.  
I would also use paper towels to line the habitat and clean natural fabric for nesting for 10 days, before returning to bedding and nesting products.  Also, consider freezing over night or baking the bedding before adding it to a clean habitat going forward.
As far as your concern about the mites spreading to you or other members of the household, I don't think they can spread to humans, but I'm not a doctor.  I've been through a few mite infected mice.  My cats and I didn't notice a difference with any of those situations.
You can give the room the mouse is in a good scrub down and vacuuming.  Just don't use any cleaning products near your mouse.
I hope your little one feels better.
I hope that helps.  Good luck.

Honey102019

Full Member





Join date

: 2019-11-27


Posts

: 56






Also, make sure you dry your mouse thoroughly after every natural remedy treatment.

The best way is to wrap your mouse in a clean dry towel and dab him every so often for about 20 minutes or until his entire coat is dry.

Honey102019

Full Member





Join date

: 2019-11-27


Posts

: 56






---
Permissions in this forum:
You
cannot
reply to topics in this forum