Himi has red rims around her eyes. She gave birth over 3 weeks ago, and her pups are just a few days short of weaning age. She lives with her sister (who is also the pup's nanny).
I read that red tears from stress could cause this... Could rearing so many young be why shy's crying red tears? But her pups no longer nurse from her, I thought now that they're almost weaned, she would be less stressed. Do I need to take her to the vet? What is your take on this?
Here is a picture: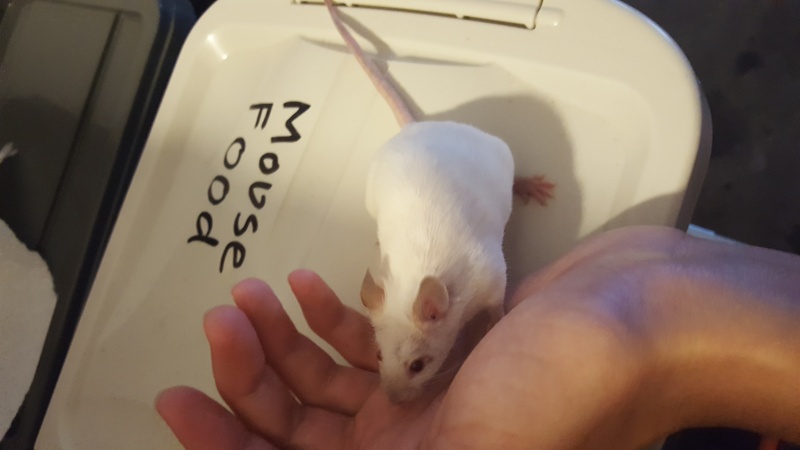 Soren

Sr Member





Join date

: 2016-04-28


Posts

: 140




The red substance is called porphyrin and that is the normal color of their tears. Basically she just has watery eyes, it doesn't mean she's sick. She actually looks really healthy, her fur looks nice, she is a healthy weight and I don't see any swelling around the eyes. It could just be that her eyes are irritated from dirty bedding... which I'm sure with that many babies in the nest, there is no shortage of dirty bedding! If her eyes aren't swollen and she is otherwise fine, I wouldn't worry about it. I don't think you need to take her to the vet. You can try replacing the bedding in the nest a couple times a week to keep things clean. And you could also try flushing her eyes with saline twice a day for a few days to see if that helps. But to me, it just looks like they are a little irritated.
_________________
Lady mice
: stormy, Dahlia, lily, Ella billie, coco, maggie
Gentleman mice
: milo, jimmy
Other pets
: Little Buddy, Kevin (cats) robert, lulu, Englebert, harold, Gerald, Zumi, nico, charlie, (hamsters), stella (gerbil), Gilly (hedgehog)
 Penny, Honeybun, Lucy, Annie, Gilly, Furgie, Tedward Wigglesworth, Olivia, Goose, Sweet Katie, Binky, Delilah, Bitsy, Boopers, Sprout, Splotchy, Eva, Slappy, Shuggie, Fancy Pants, Jellybean, Charlie, Murray, Sally, Maya, Gunther, Lil Smokey, Magnus, Norman, Winnie, Sally, George, Harriet, Spec, Erzulie, Lucille, Agatha and Clementine.

scaredymouse

Hero Member





Join date

: 2016-04-03


Posts

: 2458









I'm with scaredy on this - I don't think it looks bad at all, and it definitely doesn't seem to be causing her any pain. Looks healthy!
_________________
Goose & Otter* ♂ 

Remembering Mr. Bald ♂, Tipsy, Topsy, Maier, Graham & Garcia ♀
*Neutered male group. Do not house intact males together.*

River

Hero Member





Join date

: 2016-06-19


Posts

: 1486






---
Permissions in this forum:
You
cannot
reply to topics in this forum