Hey everyone,
It's a long story but I ended up with this little guy (or gal) about one week ago (hopefully my pic shows up) - he's an orphan. I think it's a house mouse and it's about the size of a caterpillar. I know I should be wearing gloves with him but I was in a hurry.
Right now we are dealing with a health issue and wanted to ask if anyone here had ever heard of it before. Basically on either side of where it goes to the bathroom (not sure if it's the urethra or anus) there are two bubbles. I just noticed them today so they got big fairly quickly. I wasn't sure what to do so I took a q-tip and warm water and applied it to the bubbles as gently as possible. I think one of them broke. I'm not sure if urine was in the bubble or if the mouse was peeing at the same time but there was yellow on the q-tip. I think one bubble might remain but it seems to be much smaller. Has anyone ever heard or seen this before?  Any guesses?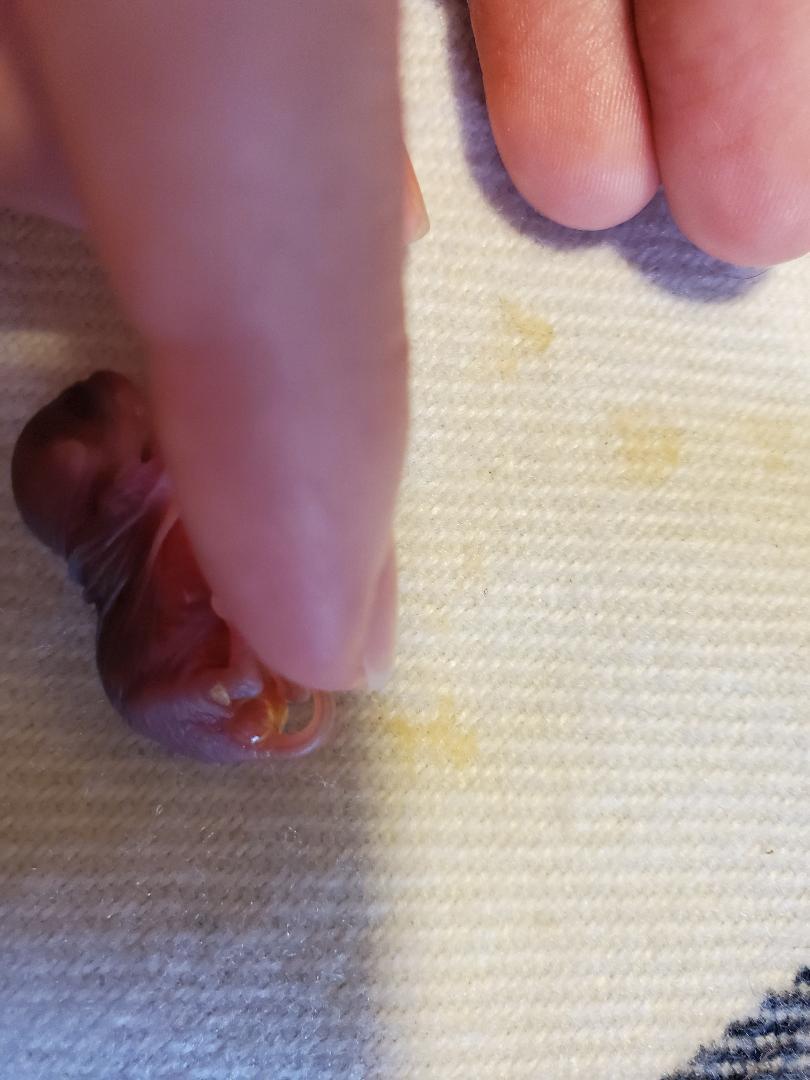 I hope the pictures come out, if not I'll try again.
I know it's a long shot for this little guy to survive, even if he was perfectly healthy, but I'm gonna it give it my best try. He sleeps on a heating pad set on low and he has been eating really well (every two hours) up until today when this occurred. Now he's not eating as much. I'm gonna try to post more pics of the before and after when I used the q-tip. Thanks for any help!

PiBR619

New Member





Join date

: 2020-03-31


Posts

: 3



Sorry I don't have but a few minutes before I will be leaving my Web access for tonight, and I don't have any definite idea what could be troubling your little mousie, but I'll hit you with some of the more optimistic things that crossed my mind when I saw your post.

To start, I suggest that you try to get a "clean" sample of the fluid that's in the blistery area -- meaning that you stimulate the little one to "make", clean it up, and then see if you can get some of the blister fluid on a clean swab or piece of tissue.  Try to smell it for any scent of urine.  Even if it is urine, there may not be any noticeable smell to it, because the mouse is still a helpless newborn.  Then, if you do get some more of the fluid out, clean up the area again and apply the thinnest touch of Neosporin to prevent bacteria from getting into the wound.

If urine is collecting in that area, it would seem that there is a defect in the urinary system that is leaking into the body and then collecting under the skin.  Even though that sounds very bad, it is still possible that it would heal up on its own, so don't give up on the little one.  But since urine is a contaminant, it would be desirable to not let it collect within the body, and to keep the area very clean.

Regardless of what the fluid is, though, there is still the question of how it is getting to the place where it is collecting -- whether it is a circulatory problem that just isn't moving the fluid efficiently through the body to get rid of it, or if something is leaking out through a hernia.  Just for the fact that it doesn't seem like it could do any harm, you might want to try playing "mouse parent" to an even greater degree, and simulate the frequent licking that the babies get.  Moisten something soft, like a cotton swab or a swab-like makeup applicator, and very gently "lick" the little one in a mouselike way with the moistened tip.  The tiny massage may work to stimulate the circulation to move some of the fluid out of the pocket where it is collecting, or reduce the amount of additional fluid.

Those are just a few ideas.  Use your creativity -- not just to come up with things you can do for mousie, but to come up with some combinations of words to use to search the Web for better advice than what I have.

Gotta go! Good luck with your mousecare.
_________________
Zephyr
Coco
Bobby
Noche
Paiva
April
I loved you so / I still do / I always will / 'Twas Heaven here with you.

MerciToujoursMaPetiteBoop

Sr Member





Join date

: 2017-10-18


Posts

: 378






Thanks so much for your advice. I really appreciate it.

Unfortunately, he didn't make it. Looking at the pictures I posted is really difficult. I'm truly heart broken.

I hope if someone in the future has this same issue, they will find my post and your advice.



PiBR619

New Member





Join date

: 2020-03-31


Posts

: 3



Trying to save an orphan, only to see it fade away despite your valiant efforts, can really deplete your optimism. In the case of your little mousie, it may have already had an injury, a birth defect, or some type of malnutrition when you found it, making your job even harder. You may feel now that you did not do everything you could have (and that would not be fair to who you were in that emergency situation), but one thing is for absolute certain: You DID do more for little mousie than any other human being on the planet did.
_________________
Zephyr
Coco
Bobby
Noche
Paiva
April
I loved you so / I still do / I always will / 'Twas Heaven here with you.

MerciToujoursMaPetiteBoop

Sr Member





Join date

: 2017-10-18


Posts

: 378






Thanks, I was really upset about it. He was such a precious little thing and I had high hopes.

PiBR619

New Member





Join date

: 2020-03-31


Posts

: 3



I'm so sorry he passed.

I think you may have also posted this on r/PetMice.

I was researching another hand feeding issue and I came upon another possibility.

If the baby was fed cow's milk or a formula with cow's milk in it, this is often a reaction the baby has from not being able to digest the milk. The baby is not getting nutrients from the cow's milk and usually passes unless a different milk replacement is used like kitten formula (KMR) or goat milk.

I know this information is too late and I'm not certain without hearing if this was even the cause. I hope your other mice are doing well.

Take care.

Honey102019

Full Member





Join date

: 2019-11-27


Posts

: 56






---
Permissions in this forum:
You
cannot
reply to topics in this forum