Howdy, y'all!
This is a mini introduction + some pics!! My husband has owned mice, rats, gerbils, hamsters, sugar gliders, and it feels like just about every kind of rodent when he was growing up while my family was always dogs & cats. Now, I used to be petrified of rodents due to being autistic with touch sensitivity and a fear of things that move too fast.
He decided to adopt two bucks, Bilbo & Thorin, and I fell in love overnight! Husband has been moved from the equation, I am obsessed with cleaning up after them and have been slowly taming them. Bilbo has no qualms about me taking him out of the enclosure and will spend multiple play sessions with me everyday while Thorin will tolerate a morning, afternoon, and evening 'outing'.
Here's some pics of me w/ them and I also drew them in little outfits from 'The Hobbit' films! SERVIMG made it a bit pixelated but I hope y'all enjoy!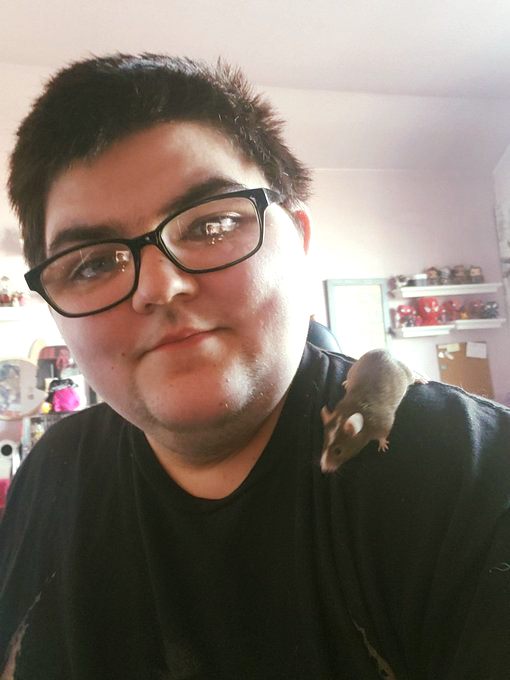 pomskies

New Member





Join date

: 2020-04-04


Posts

: 4






@pomskies
Hello, and welcome to PMF!
First off, hello fellow autistic!! I love meeting other autistic people, and even better that you have mice, too!
Your art of the mousies is super cute, too! I love that.
Quick question, but are the boys being housed together? If so, I'd definitely recommend separating them into separate enclosures. Unfortunately, male mice will fight each other and oftentimes this can lead to injury or death.
_________________
tabby | she/her | 25 | tx, usa
★Mouse Dossier★
my mouse gallery
mouse mom to: Pronto
remembering: My dearest Trouble and all her siblings who've joined her across the rainbow bridge.  
omgosh I'm in love
How very cute and lucky to have you as a caring owner. Awesome artwork as well, made me smile
Like your husband I've had rodents of some sort all my life and have recently gotten into mice.
I feel w/ you handling/bonding like you've described you will end up w/ 2 quite tammed mice. Most of mine will be shy if not handled alot in recent past but if I have playtime where I hold them even for a couple minutes split up, they seem to not be able to stop themselves from running up my arm as soon as I place it in the tank
Happy mousin'

Carrie

New Member





Join date

: 2020-04-08


Posts

: 17






---
Permissions in this forum:
You
can
reply to topics in this forum