I am wondering if there are any behavioral differences between fancy mice and feeder mice. I want to try hand-raising a baby mouse, and the easiest way to do so without getting a whole litter would be getting a feeder mouse. I would probably get either a fuzzy or a hopper as they are more likely to survive then a pinky. But I am wondering if there are any major behavioral or health differences between a feeder and a fancy mouse.
I know that feeder mice are often inbred and kept in crappy situations, but so are pet store mice. I would most likely be getting a pet mouse from a pet store anyways if I don't get a feeder mouse because I have heard that they can be just as friendly as breeder mice. I would not be getting them through a chain store, but I have not asked whether the store that i'm going to breeds their own animals or gets them from a reputable breeder. My dad said that feeder mice are generally slower and not as smart as fancy mice, is this true?
My main question is, are most feeder mice worse then fancy mice to keep as pets?

cookiepotatopaw

New Member





Join date

: 2020-01-22


Posts

: 5



Hello!

The main difference between pet shop feeder mice and fancy mice is just the name and color. Feeder mice are often albino, and fancy mice come in other "fancier" colors. Their genetics are basically the same—both are rather poor and things like health, longevity, and behavior are not considered when pairing, especially if your pet store sources from a mill.

The best option for a healthy, well-behaved mouse is to buy from an ethical breeder, or one that is truly breeding for the benefit of the species. Sure, pet shop mice can be very friendly and awesome pets, but breeders target that on a genetic level and you're much more likely to get a friendly mouse. Breeders are also good for ethical reasons—their mice are raised in stress-free environments and the animals are treated with full respect. The bottom line is the animal, not the money.

By the way, most pet shop mice are hoppers anyways, so no need to look for anything specific. Keep in mind removing a pup from their mom too early can result in behavioral issues and stress because they haven't learned everything from mom yet. I'm really not sure who's advocating for hand-raised pups; I've seen it floating around—it's really difficult if you don't have time for it 24/7 and much less successful than if the pup were to stay with the mom. There's a reason pup mortality is high when the pup is abandoned.

TL; DR: Fancy mice and feeder mice are the same; where/how they were bred is what matters. No pup under the hopper stage should be removed from their parents without good medical reason.
_________________
Mice: Raven
Other: Hermes (robo hamster), Prism (betta), Max (dog--profile pic)
Rainbow Kids: Pepper, Nugget, Dove, Artemis (hamsters), Leaf, Oak, and Moo (mice)

Robin~

Sr Member





Join date

: 2019-06-05


Posts

: 444






Thank you for your input. I know that it is generally better to get pets from a breeder, but I thought it would be an interesting experience to raise a pup the best I can. These pups are being sold as feeders anyways, so I personally think it would be alright to try to raise them because they would most likely be dying if I did not. (I have no problem with feeders btw, snakes need to eat too) I just think that it would be interesting to care for a mouse through all/most of the stages of it's life. In my mind, I think it is perfectly alright to try raising these mice because they were meant to be feeders and probably would not have a chance to be a pet. If you have any opinions about this, I would love to hear your side of the story. (I'm not trying to sound snobby, I actually do want to consider different points of view.) My main question was if their behaviors and health were lower than pet store mice, and if they are not and if I'm still up for it by the time I get all the supplies, then this is still an option.

cookiepotatopaw

New Member





Join date

: 2020-01-22


Posts

: 5



I would say ideally that no, if it can be avoided try not to buy feeder mice. They aren't bred for health, so a feeder mouse will GENERALLY live shorter lives. If you were planning on getting pet store mice anyway (which I wouldn't really recommend), their health might be similar, however from a pet store temperament might be a little better. I still wouldn't recommend supporting pet store breeding. If you follow this link, you can look at ethical breeders in your area:
http://www.fmbamice.com/breeder-listings/
. If there are none in your area, check out rescues or local pet stores that breed their own animals (ethically of course). Try to avoid commercial pet stores as well as you can. The health of feeder mice is almost definitely going to be a worse, however the health of commercial pet store mice is already going to most likely be bad anyway. Their temperament will also most likely be worse.

Molly_mouse

Jr Member





Join date

: 2020-04-21


Posts

: 28



Hi! So although I didn't create this topic, I still have a few questions
So, where I live, there is this pet store. It isn't a big chain pet store and the care for the animals is honestly better than most pet stores. The employees are pretty educated on the animals' care. So, anyway I got some "hopper mice" from that pet store, and although you guys were saying that most hoppers from pet stores, especially feeders, tend to be more skittish, the mice I got are pretty tame and that pet store actually had a lot of variety when it came to coat colorations. Are these mice just young fancy mice, as in the kind that has good genetics, or is it just because they are handled often?
---Thanks!

animalgirl555

Jr Member





Join date

: 2022-10-11


Posts

: 47






I have feeders along with fancy and deer mice.
My fancy are getting close to the 2 year mark and deers beyond 2 years.
I went to a exotic pet store that said they had fancy mice to get away from the big chains. But all they had was feeders so I got 2 males and 6 females. Really this is just for enrichment. I did have one fancy Sheep(all black) I needed to seperate because her aggression went into overdrive and unlike the deers she could easily catch the feeder mice. I have seperated her for a few days and soon as I put her back with the mice she went right into heavy fighting with  the feeders. I imagine she would kill pups so she is currently out of the main cage.
Back to the fancy they are what I would consider a great pet for a kid. They like to be handled. Seem healthier then the fancy mice and are great companions to my deers. My deers love the feeders. Even the 4 male deers get along with the 2 male feeders. The male deers play tag(no biting just dominate playing) amoung the deers. Even doing tumbles. It is them keeping fresh on defence. They absoultly will kill a outside deer. They are slower being fat. But its 3 on 1 with the 4th guarding the exit protecting the rest of the mice.
While placing a outside deer in the cage is bad. The deers dont mind other mice.
I do have one feeder who just had a issue and her tail was shortened by the dominate mice. I put Shorty with my scared of everything mouse Grey and the two of them have taken a liking to each other. She is super curious and he was super defensive. He eventually opened up to her and thats a happy end.
I am going to get more fancy here soon and keep working with Sheep to lessen her agression. But I need to be very careful. For now she gets visits from the other fancy every few days and sits in a tank next to Grey and Shorties tank giving her a bit of interaction.
I see no reason the feeders wont live as long if not longer then the fancy. I see adding more male and female feeders once the deers age out. That being said I think my deers will live for 3 or even 4 years. I have trained them very well to stay inside the cage and avoid jumping on me to get treats. They take treats submissivly reaching out and lightly pulling them before running off. I am paying with the 2 male and 6 female feeders  currently just seeing how things work out and to see how the other mice react to pups. My deers can't have pups anymore(not thet they dont try)  and I believe the deers would kill a male fancy. So I could see incorporating a mostly feeder mouse tank mixed with fancy. I cleaned the tanks today (every 2 weeks) and the feeders are smart enough to follow the deers who know  to go from one tank to the other on there own as I am removing stuff from one tank. They know once its cleaned there will be treats in the new tank so they will run back in once its opened up and explore things letting me clean the other tanks.
Feeders might be a good companion to deers and fancy. But most being submissive you may run into issues. I have a very large tank. Around 11 feet of floor space for running and 1-2 feet of height. If I had a long 20 or long 55 gallon tank I would probally have 2-3 in the 20 and 3-5 in the 55 gallon. 1 mouse for every 10 gallons is a good size rule. With only 5 mice there is no reason to mix mouse types. You can have fancies all living happily even if they dont get along and have room for them to sleep or run away from agressive fancies.
This became a bit of a long post. But it will hopefully give you an idea of feeders. I would just get female fancy if I had a smaller tank. But both my deers and fancy are aging out so I am trying something diffrent with feeders to keep my numbers in the high teens to low 20's which is still plenty of room considering the total area of the 4 connected tanks is over 310 gallons.
Your always going to have little dominate battles. In my experence some female fancies can be downright mean. I will say just watch for stalking. Thats where a female will watch another mouse usually from a higher point. Ears pinned back and you can see they are ready to pounce and bite the other mouse. The other mouse may run off and the more dominate may chase. Even doing the submitting pose(head down) or doing the defensive pose (sitting on butt with paws up) the dominate may still attack and draw blood. Sometimes this can be fixed by moving things around.
Every 2 weeks my tanks are cleaned and everything is moved around. The wheels a few plastic things a few wire mesh things are reused moved around. The bedding, boxes, sticks, and dirt box are all replaced every 2 weeks with new stuff. Having several things to explore that constantly changes  keeps enrichment up and avoids most issues. The only think I keep in the same spot is the food and water.
The best thing to keep any type of mice happy is to move things around and add/remove things. I dont have plastic houses. I throw down bedding, spray it with some ivermectin, mix it up then throw down several new boxes,  before adding sticks for them to chew on and climb, then add more bedding.
Sometimes I will make large mountains of bedding. It will take them several days explorong other areas before they start digging into it.
But most times having things just thrown in letting them figure out where to make houses works fine.
[/url]
Dig box is usually tore apart within a week with lots of dirt thrown out as they go after grass roots. But they love it. The feeders found it fast.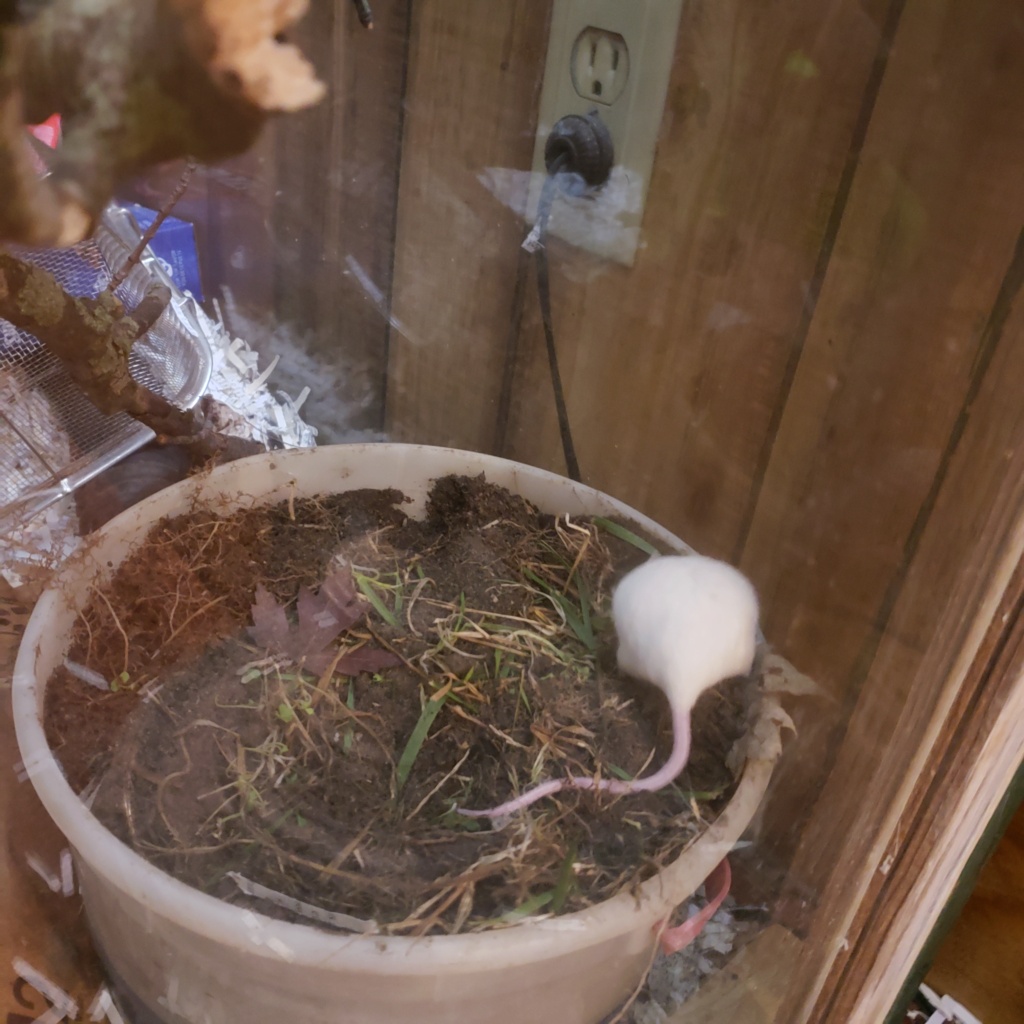 cerial

Full Member





Join date

: 2021-05-30


Posts

: 80



---
Permissions in this forum:
You
cannot
reply to topics in this forum