My wife and I own two mice one a pretty Fancy Female and another unknown species (maybe House Mouse) we wild caught but don't know the gender.

We have always thought him to be a boy hes definitely tiny but both are adorable and they get along.

Stu the wild caught is the unknown gender/species please help us to figure it out with your suggestions.

They get along great but Semi the domesticated female Fancy mouse will not take a pregnancy they have been together quite a while but nothing.

Samantha(my wife, Me (Frank), Stu(wild guy) and Semi (fancy female cant wait to hear from you!!!

Attached are pics PLEASE help us figure out what gender if possible what species if that's possible THANK YOU!!!PICS 1 - 2 ARE STU TINY THOUGH FULL GROWN ONE BELLY SHOT ONE FACE (OUR BABY IN QUESTION)PIC 3 IS OUR BABY SEMI YOUNG FEMALE FANCY DOMESTICATED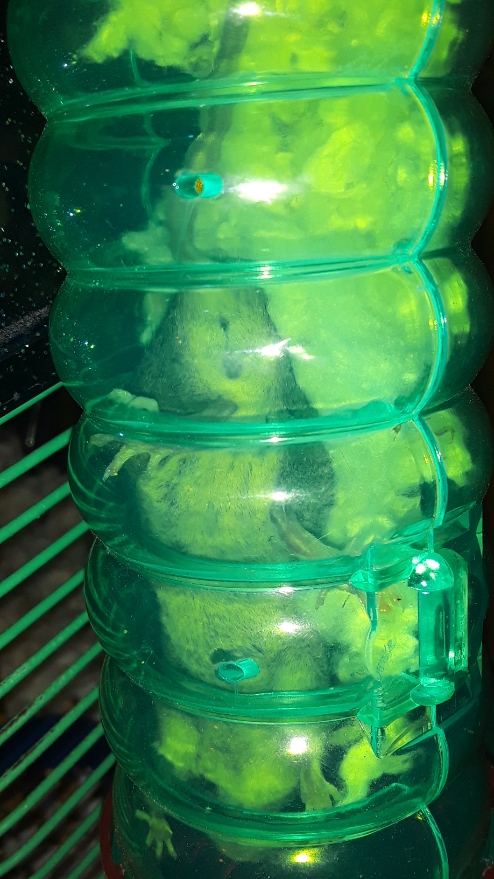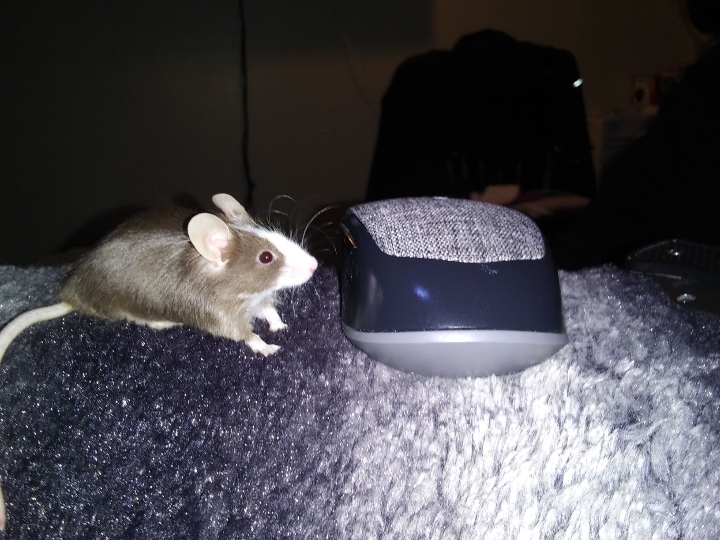 SemiStu

New Member





Join date

: 2020-04-12


Posts

: 3



Hello!

Please keep in mind it is illegal to keep wild animals as pets. I would strongly suggest taking your house mice to a wildlife rehabilitation facility so they can successfully readapt to wild life.
_________________
Mice: Raven
Other: Hermes (robo hamster), Prism (betta), Max (dog--profile pic)
Rainbow Kids: Pepper, Nugget, Dove, Artemis (hamsters), Leaf, Oak, and Moo (mice)

Robin~

Sr Member





Join date

: 2019-06-05


Posts

: 444






appalachianmousery likes this post
So the hundreds of posts ive read about people catching and domesticating wild mice as pets is wrong?

what if I caught an ant in a jar?

SemiStu

New Member





Join date

: 2020-04-12


Posts

: 3



SemiStu wrote:So the hundreds of posts ive read about people catching and domesticating wild mice as pets is wrong?

what if I caught an ant in a jar?
Ants aren't known to carry serious parasites and diseases that are spread between humans, pets, and other animals that may come into contact with them. Not to mention that keeping a wild animal is rarely successful--they will often die due to to stress or other environmental factors.
Also, yes, those are wrong. You cannot catch and "domesticate" any wild animal, domestication is a gradual evolutionary process. Some people attempt to tame wild animals, and sometimes succeed, but the issues above are still serious.

It is very difficult to tell the difference between a male and a female. Short answer: Females have nipples. Males do not. However, because they have hair on their bellies, it is very hard to determine whether a mouse has nipples or not. It's good that they haven't been able to reproduce or you would be overrun.

As far as these people who are castigating you for saving these little mice, I would ignore them completely. I have rescued a number of injured deer mice over the last 10 years, and they are all extremely happy. I put the females together, but I do not put males together. Once they have recovered, those who appear to be unhappy (chewing holes in their wheel, etc.), I release back into the wild.

Every night they get a treat, which is always organic. I try to match the treat; for example, romaine lettuce with a small square of cheese, bell pepper with a piece of cream cheese, etc. I always announce the treat of the night, and they go crazy when I say "cheese, cream cheese, or apple".

I mix their staples myself. The mix consists of chopped organic nuts (NO WALNUTS), organic pumpkin seeds, organic oat flakes, organic Cheerios, organic brown rice puffs, and an organic seed mix, including sesame seeds and flax seeds.

In addition to the rat blocks, I do purchase Oxbow gnawing treats as well.

With regard to cage maintenance, I clean their wheels and shelves daily. I do a complete cage clean once per month.

DO NOT FEED RAISINS OR GRAPES. If you feed apple, I would not give them more than 1/4 inch wide x 1/16" thick. The reason I limit their access to apple is because their blood sugar will drop if they get too much. You would find them shivering in the cage in the morning, and have to give them kitten milk replacer, or something to get their blood sugar up so they don't die.

NO SPINACH (too high in iron) NO RADISH (too hot) NO ONION/GARLIC

NEVER LET THEM RUN OUT OF WATER. A mouse will die within 24 hours without water.

DO NOT USE UNTREATED BEDDING. IT CONTAINS MITES. if you have untreated bedding, freeze it for 24 hours before using it.

Be sure to give them rat blocks to keep their teeth short. I rescued Dickens when he was an infant. His eyes were not yet open. He is approaching his 9th birthday this year. He has never had issues with his teeth.

I hope you don't listen to the naysayers, and enjoy your mice. This website is extremely difficult to read and post on, so if you have any other questions, please feel free to email me. raberdash at Gmail.

I would be happy to send you a video and pictures of my mice and set ups. God bless you for saving these little ones.:heart:


Raberdash

New Member





Join date

: 2018-01-12


Posts

: 5



Looks like a standard house mouse. If the smell is fairly strong and musky, it's probably a boy, if there's little to no smell, it's probably a girl.
If the eyes are clear, there are no funny sounds coming from the lungs, the poop looks normal (like black rice grains), (s)he is eating and moving ok, it's probably healthy, in fact, based on my experiences, wild mice are usually healthier than mice from pet stores.
Quite simply because in nature, sick animals don't go very far and don't last very long.
If you're going to keep 'Stu' in a Critter Trail, do him (?) a big favor and make it as big and varied as possible: lots of interconnecting tunnels, extra rooms, etc.
Stick one of the small Silent Spinner wheels in there, too.
And if it gets hot in the summer where you live, go to the Dollar store and get some small blue ice packs to put in his cage as 'air conditioning'.

Wolfie65

New Member





Join date

: 2020-03-13


Posts

: 8



appalachianmousery likes this post
Similar topics
---
Permissions in this forum:
You
cannot
reply to topics in this forum