I have a mouse (Roma) who is over two years old. She has three cage mates and of course i hear them squeaking and squawking from time to time but I have never ever in the year they've been together seen any real aggression and definitely no injuries.  A little while ago the three younger mice kept a house upstairs (which Roma can't walk up to anymore) and excluded Roma but they were never mean to her or anything. I moved the second box from upstairs and just put toys up there and now they all sleep in a pile again downstairs.
Today when I went to clean the cage, I noticed this red spot on her. I immediately thought it was a bite but upon further inspection i am not so sure, and am wondering if maybe its the start of a cyst or tumor.
If it is a bite, I have no idea which mouse would be the bully and then that brings a ton of other questions about how to make sure this doesn't happen again.
Thank you all so much in advance!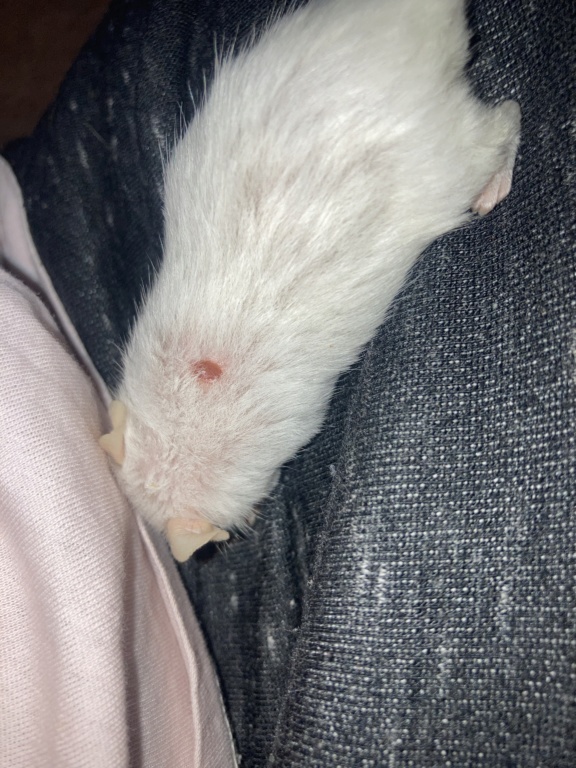 Jlenches28

New Member





Join date

: 2019-12-28


Posts

: 12



I'm not exactly sure what it is to be honest. It doesn't look like a wound to me, is all the advice I can give you. I really advise that you contact a vet if you're concerned. Here's a source that might be helpful. https://www.healthline.com/health/cyst-vs-tumor#tumor-causes
Last edited by Pet-Mousies on Tue 16 Jun 2020, 4:28 pm; edited 1 time in total (Reason for editing : Found a helpful source)

Pet-Mousies

New Member





Join date

: 2020-05-30


Posts

: 10



I agree, when in doubt, I would contact a vet.

Robin~

Sr Member





Join date

: 2019-06-05


Posts

: 444






Hey there,
Thank you for taking the time to respond; i really appreciate it. I spoke to a vet tech and they said it looks like a tumor or cyst for sure. After i found out what it probably was her cage mates started over cleaning it. I almost spectated her because it was raw and open but now it is basically healed and you can't even see it. Super weird. She is my original Mouse and very old. I'm almost happier it's anything else than a wound. She's
Lived a great life and i figured something like this was bound to happen since besides her back legs giving out she's just as curious and happy and healthy as ever.

Hope you

Jlenches28

New Member





Join date

: 2019-12-28


Posts

: 12



Similar topics
---
Permissions in this forum:
You
cannot
reply to topics in this forum