Good afternoon. Our little old lady mouse went from normal yesterday to frantic and continual scratching today. She also has a pea-sized raw, scabby spot behind her right front "elbow" on her flank that I'm almost certain was not there yesterday. (I don't know my mouse coat colors, but she's a very, very pale tan, so it's easy to spot blood and skin irritation). I'm trying to trouble-shoot what just happened and figure out if she needs a vet trip.

One key piece of info is that my fiancé gave her bread with quite a bit of peanut butter yesterday, which she's never had before. She ate it happily, and seemed fine yesterday. Her cage was cleaned Saturday, and we keep her on Yesterday's News and hook her up with tissue paper and flannel to make nests. Everything in the cage is washed between cage cleanings. This group helped me through some tummy trouble when we first got her- if she's not on 12% protein or less, she has major gastrointestinal problems. She's been good for the past year and a half, so she's an old lady now.

I have kitten revolution on hand from an issue with our rats a year ago. I've given her a dose of Benedryl this morning based on her 38 grams hoping to help with symptoms until I can sort her out.

I guess I'd appreciate thoughts on how to work through what's happening. Could this be an allergy? (Read through the thread on barbering, allergies, and skin irritation already.). Do protein-related hot-spots come on so suddenly with a single feeding of high protein? I don't see anything indicating mites, and that's an awfully rapid onset for them, but I'd appreciate the group's experience and perspective.

Thanks,
Anne and Andy ("the nugget") Mouse

MyraTrue

New Member





Join date

: 2018-12-08


Posts

: 4



It could be an allergy developed from the peanut butter, but I doubt she would so frantically scratch that she would bleed. Is she darting around the cage, acting strangely? Mites. Hold her in your hand and look through her fur. You'll probably see some tiny little bugs. Mites are pretty easy to treat and there's some preventative spray for during cage cleans.

TL;DR: It could be a peanut butter allergy that was developed, but I doubt it. Check for if there's little bugs in her fur. If you see them (or if you don't, for that matter) take her to the vet for a check up. Just make sure to call in advance because they might not be a mouse-savvy vet.

Pet-Mousies

New Member





Join date

: 2020-05-30


Posts

: 10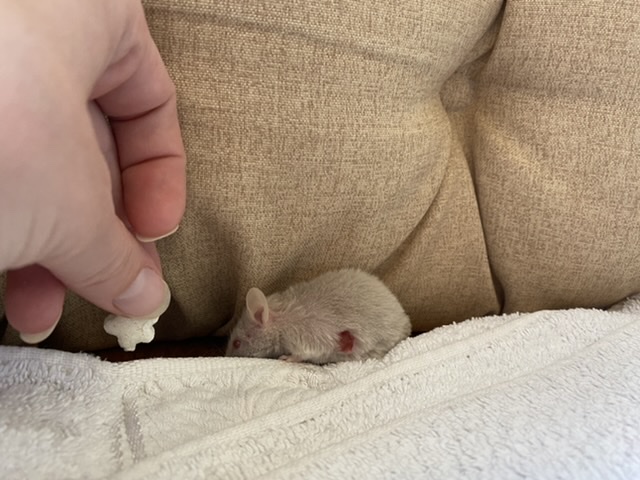 Pet-Mousies- thanks. She is not acting like herself- she's always a little spastic in how she moves, but she's extra popcorn-y and has started sleeping in her top hammock, where she always made a nest down in the bedding before. The raw spot is now twice as large and a small one is forming between her ears. I guess I call the vet and see what they advise. I can treat her for mites today, but would appreciate their guidance on dose.
Last edited by MyraTrue on Thu 18 Jun 2020, 2:14 pm; edited 1 time in total (Reason for editing : Trying to include photo)

MyraTrue

New Member





Join date

: 2018-12-08


Posts

: 4



I would not treat for mites unless you know for certain it's mites; most medications for it tend to dry out the skin and may make the problem worse if this isn't mites.

Until you can see a vet, I would take standard precautions for keeping the wound clean (wash the wound out with some sterile saline solution on a q-tip, then apply neosporin).

Hope she feels better soon!
_________________
Mice: Raven
Other: Hermes (robo hamster), Prism (betta), Max (dog--profile pic)
Rainbow Kids: Pepper, Nugget, Dove, Artemis (hamsters), Leaf, Oak, and Moo (mice)

Robin~

Sr Member





Join date

: 2019-06-05


Posts

: 444






Similar topics
---
Permissions in this forum:
You
cannot
reply to topics in this forum