Just a few minutes ago I noticed a pretty bug lump on my mouse and the last time any rodent pet of mine had something similar, it was their cause of death.
Metallica is 1 year and 11 months old, I got her from my school as a re-homed lab animal (just practice stuff, saline injections, restraining, etc). The school sexed her as male, so when I brought her home with a cage-mate, she of course got pregnant. All the pups were stillborn though, but she did just fine after the birth. She's had no other injuries or illnesses since then.
Within the last month she's taken to climbing up the bars of her cage and falling off, I kept an eye on her and had been planning to put her in a cage with less height. I don't know if the lump could be related to a fall and is just swelling. It wasn't warmer than her body temperature, but it could possibly be painful. Whenever I tried to touch it, she would scramble away, but Metallica doesn't like being touched to begin with so I'm not sure. She's not having any trouble with walking or climbing, and as far as I can see the lump isn't harming her.
Pictures of the lump below,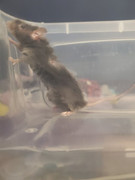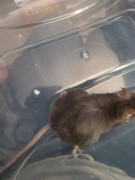 I'm definitely going to be keeping an eye on this from now til she passes, for now I'd just like some opinions on what it could be? What should I watch out for if the lump turns out to be an abscess? Is there anything else I should watch out for in general?

NicoleApples

New Member





Join date

: 2020-08-06


Posts

: 1



The pictures are too small for me to really see the lump, do you possibly have any bigger-sized pictures?

I can't say anything for sure since I can't really see, but it's good to note that mice, especially female mice, are very prone to tumors, so it's a fair possibility.
_________________
tabby | she/her | 25 | tx, usa
★Mouse Dossier★
my mouse gallery
mouse mom to: Pronto
remembering: My dearest Trouble and all her siblings who've joined her across the rainbow bridge.  

Mosey mouse

Jr Member





Join date

: 2019-08-15


Posts

: 23



---
Permissions in this forum:
You
cannot
reply to topics in this forum