Hey guys,

I only have a ten gallon for my mice (three females) they all seem pretty happy in there right now, but they are still new and I don't want them to be unhappy in the future. I don't have any space for a bigger tank though. I can however, expand upwards. Has anyone bought a cage topper for their tank and can you tell me how you feel about it, the good and the bad? Or if that's not a good idea, can you tell me how to make the most of the space I have?

Eli993

New Member





Join date

: 2020-08-24


Posts

: 6



I bought a cage topper from Petco for a group of four females and it worked decently well! I'm using the same set up for a single male now. I definitely recommend hanging toys for that setup for sure, as it could be a bit intimidating to the mice without it! It's also nice to be able to add more bedding to the bottom aquarium part for them to borrow, since they will still have the top area for more toys/food. A major downside I found is that, unless your mice are already super friendly and come up to you, it's way more difficult to actually interact with and bond with them on a daily basis. Not saying it's impossible, you could always take the topper off and have it be easier, but the opening on my personal one is fairly small overall. This is the same for spot cleaning the bottom part between changes, or really anything you want to do with the bottom. It's just hard to get to!
I've also occasionally heard of an escaped mouse if you don't set the topper on the aquarium properly, so watch out for that, especially if your mice are particularly small! I personally have never had any problems with that, however. Another super mild thing is that, since the top is completely wire, it's easier for your mice to fling out food or bedding in the surrounding area. My girls were particularly messy, but I honestly didn't mind that part because they looked to be enjoying themselves, haha.
But overall, I think it's a really nice way to expand the amount of room your mice have without having to get a whole new set up. Especially since it sounds like you only have so much room to work with in the first place. It does have some minor downsides, but I think all cage types have minor downsides of their own!
If you don't end up getting a cage topper, hanging toys are always an easy way to create more fun spaces for them! You can make your own for super cheap, including things like fleece hammocks, bridges/ladders using hemp rope and popsicle sticks, hanging paper towel tubes, small boxes, etc. Really anything you can imagine!
I hope this was helpful

bumble

New Member





Join date

: 2020-08-31


Posts

: 7






SarahAdams likes this post
i have a topper on my tank, and my ladies love it. There are lots of toys and shelf attachments you can add to the sides for them to play on. My mice do make a bit of a mess, but it's not too bad

Mouse_mom

New Member





Join date

: 2020-09-03


Posts

: 13



I actually use a lid for reptiles so it is mesh I took zip ties and attached clips to the bottom so I can hang things.i hang hammocks and ladders so they can get up. In addition to that i went to Lowe's and bought thin board (mouse safe) and made platforms building up by laying them on kaytee hides/houses.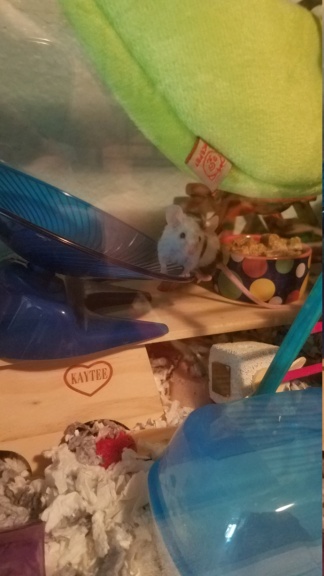 Last two do not have the platform because I needed to keep an eye on a mouse that just passed today.
I hope I gave you some ideas

Tiffanieptrck1

Jr Member





Join date

: 2020-06-12


Posts

: 25



SarahAdams likes this post
Similar topics
---
Permissions in this forum:
You
cannot
reply to topics in this forum