Hey y'all! It's been a minute, so I thought I would give some updates:
I got to add this new girl to my family back in May. Her name is Blossom. She is a super spunky little thing
Next up, I adopted these two girls from someone I found rehoming them on Craigslist. Their names are Daisy (black and white) and Daffodil (yellow). They are both super sweet, especially Daisy, who loves her playtime. I finally get to bond them with my other two in a week.
Then, this is my new boy Aster, who came from a new mousery, and also the first one in my state in at last five years. You all would probably understand how excited I was. He actually doesn't like my hands, but as long as I am wearing his favorite hoodie we're friends. He is extremely sassy and I absolutely love it. We still have a lot to work on, but he's making a lot of improvement and is continuing to gain confidence.
Next is sweet Iris. I plan on making an actual memorial post for her soon, but she passed away on September 9th. She was around 20 months old. She was also the reason I decided to put off bonding, as I knew it might be a bit too much for her in her old age. I am extremely grateful to have been able to own her. Love you sweet girl
.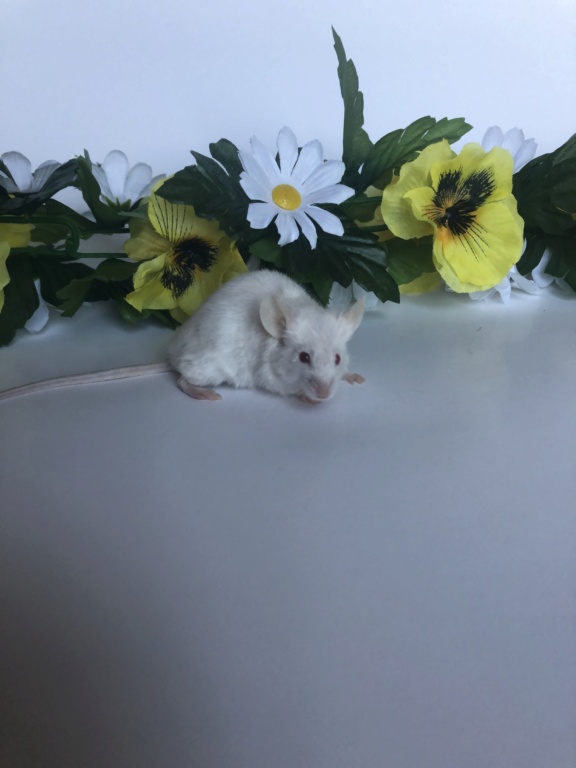 And lastly, we have Pheobe. She is doing amazing, and is only a few weeks away from her second birthday, which I can't believe. Stop aging Pheebers

_________________
Mice are the best!

Current mice: Pheobe, Blossom, Daffodil, Zinnia, Marigold,
and Aster
Remembering: Peaches, Pepper, Tulip, Orchid, Iris, Luna, Noche, Mrs. Frisby, Daisy, and Benson

PeachesandPepper92918

Full Member





Join date

: 2018-10-02


Posts

: 51



Beautiful photography and lovely mice! My mother's name was Blossom and I'm sure she wouldn't have minded such a little cutie being named after her.

Sorry about wee Iris!

SarahAdams

Sr Member





Join date

: 2020-08-18


Posts

: 205



Similar topics
---
Permissions in this forum:
You
can
reply to topics in this forum