Hello. We are owners of two mice for the first time and we are a bit worried about one of them.
We are reading all the information available in this community and all the sources we can find.
We would really appreciate the opinions of people with experience to confirm we are moving in the right direction to counter or prevent problems of allergies for our mice.
We got two female mice from a pet shop at the end of last December (2019).
One of them is Peli, very active and agile, she enjoys climbing very often and is in obvious good shape. She is also sometimes a bit dominant over her sister. She has beautiful shiny black hair, and almost no visible bald spots or any physical sign to worry about.
The other one is McFluffy, she has been always more shy and relaxed. She also runs and climbs but not as often as her sister and is more cautious. Her hair is mostly white with some big light brown spots.
We noticed her hair is less shiny than it used to be and looks dryer than her sister's and her skin shows more evidently around the nose but we tend to think this is a difference in the kind of fur and skin. Peli always had more shiny fur so it's hard to compare the two but now we noticed McFluffy's hair seems to be getting dryer and less ''soft''.
In May McFluffy had a mark on her back shown in the next image. We realized that when handling her because the spot felt like an irritation or some kind of bump.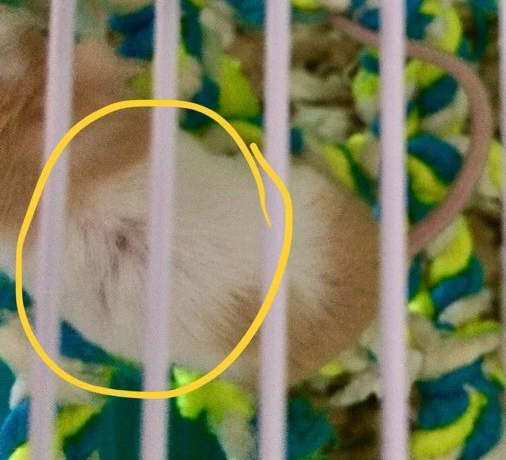 The mark diminished in a matter of days but never really disappeared.
After a few months we noticed she seemed to have less fur around the face and her fur was looking irregular in length.
Three weeks ago we brought her to the veterinary and she confirmed she had less fur in that area of the back but no marks neither infections nor parasites. She checked her belly, the inside of her ears, her whiskers and back without seeing any problem.
This is an image of her back a few days ago.
And this today.
We have noticed lately that sometimes she has a tendency to not open the right eye as much as the left ey/squint her eye and she has less fur around this eye and in that side of the face than in the right side.
This morning it was looking like this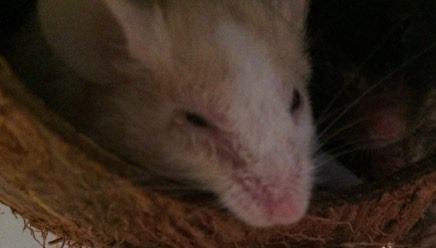 And this is McFluffy with three months of age, six months ago.
Through all this time she behaves normally, accordingly with her character. She is active and doesn't seem to be in any pain or be diminished in any way.
Last week we started taking measures to eliminate possibilities of allergies for McFluffy. We have changed the bedding to natural paper and made sure there is nothing in the cage that can be toxic for them. We are moving towards a balanced quality diet with the proper amount of protein and we are looking to provide them with recurrent entertainment to try to prevent overgrooming. 
We will greatly appreciate confirmation if we are moving in the right direction to at least prevent McFluf's problems to be more severe.
Also we would be really grateful if anybody with similar experiences has information about these symptoms, what can be the cause and what can be done to be sure McFluffy has the best life we can give her.

RaulA.S.

New Member





Join date

: 2020-09-13


Posts

: 5



Hello! I'm so sorry McFluffy isn't well, I myself have a mouse who has to go to the vet tomorrow for something I know nothing about. It's hard to find accurate information about mice, most information is about rats, hamsters or it's something sad about lab mice. Some mice's fur tends to thin as they get older, though if I had to take a guess now that she's getting older she needs less protein in her food, and the higher amount of protein is causing hot spots, though I've never dealt with that personally so take that with a grain of salt. As for her eye, that also may be caused my an itchy hot spot however I would take her back to the vet or at least call them to see what they think. It seems like you're doing the best you can hopefully once you're able to fully make the switch over to the new food and you've kept up your old routines long enough that she'll get better. If you need any suggestions for entertainment, food can be used as the main source. You can scatter feed the food to keep them entertained and busy as well as create foraging toys with things like cardboard, pet store-bought pine cones, herbs, sprays and millet. Victoria raechel's YouTube channel has a lot of information on creating natural small animal habitats including herbs, sprays, foraging, etc. I would also recommend Erin's Animals, who has a lot of info and diys for toys. I hoped I was in some way able to help! I wish you the best of luck.

Molly_mouse

Jr Member





Join date

: 2020-04-21


Posts

: 28



Could be some sort of external parasite, or an allergy to something in her food, a sensitivity to protein, a genetic issue, etc... You were right to take her to a vet, but perhaps a second opinion from a mouse savvy exotics vet is in order. Even doctors make mistakes.
In the meantime, it'd be a good idea to put her on a rice only diet as mice can live on rice for several days and allergies to it are unheard of, so it's a good method to see if the cause is dietary.
Wheat, peanuts, soya beans, hay are all probable allergens. I've had mice react to woven hay nests and items! A hospital enclosure with paper tissue sheets on the bottom and bare minimum items in it could be a last resort to see if there's improvement if nothing else works. I wish you the best of luck with locating the cause of the issue your little girl is facing.

_________________
Devoted parent to eleven mice.

MeanMurine

Jr Member





Join date

: 2020-08-29


Posts

: 49



Thank you very much Molly_mouse and MeanMurine! We read your comments with attention and we consider all the points you give us.

Molly_mouse we hope you had good news at the vet and your mouse is OK!

We will look for other vets willing to attend mice and we continue to move towards a non allergic environment for the girls with safe toys and entertainment.

Today we have introduced 12% protein food for the first time and if all goes OK in a week this will be the base of their diet. If McFluffy doesn't give sings of improvement in two or three weeks we will prepare a hospital for her and we will try to pinpoint the source of her hair loss.


RaulA.S.

New Member





Join date

: 2020-09-13


Posts

: 5



MeanMurine likes this post
Similar topics
---
Permissions in this forum:
You
cannot
reply to topics in this forum